this DIN 11024 hair clip size list:
hair PIN
0.6
0.8
1
1.2
1.4
1.5
2.3
2.5
3
3.2
3.5
3.7
4.0
Φ(mm)
4.5
4.6
5
6
6.4
7
8
9
10

Length

(mm)

20
25
32
35
35.6
40
42
45
50
57
60
63
65
67
71
75
80
85
92
98
105
110
115
140
170
180
190
195
200
DIN94 cotter pin hair material:
DIN11024 r cotter pin making process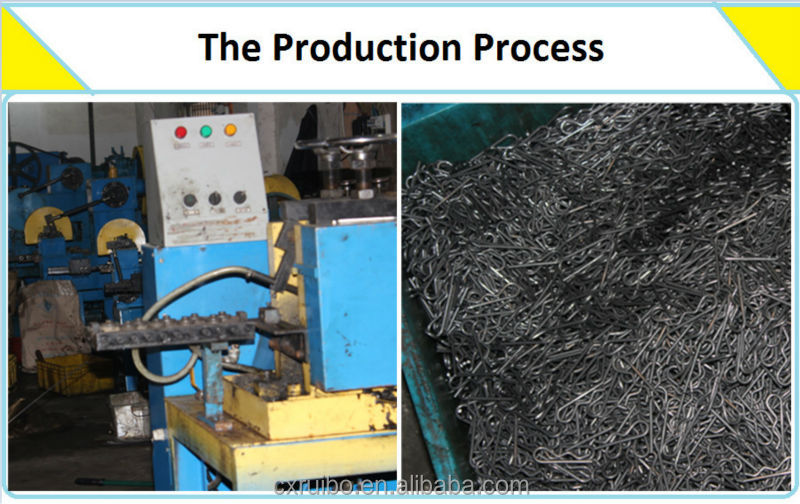 this DIN 11024 r cotter pin packing process:
DIN11024 r clips pin PALLETS:
our DIN11024 most size hair clip stick in warehouse
CiXi RuiBo Machinery parts factory was founded in 2007, which covers 50 employees and an area of 2,000 square meters. This factory is located in Xinpu Town, Cixi City, Ningbo City, which is to the south of Hangzhou Bay Bridge, convenient transportation. This is a professional pin fastener factory. Our company focuses on the manufacture of various industrial uses pin products, such as the spring pin, shaft pin, a safety pin, spring lock pin, quick release pin, snap pin and so on. We mainly hace CNC computer spring machines and multi-station cold heading machines. The company's growth depends on the strict management from our numbers of excellent technology managers. Our spirit and faith is "Integrity first, quality first, customer satisfaction". Stable quality of our products, favorable service as well as better cost-effective goods have been helpful to win us an favorable reputaion among large customers.
In recent years, with years' experience and wisdom in fastener pin industry, our company has kept a leading position in products' accuracy, stability and reliability by absorbing advanced technology and processes home and abroad. Our fasteners have been elevated into recent series of the Cotter pin, split spring pin lynch pin, lock pin, hairpin cotter, R type pin, square lock pin, pipe pin, clamp pin etc from single products years ago. We have been designing higher-leveled products, paying efforts to meet our customers' demanding to the utmost. With advanced technology, excellent quality and better service, our company has become a domestic well-known pin supplier and been in the forefront of producing fasteners home and abroad, whose products cover throughout all the country even far away to the West Europe, Central America, Middle East and Japan market.