Slim3 is one of the most professional and powerful aesthetic machine in the market combining 6 advanced technologies in one single system. It provides complete and advanced facial and body care treatment such as fat reduction, body shaping, cellulite reduction, skin tightening, wrinkle reduction, facial rejuvenation etc.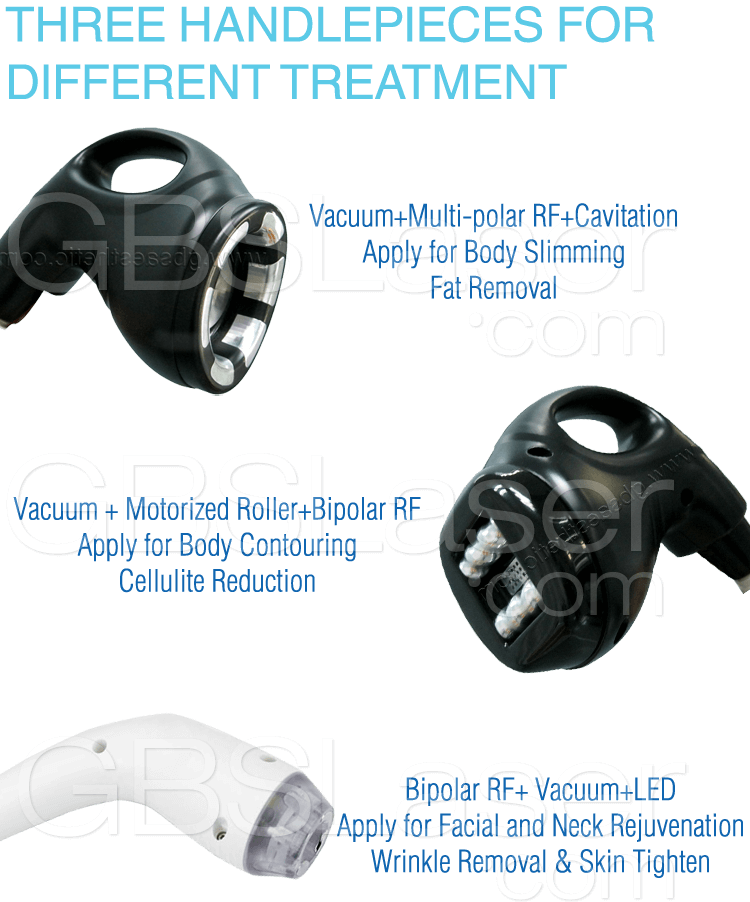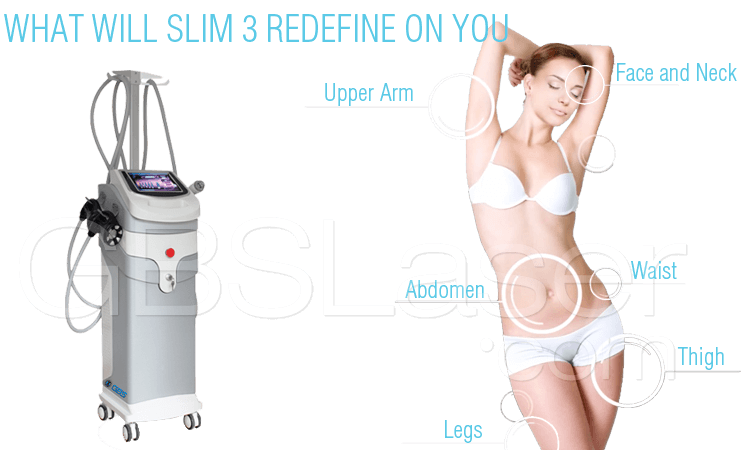 Cellulite reduction
Body contouring and shaping
Deep fat blasting
Skin tightening and lifting
Lymphatic drainage
General reduction of waist, abdomen & buttock
Body shaping and slimming
Promote metabolism and lymphatic drainage
Collagen stimulation and generation;
Face lift and eye wrinkle care
1 Do you provide private label/OEM service?
Yes, we have done many successful OEM/ODM service around the world. We can print your logo on the device free of charge. Please contact our customer support for more details.
2 Can we put our logo in the display screen and outside the unit?
Yes, we can do both of them to support your business, but there is a minimum order quantity requirement. Please contact our sales to get more detailed information
3 What kind of warranty do you have?
We supply 5 years warranty for machine body. 6 months warranty for handle. If machine stop working, you can contact us in time, we will feedback the problem for our engineers in the first time. And we will find a solution for you as soon as possible.
GBS is one of leading and most professional manufacturer of versatile beauty aesthetic machines in China. At GBS, we equip you and your business for success by providing the worlds cutting-edge aesthetic solutions. Our products target a wide range of aesthetic treatment including fat reduction, body slimming, cellulite reduction, hair removal, wrinkle reduction, skin rejuvenation, tattoo removal and much more...
GBS is committed to bring you the latest and most innovative and cost-effective aesthetic systems available. Our product are well enjoyed by beauticians, dermatologists, physicians and other practitioners across over 60 countries including USA, Canada, UK, New Zealand Australia, Chile, Japan, Germany, Finland, Switzerland, South Africa, Malaysia, Philippines, Thailand etc.

GBS Advantages
5 Year Warranty

for all GBS products.

Comprehensive manual

with easy-to-understand treatment information, including treatment tips, parameter setting and expert advices exclusively offered to our clients only.

Training video CD

downloaded online.

30-day Money-back:

100% guaranteed. No excuses.
GBS ONLY supply

high quality

products with good

factory price.
GBS Training and Exhibitions
GBS sales team are well trained and highly experienced in specific areas of product range, thus providing customers with strong product knowledge and service support. We provide comprehensive operation instructions containing helpful tips and advice exclusively for our clients only. We also provide online training, online technical support, marketing support to meet todays business challenge.