Common nails
Tianjin Lituo Imp&Exp Co., Ltd is the new star in fastener industry. Our popular products include: common wire nail, concrete nail, umbrella head roofing nail, duplex nail, coil common nail, aluminium blind rivets, and drywall screws, chipboard screws, self drilling screws, self tapping screws with hex head, pan head, etc.
Besides, we also set foot in building material industries, such as insulation material glass wool, rock wool, and
iron wire industries, etc.
We have clients all over the world, USA, Russia, Austrilia, Ukraine, UAE, South Africa, Brazil, Chile, Singapore, Malaysia etc, the list is endless.
Common iron nails specifictions:
Common nail galvanized, flat head diamond point
Material: Low carton steel(Q195, Q235)
Head: waffle head,flat smooth head
Shank: Smooth
Point:sharp diamont point
Diameter: BWG6-16
Length: 1/2''-8''
Finish:Polished, E.G., H.D.G
Key words: polished nails
Details:
Common Nails
L
D
L
D
Inches
M/M
BWG
Inches
M/M
BWG
3/8
9.525
20
2
50.800
12/11
1/2
12.700
20/19/18
2-1/2
63.499
11/10
5/8
15.875
19/18
3
76.200
10/8
3/4
19.050
18/17
3-1/2
88.900
8/7
7/8
22.225
18/17
4
101.600
8/6
1
25.400
16
4-1/2
114.300
7/6/5
1-1/4
31.749
15/14
5
127.000
6/5
1-1/2
38.099
14
6
152.400
6/5/4
1-3/4
44.440
13
7
177.800
5/4
Character: Round common nail make of super low carton steel(Q195,Q235),Toughness curvature ≥90°,smooth surface of E.G or Polished,Sharp point.
Mainly Processes of production:
1.wire drawing:make the needed diameter of nails
2.cold upsetting: make the cap and diamond point
3.polished: by this process the polished nail is over.
Package:
25kg/caron,or as your request.
Pictures of common iron nails: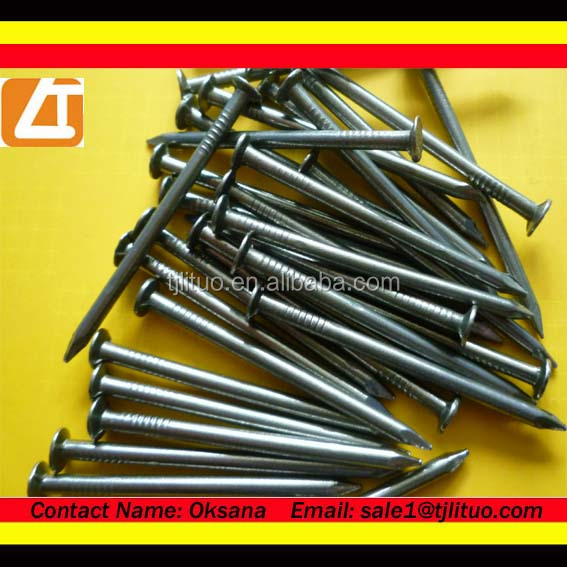 Workshop of nails:
Number of workers in factory: 100 person
Out put monthly: 800 tons
Equipments for nails:
Cold heading machine
Nail making machine
We have:
Wire drawing machine: 2 sets
Nail making machine: 60 sets
(concrete nail) Anneal furnace (RJQ Spheroidizing furnace): 2 sets
(concrete nail) Mesh belt furnace (hardening furnace): 2 sets
Packing details for common iron nails:
We could print your logo and make designed packing as per
your request.
Transport of common iron nails:
Other products on hot sale:
Contact person:
Welcome you to visit our factory at any time all year long.