Bomag water road roller pump
XYLEM company is a leading supplier of water technology, for public utilities, housing in the commercial, construction and engineering machinery to provide efficient technologies and solutions.KAITO companies to cooperate and XYLEM in China to promote flojet pump used in engineering machinery, mainly used in roller, and milling planer and other equipment, because of its unique design and longer life won the general customers consistent high praise.
| | |
| --- | --- |
| Applicable machines | Road roller |
| Materials | Metal plastic |
| Specifications | 12V/24V |
| Weight | 3.2kg |
1. Delivery terms:by sea/ by air
2. Delivery times:7-15 Days
3. Payment terms:FOB/EXW/CIF
1. Warranty
2. After-sales service
3. Quality certification
4. Customized service
5. Sample service
In 2005,Kaito(Suzhou) Construction Machinery Co., Ltd was founded. Kaito has developed into become one of the largest factories in the industry of producing replacement parts for road construction machinery, such astrack pads,conveyor chains,conveyor belts,modules,rubber buffers,cutting tools,tool holders,water pumps and various other parts. Kaito is more than capable of providing its customers domestically and foreign with replacement parts for a variety of different brands.
At Kaito Construction Machinery, we believe thatdeveloping and manufacturing quality,industry- leading products to be of our top priority. Our company is committed toproviding customers with the best all-around, rapid, and efficient services available.
Our clients spread all overChina and exported tovarious countries and regions such asSouth Korea,Russia,USA,Spain,Malaysia,India and various others.
Certificate: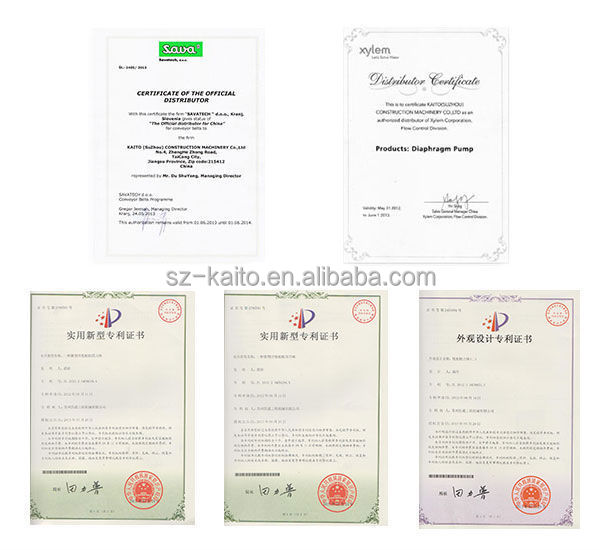 Factory:
Exhibition: