Grade:SB-SRS-70
Working Temperture:200°C
Structure
SB-SRS-70 extruded silicone rubber tube reinforced with Non-Alkaline glass fiber braid , then coated with silicone resin and treated.
Usage
It possesses excellent heat and cold resistance performance. It can be continuously operated at 200°C high temperature. In extreme conditions Glassfiber Sleeving can resist 250°C for a short time.
Besides, excellent electrical and mechanical strength properties make it very suitable for a wide range of
application. It is popular used in motors, home electrical appliances and dielectric etc.
Specification
ITEM

Performance

Note

DIELECTRIC BREAKDOWN

VOLTAGE KV AC

≥7.0

In air

≥6.0

In water

≥5.0

In 2% salt water

THERMAL ENDURANCE

NO INDICATION OF CRACK

250°C × 1 hours

FIRE RESISTANCE

VW-1

UL 1441
Dimension
Inner Diameter / mm

Wall Thickness

mm

Standard package

m/roll

Nominal /mm

Tolerance /mm

1.0-2.5mm

+0.20, -0.00

0.60±0.05mm

200

3.0-5.0mm

+0.30, -0.00

0.70±0.05mm

100

6.0-7.0mm

+0.35, -0.00

0.75±0.05mm

100

8.0-9.0mm

+0.40, -0.00

0.80±0.05mm

100

10.0-12.0mm

+0.50,-0.00

0.90±0.05mm

50

14.0-25.0mm

+0.65,-0.00

1.30±0.05mm

25
*Other size can be customized.
Package: Packing by rolls or cut upon request.
Color: Standard color is white, other color available upon request.
Silicone Rubber Insulated Fiberglass Sleeving PHOTOS
Our main productsinclude various fiberglass sleeving, silicone tube (especially the platinum cured silicone tube), PTFE tube, PVC tube, Heat shrinkable tube and so on.
All our products have obtained theUL and CSA certificates (Cert No: E333178 --UZIQ2, VW-1 & E333177--UZFT2/8,200C, 600V).Also all our products are in conformance with the European RoHS requirements. Furthermore, based on European new requirements, we re-apply and obtained German PFOA and PFOS certificates and European REACH reportshowing that our products do not contain 73 high-risk substances. In Sep.2009, we successfully passed ISO9001:2008international quality management system certification, now ISO14001system is also pushing.


Certificate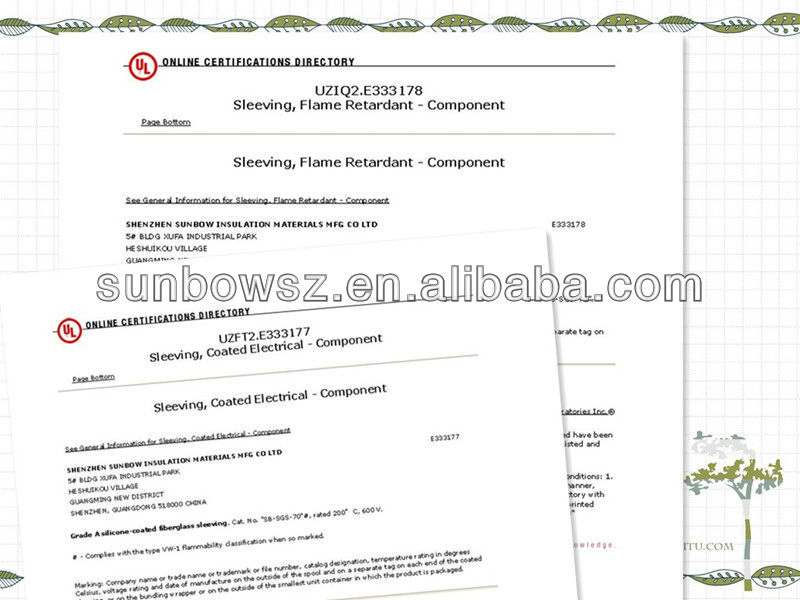 Business Partner