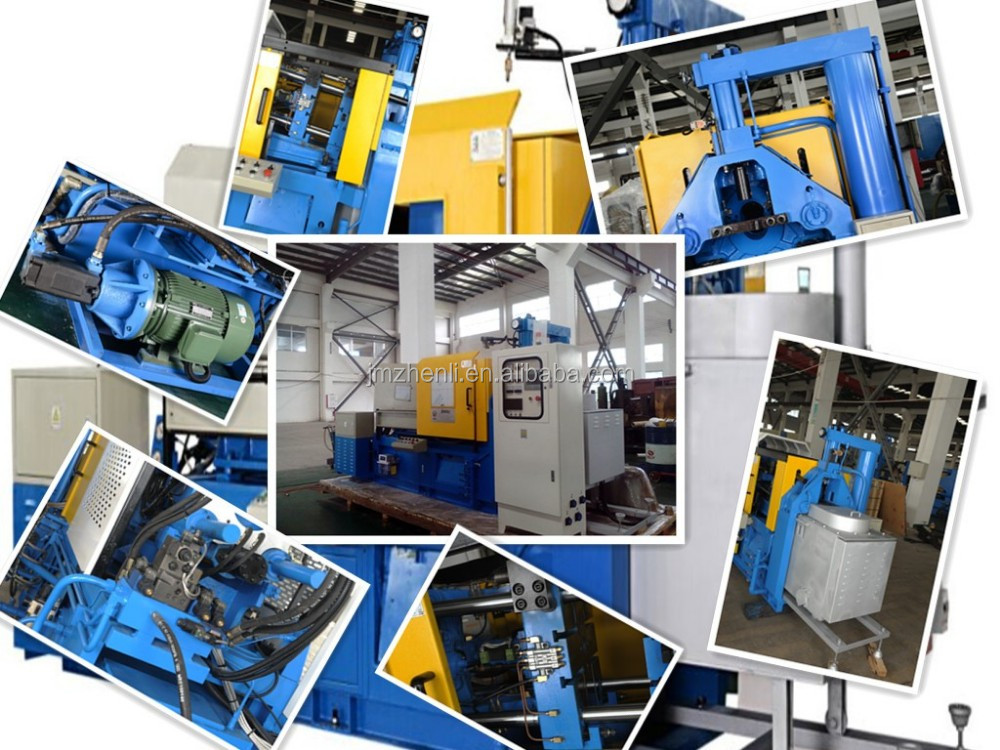 1.Nozzle,gooseneck and melting pot are specially durable since they are
made of hot-work iron or steel .
2.Nozzle and goose neck are heated by electric heater ,safety and durable.
It keep temperature steady and avoid jamming of nozzle resulting defective products .

the automatic Central lubrication system can directly set the
cycle number of machine hinge for lubrication.
Using hydraulic part are imported from the famous manufactory around the world.It's reliable and assuring long working life.


Specially double proportional control system.Using special 2sets proportional control of flux and pressure rsulting open and local clamping speed,also adjust arbitrarily .

Made in Japan fully automatic pressure jet oil burner for light oil pressurized and low pressure firing with automatic safety device .

Water-cooling type oil cooler with high cooling efficiency can maintain stable oil temperature.

LOCK CLAMPING UNIT:
1.Moving characteristic of double toggle,high S.G Iron mould platens and CNC precious process.It's firm and durable.

2.Chrome tie-bars with high tensile force,it's reeliable and durable.

3.Protection mould process with low pressure ensures the safety of moulds.

4.Uses high precision elctronic measure checking clamping to control it exactly.

5.Extra large space inside four tie-bars and mould open stoke can contain big moulds and deep cavity moulds.

6.The large clamping capability to realize thickness adjusting automatically

7.Hydraulic lift claping unit can be adjusted for injection at centre or offset positon

8.Computer hydraulic system to realize lock clalmping in 4 parts ,and make sure have protective function in low pressure lock clamping.




INJECTION UNIT

1.Piston type accumulator with a horizontal connection unit ensures lower pressure wastage and fast reaction.It realize fill speed and long life time,using steadily and convenient amendment.
2.Special new idea for two stages injection ,and scale control the slowly injection.It uses digital control speed to fit high quality casting production.



MOULD ADJUSTING DEVICE
1.The two way mould adjusting devices are machine control link and hydraulic control gear .
2.Intelligentized and automatic adjusting program to account clamping position exactly.It's convenient to change tooling and rise the efficiency.



ELECTRONIC CONTROL PARTS

1.Independent electric box and holistic electric box for choosing and ensure easy arrangement from customers .

2.False intelligentized computer control to remember all the act data for convenient operationg and checking .

3.Using high resolution and clear LCD screen which can show Chinese and English,also the display language can convert freely between English and Chinese as to the user requirements .

4.Enlarged memory can store 120 sets mould information ,like time ,counting number ,speed ,pressure,travel stroke,mould thickness and choice conditon .

5.With the function of computer hardware checking itself to ring if it's fault.It's convenient for checking the machines's problem.

6.Imput and output checking function,also with LCD indicator.

7.Uses high precision electronic memasure checking clamping,the position control catually to 0.1mm.

8.Record production time,prodcution quantity and finished quantity automatically,also stop automatically.




Hot type automatic fetch machine



STANDARD FEATURES :
1.Two-stage injection adjustment
2.High speed clamping
3.Low pressure clamping device
4.Automatic mould thickness adjustment
5.Computer-controlled lubrication system
6.Hydraulic moving clamping unit
7.Hydraulic multiple ejector
8.Nozzle heater ,gooseneck heater
9.Inclined claping umnit.
10.Fuel-injection furnace
11. Siemens 200 control system with LCD monitor
Technological Data
ITEM

Unit

ZL-180

Locking Force

KN

1800

Die Stroke

mm

385

Ejection Force

KN

90

Ejection Stroke(Max)

mm

88

Die Thickness(Min-Max

mm

190-505

Tie Bar Diameter

mm

85

Space Between Tie Bars(W×H)

mm

450×450

Shot Position

mm

0,-80

Plunger Stoke

mm

150

Traverse Stoke

mm

210

Injection Force(Max)

KN

108

Diameter Of Plunger

mm

60

65

Max..Shot Weight(Zn)

Kg

1.9

2.3

Hydraulic Pressure

Mpa

14.0

Motor Power

KW

18.5

Crucible Capacity(Zn)

Kg

400

Capacity Of Accumulator

L

25

Furnace

KG/L

4.8

Energy Consumption

KW

30

Capacity Of Oil Tank

L

310

Machine Size(L×W×H)

mm

4700*1600*2030

Weight of Machine

kg

6200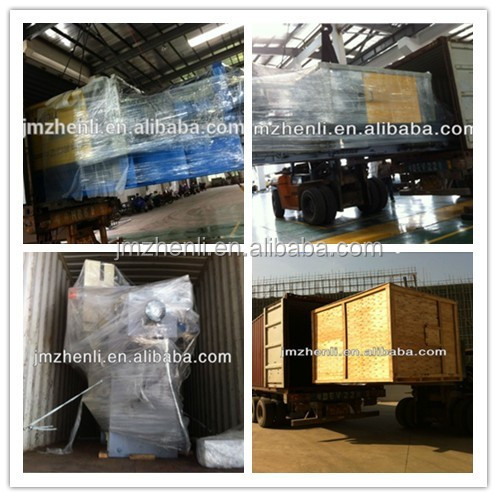 when the machine arrival your destination port,we will appoint one technician go to your factory, commissioning the machine for you. until the machine normally produce your product,generally, 3days is ok. by the way, our technician can training your worker for free.
established in 2002 and with more than ten years of development,ZHENLI machinery CO.,LTD,has owned 20000square meters production bases. ZHENLI is a high-tech company specializing in the R&D, production,sales and services. the main product of the company include "ZL" hot chamber die casting machine, ZLC cold chamber die casting machines and the peripheral devices.
adhering to the business philosophy of "keep improving and cast performance" and the spirit of "Exploration,innovation,pioneering and integrity",zhenli is dedicated to the development of precision computerized cold /hot chamber die casting machines which are widely applied in sectors of toys,home supplies,building hardware,industrail parts,telecommunication,auto parts and electronics and satisfy the technical requirements for production of castings.