water dispenser pumps

Name

Boda water dispenser pumps

Material

PP water dispenser pumps

Color

Customized water dispenser pumps

Customized

Designs according to client's requirements such as new shape,material,color,size,printing,packaging and so on

Size

model A:120*230mm model B:120*230mm

model C:110*205mm model D:110*225mm

model E:132*275mm model C1:122*256mm

model F:85*162mm model G:104*156mm

model B1:110*220mm model H:90*165mm

Battery Pump:85*745mm chargeable Pump:85*660mm

Packing

24pcs/ctn or 60pcs/ctn water dispenser pumps

Certificate

CE & ISO9001 ,ROHS,FDA for America water dispenser pumps

Weight

A:385g B:185g C:250g D:265g E:415g C1:325g F:120g G:60g

B1:156g H:57g Battery pump:265g Chargeable pump:409g

MEAS

47*38*52cm water dispenser pumps

Delivery

10-15 days after payment water dispenser pumps

Design

OEM/Customers' designs are acceptable for water dispenser pumps

Sample/time

free/3-5 days water dispenser pumps

water dispenser pumps accessories

pomp head,elbow no -splash design ,cyclinder case,lower cyclinder,adapter,lower tube,adapter ,middle tube water dispenser pumps r

The Water Pumps Many Uses:

Sometimes there isn't enough kitchen space for a cooler. With this, you can still buy and use the large 5 gallon bottles of water. water dispenser pumps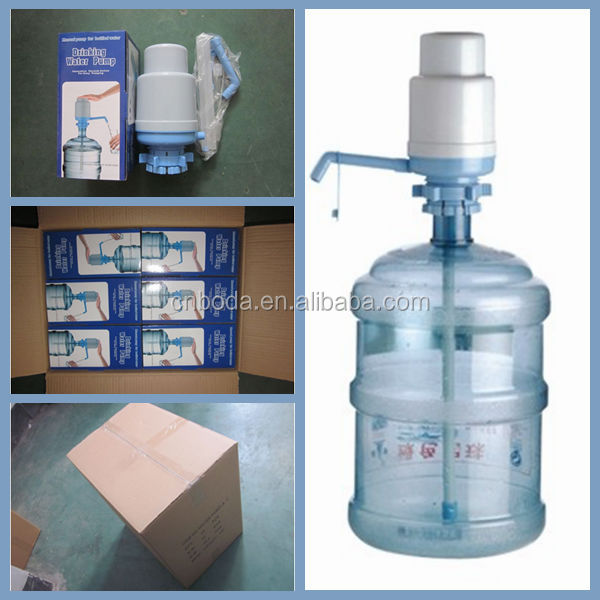 1.Well and high quality control ; water dispenser pumps
2.Environment friendly, non-toxic, good looking and long service life; water dispenser pumps
3.Light weight, easy to handle and transport; water dispenser pumps
4.Soft colors and excellent design, suitable for in stallation either exposed or hidden;
6.Long life span and easy to clean. Long life span and easy to clean.Economical, no battery costs, no motor. water dispenser pumps
7.notice:only provide cold water,can't provide hot water,fit to use in Summer.
8.to be a professional hand pump manufacturer,Small order acceptable water dispenser pumps
9.Customer's design and logo are welcome. water dispenser pumps
Why choose Boda?
1. We produce parts by ourselves, which makes more competitive price and faster delivery; water dispenser pumps
2. We provide OEM service and submit Various styles, latest designs to our clients;
3. We work with big customers in Southeast Asia,Africa,Middle water dispenser pumps east,North America,South America; water dispenser pumps
4. We have standard testing report from SGS ISO and GMC; water dispenser pumps
5. We have great experience on providing high quality service to clients; water dispenser pumps
6. Welcom to visit our factory. water dispenser pumps
Boda was founded in 1999,and is famous as the the plastic faucets for water dispensers:coffee machines: heating urn and ceramic urns ,hot water interior tank, silica gel parts, plug and electrrical wires, circuitry board water dispenser pumps so on .our products are distributed around the world.
After developing 10 years;we also make the water pump:battery pump;chargeable pump and cup dispensers.At the same time supplying the spare parts for water dispenser pumps and water filters. In 2002 the exported standard container loading the drinking water machine parts was up to 49
1.How about the delivery time?
10-15 days after payment water dispenser pumps
2.What kind of payments do you support?
T/T.L/C ,other kinds please contact with us. water dispenser pumps
3.What's the MOQ?
Generally speaking , water dispenser pumps the MOQ is 1000 pieces .Different products havedifferent MOQ, Please contact with us.
4.Can you produce according to customer's design?
Sure ,we are professional manufacturer, water dispenser pumps OEM are also welcome.
5.Contact Us
We highly appreciate your any enquiry by email, fax or instant message. water dispenser pumps We will replyyour email or fax within 12 hours. Please fell free to call us at any time if there is any
questions.
Check more water dispenser pumps ,join company homepage please