Hot Sale Custom CE Approved MarineNeoprene PFD Life Jacket
Certification: ISO9000:2008, BSCI, Sedex, FDA, GSV
Outshell:

Soft Neoprene mateial

Inside Foam:

high density PVC foam or light EPE foam


Feature:

1. 2 plastic buckles feature nylon straps

that adjust for a secure fit

2. Comfortable soft foam core is coated

with nylon for durability

3. Fashionable colors with a slimming silhouette

4. Durable neoprene outer shell with Innertec-lined interior

5. Personal flotation device for use

during all types of water activities

6.

Large armholes allow freedom of movement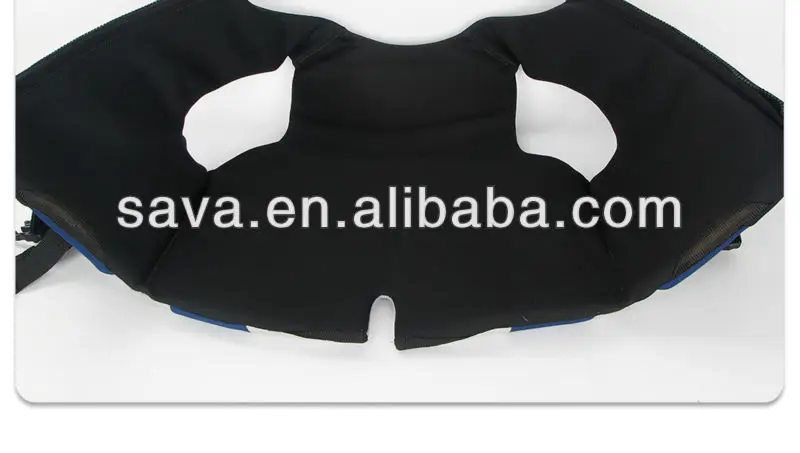 Contact
Attention: Shirley Chen
Tel: +86-769-83262970
MB/Skype: +86-18824532532
Fax: +86-769-83262972
Website: www.sava.cn or http://sava.en.alibaba.com
About Us
"SAVA Industrial CO.,LTD was established in 2001 and now has about 150-200 staffs.
We specialise in the manufacturing of Neoprene Products, Swimwear and Apparel. There are production lines ofFloatSuits/SwimJacket,Neoprene Supports/Medical Supports,Wetsuits & Rash Guards, Laptop Sleeve, Neoprene Glove/Hoods/Socks/Koozies.
As a certified manufacturer, we manufacture on behalf of many household named companies. Our facility has been audited to the highest standards of both production and Ethical Trading standards such as BSCIand Sedex, ensureing that our customers achieve not only top quality products but also the assurance that workers are treated fairly and paid well.
We have obtained ISO9001:2008 certificate as part of our ongoing quality assurance. We have FDA certificates for supports to USA andGSV(C-TPAT)certificates for USA customers"