You are here: Home>> 7D Cinema >> Entertaining motion simulator movie 3D film theater 4D 5D 6D 7D cinema system

Provided by Guangzhou Shuqee Didital Technology Co., Ltd ( hppt://www.shuqee.com )
Movie cinema 4D 5D 6D XD with snow, bubble, rain, wind, lightning, fog, smell etc special effect.
Simulator movie that are done quite well can be very impressive. These movies usually stimulate the idea of things looking like they are coming out of the screen in a manner that makes the viewers feel like they can touch the things even though the images are just in the viewers' eyes. The effects always assault the eyes to create that feeling. Now what if some other more advances sensory dimensions were added to this experience? That is the concept behind the 4D movies. In such movies the senses of smell, touch, sight and movement are incorporated into the set up. 4D films were initially confused to theme parks and some tourist attraction sites like the London Eye 4D Experience that includes snow, wind and a display of fireworks. However, the first 4D theater was opened in the year 2011 where the viewing experience included water, wind, vibrations and aromas.
Pictures of Mobile 7D Cinema
Mobile 7D Cinema cinema is a perfect combination of 3D images and effects produced by the special equipment upon the human perceptive organs. You become totally involved in what is happening on the screen and feel movements, rays of sun, wind blowing, and humid air of the ocean breeze. The invention of 5D cinemas allowed us to plunge into the world of virtual reality and offer you a unique and exciting experience.
7D Cinema Chair Parameter


Power

3.75KW

Voltage

380V

Power mode

Electric, Pneumatic, Hydraulic

Movement

From left to right: 0-24 Degree

Capacity

3 people (Approximately 450kg)

Chair effects

Back poking,Air injection,Leg sweep, blow air to face, blow water to face, vibration

chair size

1900 x 850 x 1400 ( L x D x H mm)

weight of chair


180KG

material


Genuine leater


Vibration frequency

12HZ

Chair Special function


Water spray to face, Spray air to fac, Movemen, Vibratio, Leg tickl, Push back, Movement Specification

Opening Control System


Opening theater control system,can be directly run theater docking and control, to remotely control a predetermined film,self-ticketing, a key screenings, remote control switches, etc.

Seats Type

VIP single chair, Super experienced double chair, High-cost 3people/set chair, Economic 4people/set chair.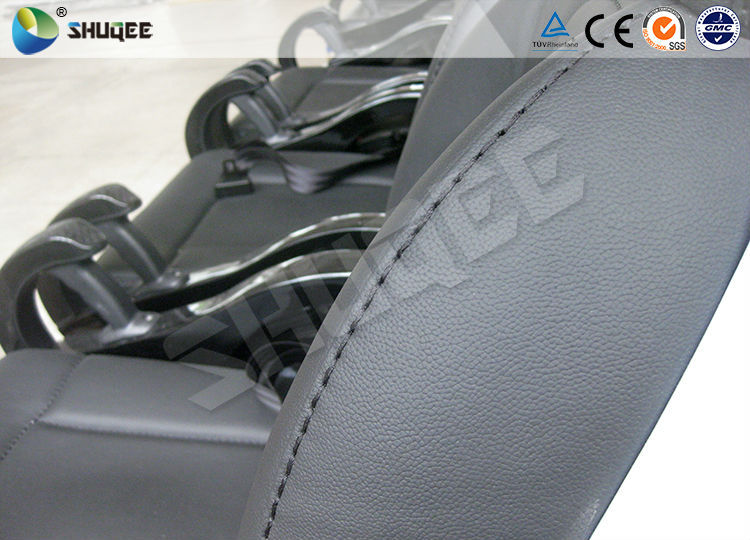 Motion Chair Movement and Special Function
Water spray to face

: Spray a few water to face, simulate sneeze

,

the pipe broke and so on.

Spray air to face

: Compressed air directly to the audience's face, simulate the explosion impact

,

the bullet flying etc. The jet effect is sprayed by air nozzle in chair, spray to head and neck.

Movement

: Up and down, left and right, forward and backward,

simulate movement of lifting, rolling, and pitching.

Vibration: Built-in seat cushion inside, the function can push up and down, realize the vibration of 12 Hz, make the audience feel the up and down " vibration" feeling.

Leg tickle: Each small elastic air hose under the seat suspension will pat the audience calf place; It can simulate the animals to drill leg of the audience.

Push back: The back of the seat with the new equipment, the effect can push forward, realize 5 Hz the vibration frequency, make the audience feel on the back of the suddenly "vibration", have intense "Push Back" and "Electric shock" feeling.
Digital Special Effects
Lightning Simulation:

Simulate lightning scenes in the film, emitting dazzling lightning, accompanied by the roar of lightning, so that the audiences feel like being at the height of summer thunderstorm days.
Rain simulation:

When the film for a rainy pictures, raining falling down. The audience will truly feel at this time rain fall from the sky, moist his hair and cheeks.
Bubble Simulation:

In the underwater world and underwater divers, aquatic animals and plants will spit out a lot of bubble, the bubble machine blown bubbles floating in the cinema.
Windy Simulation:

Simulate the wind. Simulation scene in the film blowing scene or a mass of gas flow, a few fan works can make whole theater airflow movement at the same time, the effect of the real wind
Smoke Simulation:

Simulate combustion smoke. Simulation of the combustion produces a lot of smoke, smoke produced with "fire", as if the sky in the combustion. Simulation of mist, clouds fluttered among the audience.
Flame Simulation:

Simulation of the fire, flame effect. Combining with the smoke simulation, scene of combustion and flame, foil hot atmosphere.
Laser Simulation:

Special scenario simulation of light, such as discos, concerts, glaring color light; simulate the atmosphere of the film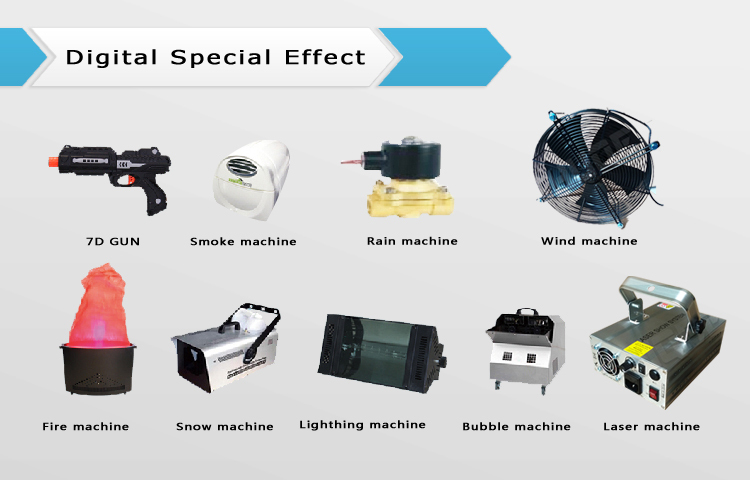 Shuqee's six systems of 5D Theater
5D Cinema Control System is the core parts of the whole technology 4D, and the he management staff use friendly, intuitive interface, is used to implement the theater all equipment within the main control and individual control;

Digital Playing System provides a wide applicability, high quality 5D solution, supports both 2D/4D and 4D movie playing; Adopt unique color filtering technology, with simple operation, powerful features, equipped with reusable 3D glasses,conducive to environmental protection;

Screen System as the most intuitive visual objects can restore the real film scene, including main types: Metal Screen, high-gain metal screen, Arc Screen, 360° Degree Screen;

Digital Audio System: A new generation of 5D audio formats the sound from the sides of the audience, and even head to traditional theater audio into immersive atmosphere; and support audio delay to correct the sound reached to the precise synchronization;

Digital Special Effect System: Lightning, Rain, Snow, Bubble, Windy, Smoke, Flame, Laser and Smell Simulation;

Motion Chair System:Water spray to face,spray air to face,movement,vibration,leg tickle,push back.
Other Series of Cinema (Click Picture for More Detaila)
Customers with Us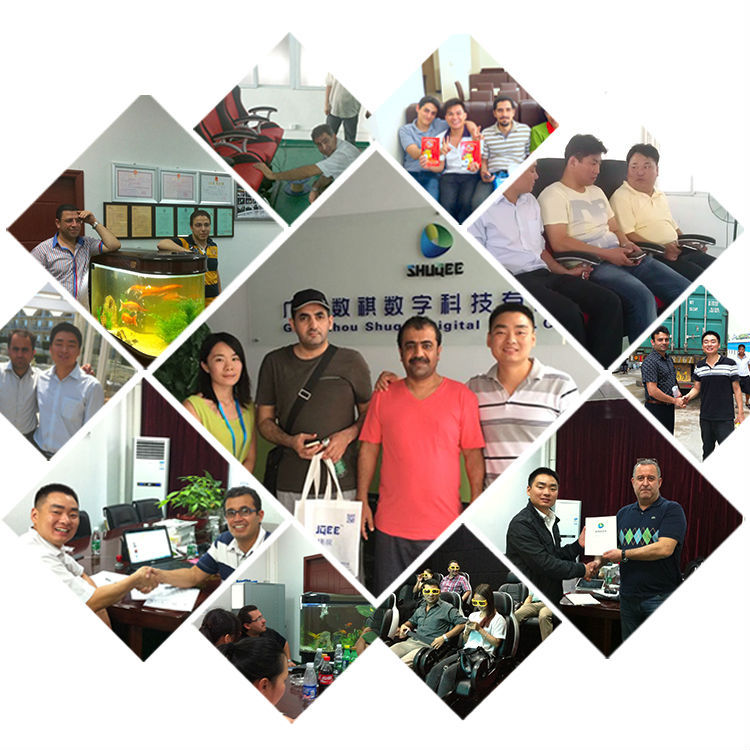 Why Choose Us
Certificate: CE, ISO9001:2008, GMC, Patent Certificates;

The top team to research and develop the intelligent 4DM theater system – All electric system of green environmental protection;

Perfectly transform 3D/4D cinema into 5D cinema - Environmental effects deep accurate synchronization;

Dozens of related technology patents – Focused more professional;

Customized design – Prominent theme;

Standard cinema construction process – High-grade effect assurance;

Respond within one working days – Instant after- sale service.
1. How can I get the movies?
We offer movies immediately and update per month for you. All for free!
Most of the 3D movies(change format to AVI) can be showed in simulator.
Approve DIY movie, you can make any movies as customer prefer
2. What are the differences between ELECTRIC/PNEUMATIC/HYDRAULIC SYSTEM?
Pneumatic,the chair's dynamic system from air compressor that is the most ripest techonology,that is very easy to maintain and repair after service;
Hydraulic,that chair's dynamic system from hydraulic station,the oil station have to seal oil,if the oil leave out,that will pollution the invironment and all the chairs have to stop and difficlut to maintain for not professional worker;
Electronic,the chair's dynamic system from electornic sensor and valve,that is new technology and simple structure. that is very easy to install and maintain.
Please contact with us freel more information.
Contact Us
Please feel free to contact us if you have any demands or questions on our 7D cinema cabin, mini cinema or services.
You may also be interested in :
7D Cinema / 7D Theater 9D Cinema / 9D Theater 5D Cinema / 5D Theater