China super bass creative vibrator home theatre stereo speaker box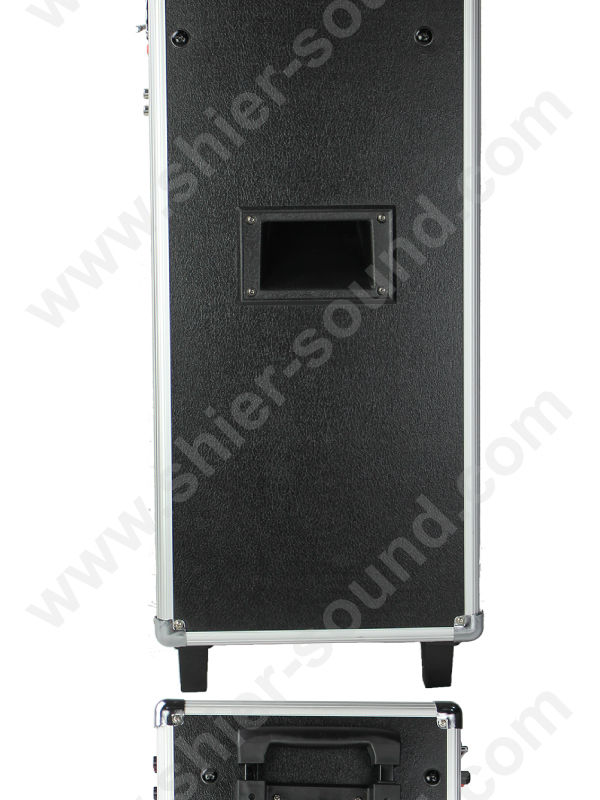 Specifications:
TK-T29 System Specifications:

New product/New feature/Recommend function:

1. can copy audio signal from CD/VCD to USB

2. can record through microphone to USB, and saved as MP3 format

Feature

DVD/VCD/CD/SVCD/MP3/MP4/USB/SD/FM, two channels of VHF wireless microphone, MP3 recording, VCD/CD can be copied into MP3 format

Power supply

AC85V~265V (50-60Hz) and one DC 12V/12AH rechargeable battery

Total working voltage

AC185V-265V

Frequency range

VHF 174~270MHz Two channels

Frequency response

60~15, 000HZ

Output power

120W, program music 240W, peak 480W

Speaker

one 10" woofer and one 3" tweeter horn

Wireless MIC

hand-held /collar clip/ headset are optional

Frequency range: 174-270MHz

Frequency response: 100Hz-10KHz

Sensitivity: 80Db

Wireless microphone effective range: 30-50 meters

Working temperature: -10 degree Celsius to 45 degree Celsius

Battery specification: 2*5V battery

Transmitter battery working time: 36 hours

Operating time:

3 to 6 hours, depending on the volume sounds

Charging time

6 to 10 hours

Effective range

suitable for 2000 square meters place, wireless microphone effective range: 50~80 meters (in visible distance)

Input terminal

external DC12V battery input, wired microphone, guitar, audio

Output terminal

audio/video, two external tweeter speaker (< 15W) jacks

Wireless MIC

optional hand-held /collar clip/ headset mic

S/N Radio

103 DB (A)

Distortion

0.8%

Material

Wooden, Metal, Al alloy

Size: (L*W*H)

325*270*625mm

Net Weight

16.75 kg

Gross Weight

22 kg

Package

EPE & two carton boxes

Standard Configuration:

one mainframe, 2 handheld MIC, one remote control, 2*5V battery, 2*3A battery, one power cable, one audio cable, one video cable, one user manual
Our advantages:
1.High/ lower voltage protection.
2.our product have enjoyed a good reputation and it has high quality with international standard.
3.we can accept your own logo .
4. Our product can support all kinds of music.
5. Microphone priority fuction.
6. More power saving
7.suitable for various occations