"QuanSeal" piston and rod seals are used in hydraulic and pneumatic systems.
Applications:
1) Machine tools
2) Presses
3) Injection moulding machines
4) Forklifts and handling machinery
Operating conditions:
1) Pressure: 0-80MPa
2) Speed: 0-15m/s
3) Temperature range: -80 ~ +250oC
Media: mineral oil based hydraulic fluids, barely flammable hydraulic fluids, environmentally safe hydraulic fluids, water, air and others, depending on the O-ring material compatibility.
This seal is a combination of a PTFE slip ring and an energizing O-ring. It is produced with an interference fit, which together with the squeeze of O-ring ensures a good sealing effect even at low pressure. At higher system pressures, the O-ring is energized by fluid, pushing the slip ring against sealing face with increased force.
We produce a wide range of PTFE piston and rod rings for a variety of standard piston bore and rod dimensions.

Advantages:
1) Lubrication not required
2) No stick-slip effect when starting for smooth operation
3) High wear resistant property ensures long service life
4) Installation grooves according to ISO7425/1, and ISO7425/2 standards
5) No adhesive effect to the mating surface during long period of inactivity or storage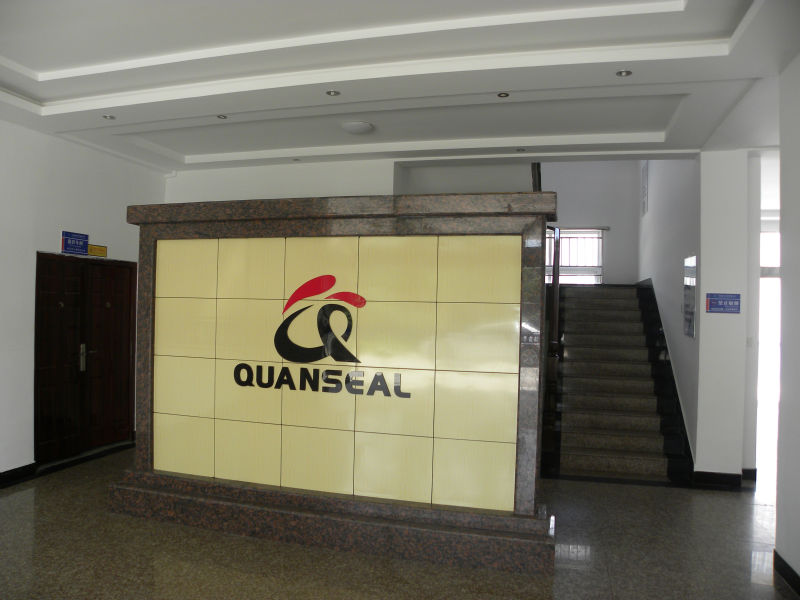 NINGBO QUANTUM SEAL CO.,LTD (Former Yuyao LiangziPTFE Factory) was founded in 2000,specializes in development and manufacture of PTFE products with a range that includes the following products:
1) QuanSeaL®PTFE sealing lip for PTFE seals
2) QuanSeaL®PTFE rotary shaft lip seals (PTFE oil seals)
3) QuanSeaL®PTFE Rod & Piston seals
4) QuanSeaL®PTFE Back-up Rings, Spiral Backing Rings and deformed parts
5) QuanSeaL® Spring energized PTFE and UHMWPE seals
6) QuanSeaL®PTFE O-Ring
7) QuanSeaL®PTFE and PEEK ball valve seat
8) QuanSeaL® PTFE Diaphragm
NINGBO QUANTUM SEAL CO., LTD is located Yuyao economic development zone,Zhejiang Province,with convenient transportation.It has capital fund RMB 40 million with more than 50 skilled workers and covers an area of 6800 square meters with building area of 6000 square meters
QUANTUM has introduced advanced equipments including 50 CNC Machines, 4 High-speed mixers, 18 automaticHydraulic machines, 8 Automatic PTFE moulding machine, 4 Program controlling sinter furnaces, Automatic PTFE surface etched machine,3 Optical vision measuring, Tensile tester, Oil seal tester, Oil seal radial force measuring, TA TGA/DSC,MDA…..etc.
We has established perfect quality systems of ISO9001-2015 and IATF16949-2016 to ensure its products quality.
Through many years of research we have successfully developed excellent performance PTFE sealing lip for PTFE seals. Shaft seals working in combination with this kind of PTFE sealing lip piece have been tested and qualified by the Changchun Automobile Institute. The products of these pieces have since been subcontracted to several large-scale domestic car production plants, and they have subsequently been exported around the world. QuanSeaL® PTFE seals are compatible with a large range of automobile engine, pumps, reaction kettles and blending machines, etc. Compared with other rubber seals these seals far outperform with regard to temperature, wear, pressure and chemical resistance.