Back-up Rings have no intended sealing function.Instead, as their name indicates, they are protective and supporting elements made from extrusion-resistant materials which generally have a rectangular cross section. They are installed in a groove together with an elastomeric sealing element preferably with a corresponding O-Ring in static applications.Due to the tight fit of the Back-up Ring in the housing, theyprevent extrusion of the pressurised elastomeric sealing
element into the sealing gap.
Anti-extrusion rings made from tetrafluoroethylene are impervious to oils and solvents. Acids and inorganic salts have very little effect on PTFE resin. In addition to its good chemical resistance, PTFE may be used over a wide temperature range, from below -73°C to over 204°C (-100°F to
over 400°F). Thus, PTFE back-up rings may be used with most elastomeric O-ring seals. For installation, PTFE backup rings are supplied either scarf or spiral cut . These discontinuities may contribute to seal damage due to biting and pinching. PTFE can also impair seal lubrication by plating rubbing surfaces with PTFE resin to which lubricating oil will not adhere.
Advantages
- Use of O-Rings in high pressure applications
- Use of O-Ring materials with a low hardness
- Compensation of radial sealing gaps
- Use for internal and external sealing applications
-Rectangular cross section
- Material: PTFE
- Consists as standard two spiral windings which are cut
at the ends at an angle
- Static and dynamic use
- For reciprocating movements only
- Preferred for installations in a closed groove where
uncut Back-up Ring are not suitable
- Compensation of large temperature changes and
tolerances without difficulties by a screw-like
elongation and contraction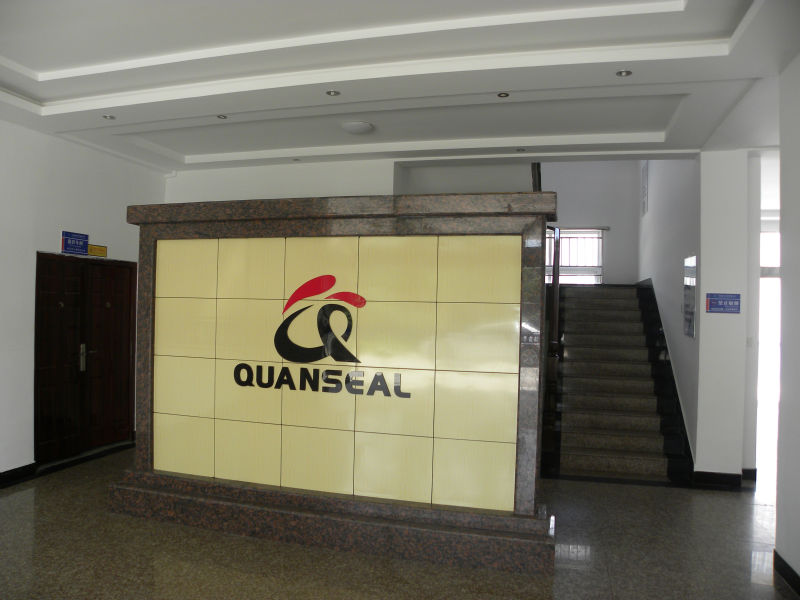 NINGBO QUANTUM SEAL CO.,LTD (Former Yuyao LiangziPTFE Factory) was founded in 2000,specializes in development and manufacture of PTFE products with a range that includes the following products:
1) QuanSeaL®PTFE sealing lip for PTFE seals
2) QuanSeaL®PTFE rotary shaft lip seals (PTFE oil seals)
3) QuanSeaL®PTFE Rod & Piston seals
4) QuanSeaL®PTFE Back-up Rings, Spiral Backing Rings and deformed parts
5) QuanSeaL® Spring energized PTFE and UHMWPE seals
6) QuanSeaL®PTFE O-Ring
7) QuanSeaL®PTFE and PEEK ball valve seat
8) QuanSeaL® PTFE Diaphragm
NINGBO QUANTUM SEAL CO., LTD is located Yuyao economic development zone,Zhejiang Province,with convenient transportation.It has capital fund RMB 40 million with more than 50 skilled workers and covers an area of 6800 square meters with building area of 6000 square meters
QUANTUM has introduced advanced equipments including 50 CNC Machines, 4 High-speed mixers, 18 automaticHydraulic machines, 8 Automatic PTFE moulding machine, 4 Program controlling sinter furnaces, Automatic PTFE surface etched machine,3 Optical vision measuring, Tensile tester, Oil seal tester, Oil seal radial force measuring, TA TGA/DSC…..etc.
We has established perfect quality systems of ISO9001-2015 and IATF16949-2016 to ensure its products quality.
Through many years of research we have successfully developed excellent performance PTFE sealing lip for PTFE seals. Shaft seals working in combination with this kind of PTFE sealing lip piece have been tested and qualified by the Changchun Automobile Institute. The products of these pieces have since been subcontracted to several large-scale domestic car production plants, and they have subsequently been exported around the world. QuanSeaL® PTFE seals are compatible with a large range of automobile engine, pumps, reaction kettles and blending machines, etc. Compared with other rubber seals these seals far outperform with regard to temperature, wear, pressure and chemical resistance.