custom precision metal bent tube products, custom metal cnc tube bending welding process
Cooperation Model

OEM or ODM

Design

As per customers specific requirements

or customers give us specific sample;

or customers' conceptual or preliminary design;

or customer sketched ideas.

Acceptable Drawing Format

jpg/ .dwg/ .igs/ .stp etc.

Application Material Standard

If no any specially required by customers, we usually suggest our customers to try the equivalent China National (GB) standard material that our engineer team proposes which to be properly converted from ANSI, ASTM, SAE, EN, DIN, BS, JIS and etc., to contribute the material cost control.

Aviailable Processing

shearing; crimping; laser cutting; bending; stamping; pressing; deep drawing; rolling; forming; fabricating; drilling; tapping; riveting; sopt welding; TIG; assembling

Precision

Average level: ±0.05mm, depending on product's size, thickness and material
Notes:
products on website are just for reference and our promotion purpose only

we could provide similar products' custom fabrication service as per drawings

any questions about our custom service, please feel free to contact us and we will reply in details within two working days
Your drawings are warmly welcomed
Cooperation model: OEM or ODM
Design: As per customer specific requirements
or customer give us the specified sample;
or the customer conceptual or preliminary design;
or the customer sketched idea.
Accept drawing format: jpg / .dwg / .igs / .stp etc..
Material: Sheet stock is of many materials, including carbon steel, alloy steel, stainless steel, aluminum, brass even plastics.
Material condition: On flat sheet, plate coil supplying condition hot rolled or cold drawn for options.
Material thickness: From 0.2mm~6mm
Application material standard:
If there is no any specially requirement, we often sugguest our customer to try the equivalent China National (GB) standard material that our engineering team proposes which to be properly converted from ANSI, ASTM, SAE, EN, DIN, BS, JIS, and etc., to contribute the material cost control.
If it is necessary to use exact designated material no., it is also possible choice.
Available processing (Technique):
- Shearing - Crimping - Laser cutting - Bending - Stamping - Pressing
- Deep drawing - Rolling - Forming - Fabricating - Drilling
- Tapping - Riveting - Spot welding - TIG - Assembling
Precision: Average level: ±0.05mm, depending the part size and thickness and material
Tooling in house: To design and build the necessary tooling in own house, for the tooling we never add any margins, it just cost.
1. Tooling: made in house--it can help us control the machine schedule.
2. Customized service: acceptance--if customers can provide us drawings.
3. Competitive price and perfect quantity.
Company Tour
Equipment
CNC Horizontal lathe Dia.400mm X2000mm capacity /8

Horizontal lathe Dia.500mm X750mm capacity /2

Vertical lathe Dia.1200mm capacity /2

CNC Milling machine 250mm x1120mm capacity /3

Milling machine 320mm x1320mm capacity /2

Planning machine 650mm capacity /1

Plane grinding machine 250mm x300mm capacity, precision on and less than 0.016 /1

Small size high-precision plane grinding machine /1

Circular grinding machine Dia.250mm x 2000mm /1

Vertical drilling machine Dia.50mm/M24 capacity /1

Table drilling machine /15

Japan Sodick Linear cutting, CNC precision 0.001mm 320mm x400mm /1

Linear cutting machine, CNC precision 0.015mm 320mm x400mm /6

Electric discharge machine CNC precision 0.018mm 320mm x500mm /3

Gear-hobbing machine / 5

Sawing machine/ 2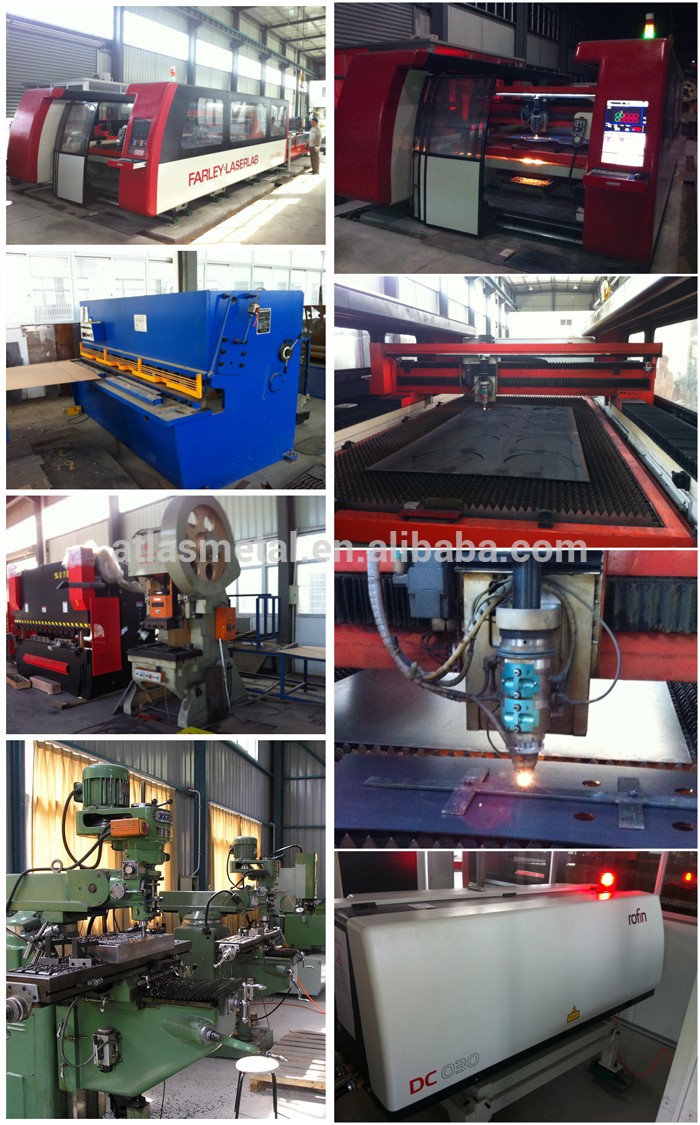 Strictlly in accordance with our customers' specific instruction on packing.
We can package for retail if needed.
If no any specified, generally we would recommend that the parts to be packaged by poly bags, then put in carrtons and finally to be on pallets.
The gross weight of one carton is no more than 22KG and pallet size try to approach 120cm X 80cm ( Europe size ) and 42"X42" ( US size).
The package is seaworthy and suitable for export. The wooden package material shall be steamed with the certificated and stamped by CCIB.