Properties: PBT is milky-white, semi-transparent to opaque, crystaline thermoplastic polyester. It is one of the advanced engineering plastics with high rigidity, high toughness, good fatigue resistance, weather resistance, low water absorption rate(all the properties maintain under moisture atmosphere including electrical properties), high dielectric ability, good electrical capacity, size stablity, good formability, excellent anti-creep ability under high impact, and good chemical properties as well. It is easy to process into glass-fiber reinforced and flame-retardance products. PET can be ultrasonic welded and easily post-processed.
Products series of PET:
PET flake:

Appliance of PET GF30 FR: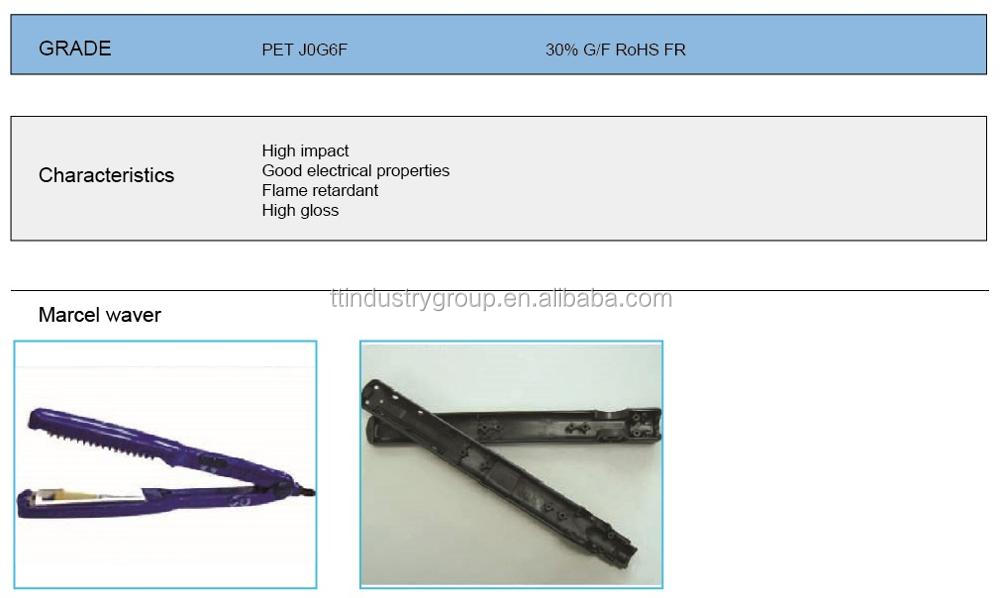 1. Waterproof Design(Dual package, Waterproof bag Inside)
2. Sealed Packaging,Impact resistant (Kraft paper bag+PE/Aluminum liner)
3. Customized package (25kg/bag or 500kg/bag)
4. Water-proof , Anti-breaking,Anti-extrusion . Anti-heavy throw
5. Transporation by sea, the sample can be shipped by air.
T&T Industry Group Ltd is a customized engineering plastics company combining of R&D, Design, and Project Development. Currently our focus is on the project devlopement and optimal configuration of different resources, based on the actual situation of the One-Belt and One-Road industrialized countries and current new materials development, and world industrialized situation.
Service procedure:
Consulting--solutions--quotation--sending samples--quality check--placing orders-- customization--deliver goods--after sell services
1.Technical backgroud Sales can provide in-time and professional responses to customers' inquiries.
2. Real-time Quality Inspection Tour in full production process;
3. Certicate of Analysis provided for each delivery of goods
4. After-sales quality tracking and feedback
5. Customers complains processing management system to guarantee the consistant improving service to each client.
T&T Industry Group Ltd is a customized engineering plastics company combining of R&D, Design, and Project Development. Our clients are mostly auto part makers, electronics,electrical part markers, and traders. We have good connection with well-branded compounding factories in China and big brand companies like Dupont, Sabic, Convestro, Ascend, GPPC, etc.
1,Samples leading time : 1-2 weeks after passed our test;
2,Bulk order leading time : 2-4 weeks ( customized materials ,seldom in stock)
3,Samples are delivered by FEDEX DHL ,TNT , UPS,Samples fee will be refund when the first bulk order comes .
4,Payment Term: T/T or L/C at sight;
5,Minimum Order Quantity: 1 MT
6,Delivery Time: Lead-time is around 7-14 working days after we receive the advance payment. It varies according to different products and quantity.
7,The quality standard refers to the sample. And quality issues we provide free tech-support