General Features
1.motorcycle,Cub motorcycle factory,ISO9001,ISO14001company, C100 technology,40 years industrial history
2.Japan advanced motorcycle engine technology applied.
3.Low fuel consumption.
4.Low emission (Europe 2 even without any anti-pollution device).
5.Balanced shaft engine with a prominent feature of low vibration as well as smoothly driving in all conditions.
6.Good accelerating performance. Steady speed. Flexible manual operation.
7. Passenger Comfort - Built in Passenger Foot Rest and the Lockable Trunk can be used as a passenger back rest.
8. Elegantly designed Signals indicators match the enhanced headlight design and maximize its visibility at night.
40 years industrial maufacturer LUOJIA
ISO9001 and ISO14001 certified
C90 Original supplier in China Motorcycle for Sale
Specification
Dimension(mm): 1855×665×1043 (L×W×H)
Max. speed: 80Km/h
Max. loading:150Kg
Net weight :88Kg
Starting: Electric/kick
Max Power: 4.78kw/8000rpm
Max Torque:5.7N.m/5500rpm
Drive system: chain drive
Transmission: 4 gear handle/auto clutch
Brake type: front disk/drum /rear drum
Brake mode: Manual brake/Pedal brake
Tire size:2.50-17-4PR/2.75-17-6PR
Engine type: 4-stroke, 1-cylinder, wind cool
Engine Displacement: 89ml
Wheel : Alloy wheel
Options: Alarm system remote control starter
Container loading quantity
Qty / 40' HQ: 144 sets by SKD
Qty / 40' HQ: 192 sets by CKD
It also features a wide floorboard that offers taller riders ample leg room, and a lockable gloves to complement the existing lockable storage area beneath the seat that is big enough to fit a full-face helmet.
The instruments are easy to read, the controls have a nice feel.
These mopeds are specially designed and manufactured. They have special packaging (minimize shipping damage and missing parts), every scooter is tested at the factory, your warranty is NOT void if you assemble it yourself, you get free tech support from the manufacturer, the scooter is delivered virtually fully assembled.
Stylish, Attractive, Trendy and aerodynamic styling - The body work is original with no other importer sharing the same design, giving C90 motorcycle something fresh and unique in the market. 90cc C90 Motorcycle 50cc C50 Cub Motorcycle Moped
The sleek lines and headlight layout are far better in the most of the scooters are being sold on the market. The feeling you get when you nip between traffic is that of confidence; it's so compact, you will be able to zoom through the traffic without compromising the ride or yourself.
Elegantly designed Signals indicators match the enhanced headlight design and maximize its visibility at night.
Upgraded Mirror-finished chrome-covered exhaust - A great additional to its already incomparable stylish design. It really made this scooter look like a premium scooter, not something that was slapped together cheaply.
Well Built and Reinforced Frame - Panel fit was good, there were no shakes or rattles, no strange noises, and the overall build quality was of an impressively decent standard.
Stylish three-cluster dash console - The three-cluster dash is well laid out with a nice big dial in the centre to indicate speed. A reasonably sized, very accurate fuel gauge is located on the right of the dash.
Factory View and Certificates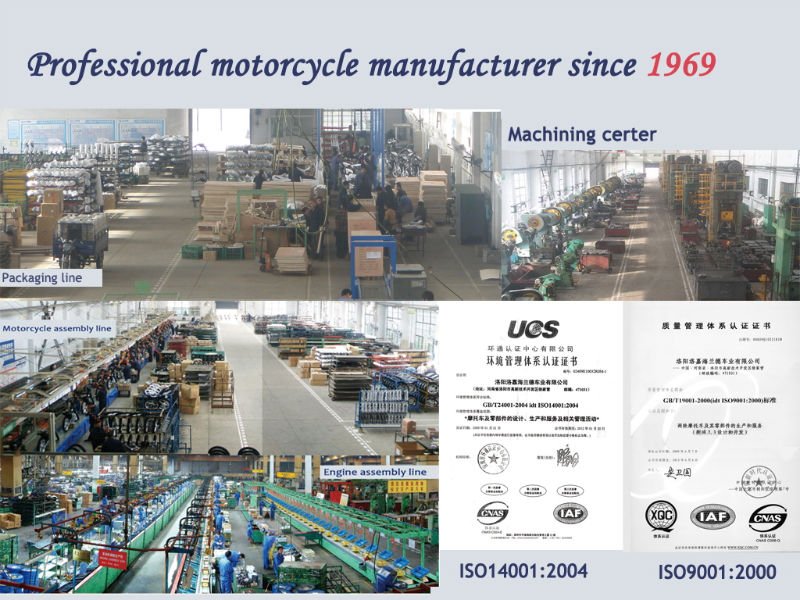 Warranty
We offer a six months warranty on Motor and frame about this 110cc Cub Moped Motorcycle FUTURE 110. Buyers are required basic repair skills such as using general tools; replacing nuts and bolts, filters, light bulbs, fluids, etc.