7cf famous brand anti rust automotive lubricants
Specification:
Appearance: yellow brown translucent liquid
PH: 5-7
Pressure: 0.3-0.6 MPa
Spray rate: ≥98%
Specific gravity: 0.810-0.830g/cm3(25℃)
Application:
This product can protect the precision instruments, electrical connector, steel parts and other sensitive components from rusted and crossion. It can penetrate into the joint parts to eliminate noise or loosen rusted screws.
Directions:
1. Shake well before use.
2. Spray to the rusted parts. For better de-rust result, keep the parts for several minutes or a longer period of time to make lubricant permeate.
3. Turn the rusted parts till it comes to move.
Precautions:
Contents are extremely inflammable and under pressure.
Keep away from heat, flame, spark and any other source of ignition.
Store at temp. lower than 45℃.
Do not clash, puncture, or incinerate the can.
Keep out of the reach of children.
Validity: 2 years
Lubricant Information
1. Basic Information of Lubricant
Name

Item No.

IL-101

Brand

7CF, ODM or OEM

Type

Lubricant

Usage Pattern

Spray

Normal Can Volume

450ml/can


Normal Package

12pcs/ctn

Description

anti corrosion lubricant can be widely used in places with inconvenience caused by rust, such like automobiles, ships, households, factories and electric rooms etc.

To infiltrate the areas of rust in a short time and slacken rust;

To wipe out noise caused by rubbing between spare parts or movable fittings;

To clean, lubricate and protect all kinds of machines to remove humidity and prevent rusting.
2. Lubricant Pictures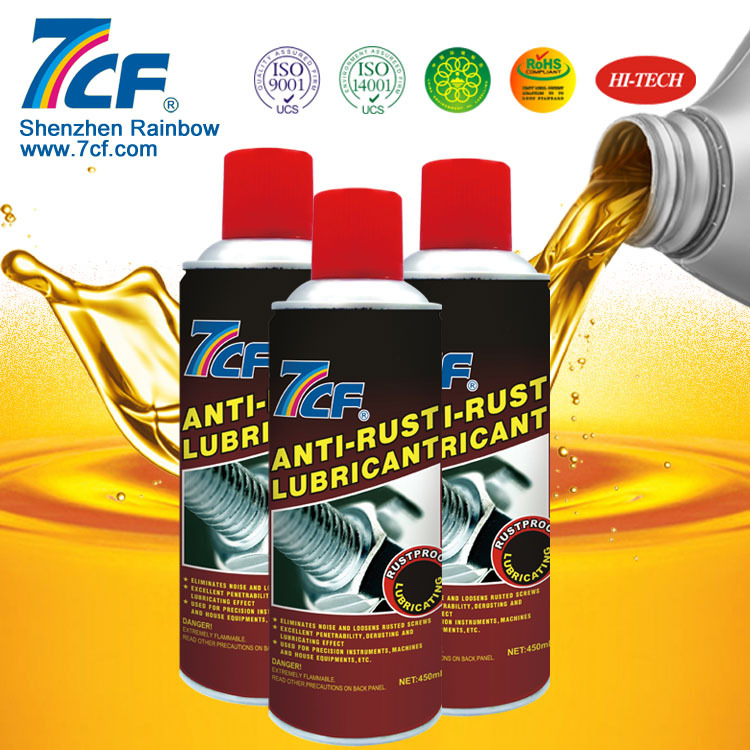 3. Lubricant Features
a) Excellent penetrating, derusting and lubricating performance;
b) Infiltrate rust, glue dirt, lubricate moving machinery and parts;
c) Form protective film to isolate moisture and other corrosives, prevent oxidation and rusting.
4. Health & Safety Precautions
a) Keep in ventilated cool and dry places.
b) Do not clash, puncture, or incinerate the can.
c) Keep out of the reach of children.
d) If eye contact, immediately flush eye with plenty of clean water and seek medical advice.
e) If skin contact, flush skin with running water (and soap if available) and seek medical attention in the event of irritation.
Company Information
Shenzhen Rainbow Fine Chemical Industry Co., Ltd was established in 1995. After 20 years of accumulation and growth, we have rich experience in production. Every process is strictly monitored, for example raw materials purchase, storage, mixture, filling and packaging etc. Our brand and logo of 7CF short from SEVEN COLORS FREE. It means the colors of rainbow and our pursuit of environment-friendly and sustainable development.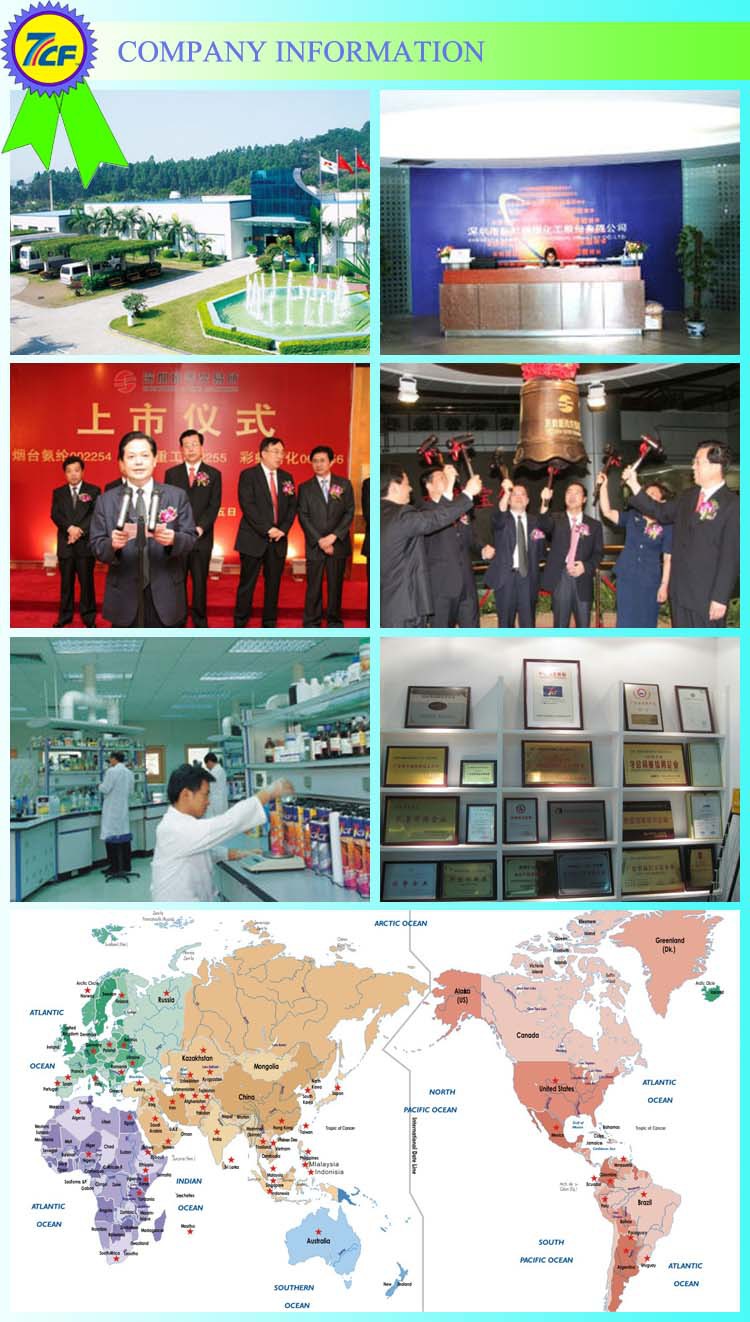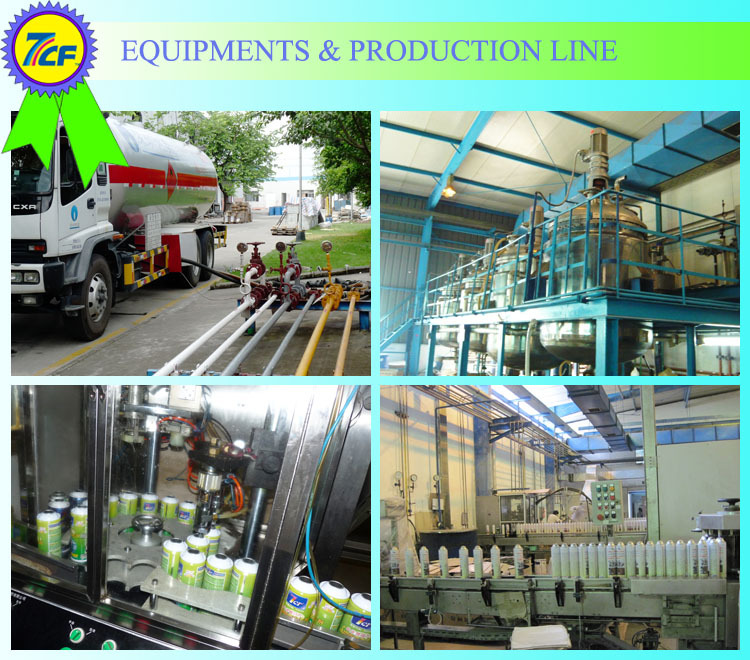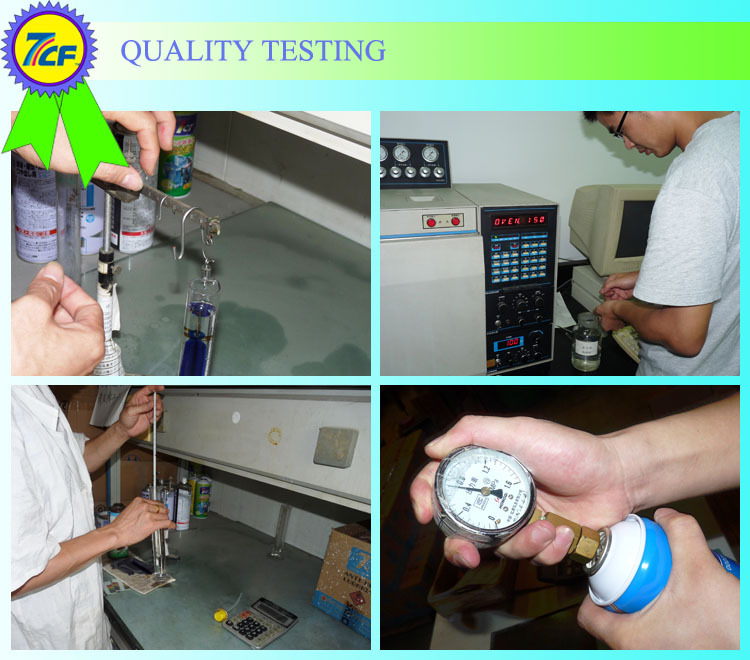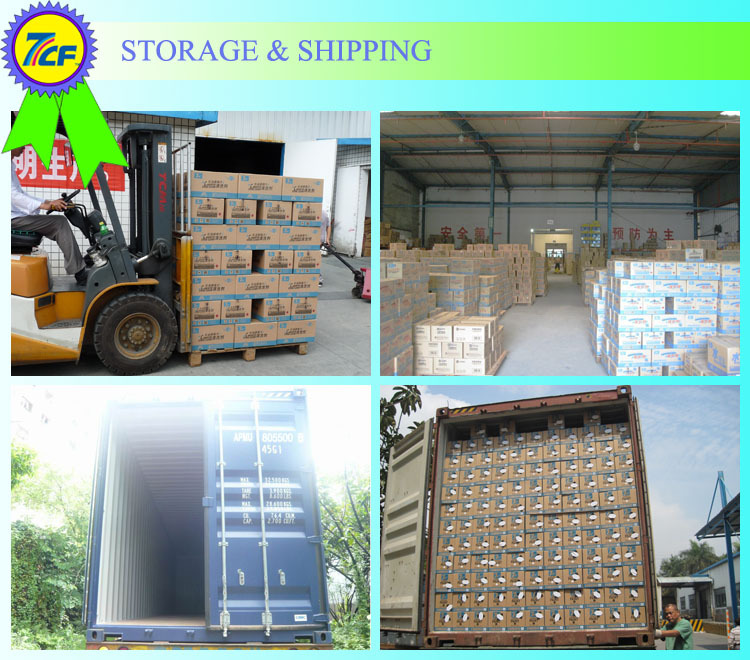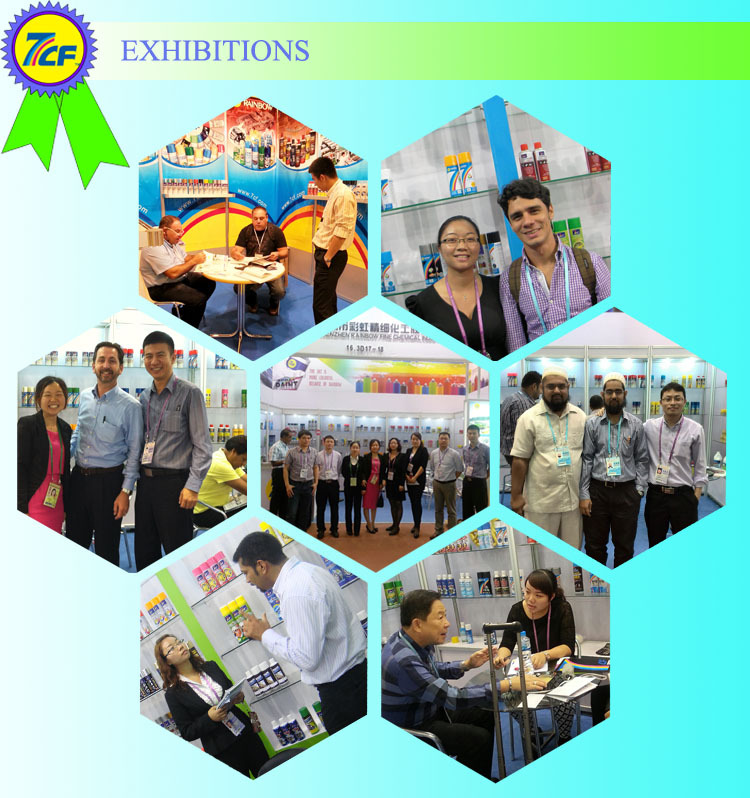 7CF Advantages
a) With an experience more than 20 years in spray paint field;
b) The first and unique public listed company in China's aerosol field;

c) Sales No. 1 both in domestic market and export trade among the same industry;

d) With the certificate of ROHS and all our products are produced under its requirements;

e) Obtained the authorization of REACH after registration and Evaluation;

f) Provide both OEM and ODM service;

g) More than 100 kinds of 7CF colors available;

h) Own the word's advanced automatic production lines from Japan, Germany and Switzerland;

i) Well-known trademark guarantees the quality, delivery time as well as reasonable price.
The sky is more colorful, because of Rainbow (7CF).
Looking forward to your visiting and orders!