----Introduce:
Suspended plate magnet for conveyor belt simply suspends above the conveyor belt or the head pulley and lifts tramp metal from the product burden as it passes through the powerful magnetic field.Cleaning is achieved by manually removing the collected tramp metal from the face of the magnet.
Available in permanent and electromagnetic designs.
Suspended plate magnet for conveyor belt is suitable for removing non-magnetic material on the belt conveyer, vibration conveyer, electric-vibrating feeder and feeder groove.
----Industries:
Wide applications in mining, coal/power generation plant and also in chemical/ food/plastic/ ceramics industries.
----Selection :
Selection this type magnetic separator depends on the feed material, size and feed depth.and also depends on width and speed of your belt conveyor.
----Overall drawing: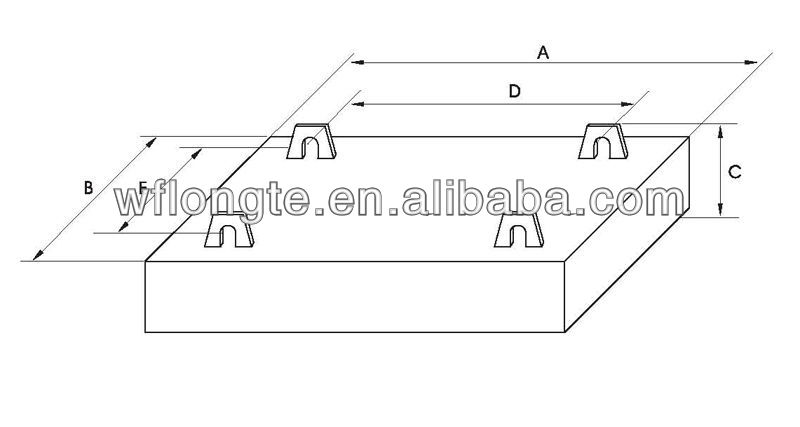 ----Technical specifications:
Model No.

Belt width
(mm)

Suspension height
(≤mm)

Materials

Thickness

(≤mm)

Weight

(kg)

Belt speed

(≤m/s)

Overall dimension

(mm)

A

B

C

RCYB-4

400

125

60

115

4.5

400

300

230

RCYB-4-1

400

75

30

65

400

250

140

RCYB-5

500

150

90

206

500

350

260

RCYB-5-1

500

100

50

96

500

260

160

RCYB-6

600

175

120

295

600

450

280

RCYB-6-1

600

130

60

158

600

350

180

RCYB-6.5

650

200

150

450

650

600

300

RCYB-6.5-1

650

200

150

450

650

400

300

RCYB-8

800

250

200

680

950

950

380

RCYB-8-1

800

200

150

550

800

600

300

RCYB-10

1000

300

250

1180

1100

1000

380

RCYB-12

1200

350

300

1670

1300

1340

420

RCYB-14

1400

400

350

2350

1500

1500

420

RCYB-16

1600

450

400

2850

1750

1750

460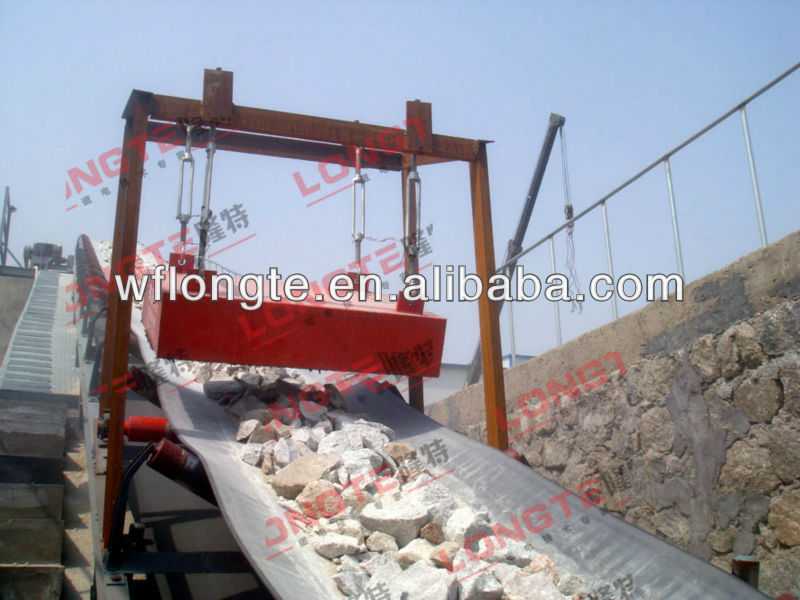 Catalogue(section):

Conveyor belt metal detector

Self cleaning permanent magnetic separator

Air cooling self cleaning electromagnetic separator

Air cooling electromagnetic separator

Wind cooling self cleaning electromagnetic separator

Wind cooling electromagnetic separator

Oil cooling self cleaning electromagnetic separator

Oil cooling electromagnetic separator

Manual cleaning permanent magnetic separator

Electromagnetic vibrate feeder

Magnetic roller

Magnetic ferrous traps