acetic silicone glass sealant
1.Middle range
2.Single component
3.Acetic fast curing


Tag: Middle range, Single component, Acetic fast curing
This silicone sealant is a component, low modulus, acetic cure and high performance silicone sealant. Won't shrink and crack. Withstands harsh temperatures and aging. Ideal for window and door frames, siding and plumbing fixtures.
It is typically used for general water resistance. It is suitable for: General glass assembling, such as glass, window and door. Sealing, repairing and bonding the joint of other construction materials, such as aluminum, tile, some plastic and wood.
Product features:
1. Clean and dry surface. Remove any soap, oil or grease
2. Cut the nozzle a little bit and screw it on the cartridge
3. Apply the sealant with hand or caulking gun.
4. Tooling immediately to spread the sealant against the surface, and this operation must be completed within 5 minutes.
5. Remove exceeded sealant with dry paper towel.
Packing info:
Acetic silicone sealant is packed 24pcs/ctn, with the carton size:30*20*24.5cm,8.20kg/ctn(GW),45600pcs/1900ctns without pallet.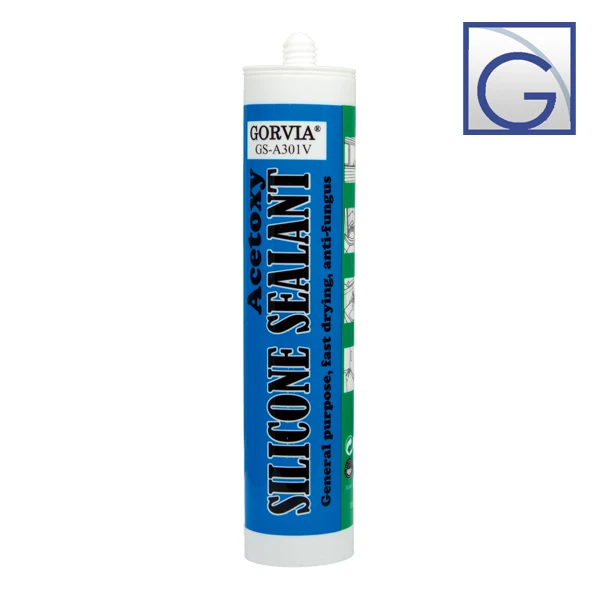 1. Door and window installation: seal, fill, fix and adhere the gap between doors, windows and walls.
2. Advertisement model: make model and sand plate, repair show board.
3. Sound insulation and absorption: insulate and absorb sound as a sealant in speech room and broadcast studio.
4. Gardening: make ikebana and gardening simple and beautiful.
5. Daily maintenance: repair the hole, gap, brick and floor.
6. Resisting water and fixing leak: mend the hole of water pipe and cloaca.
7. Packing and transportation: pack valuable and fragile goods easily and quickly, resist shock and press.
OEM service: We provide OEM service near 15 years, OEM your printing pu foam, silicone sealant,pu sealant, acrylic sealant lead time around 15 days, our worldwide reputation based on the sound quality and stable supply ability, now our clients from 65 countries worldwide. We have a global brand shop strategy, if you interested in cooperate with our brand GORVIA, more discount you will enjoy.
Contact me if you interested in be our "GORVIA" distributor.