Why buy a personal breathalyzer?
"Use your Breathalyzer as a safety device to test your kid's,
for personal safety and entertainment or as a professional tool.
The next time you are out to dinner, at a party or at a club,
you can take the guessing and worrying out of driving and
" TEST YOURSELF BEFORE IT'S TOO LATE "
using the same breathalyzers that the police use "
New Product 2014 Professional Alcohol Concentration Tester Breath Alcohol Meter Breathalyzer Alcohol Tester AT570
AT570 Mouthpiece Breath Alcohol Tester
Features:
Advanced Hot-wire alcohol sensor
Quick response and resume
SMD assembling, stable performance
Smart MCU control
Direct testing process LCD indication
Digital LCD display with light blue backup
Portable and fashion design
Audio warning beyond pre-set limit
Sensor Fault Self checking
Battery saved design, low voltage indication
Main Techniques
Sensor type :
Hot-wire alcohol sensor
Power supply:
6LR61 9V alkaline battery (no included) or 12V DC adaptor (included)
Working Current:
≤120mA
Operation:
15°C~35°C 80% RH
Relative Humidity
≤95% No Dews
Detectiong Range:

0.000~0.200%BAC;

0.000~1.000g/L;

0.000~2.000‰BAC

Respons Time:
<5s
Resume Time:
≤20s
Warm-up Time:
<20s
Testing Time:
10 seconds.
Display:
4 digits LCD display with light blue backup
Circling testing:
less than 30 seconds.
Display range:

0.000-0.100% BAC,

0.000-1.000‰ BAC,

0.000-0.500mg/L BrAC.

Dimension:
118x68x29mm (L×W×H)
Weight:
≤141g Battery excluded

Battery

expectancy time:

≥200Times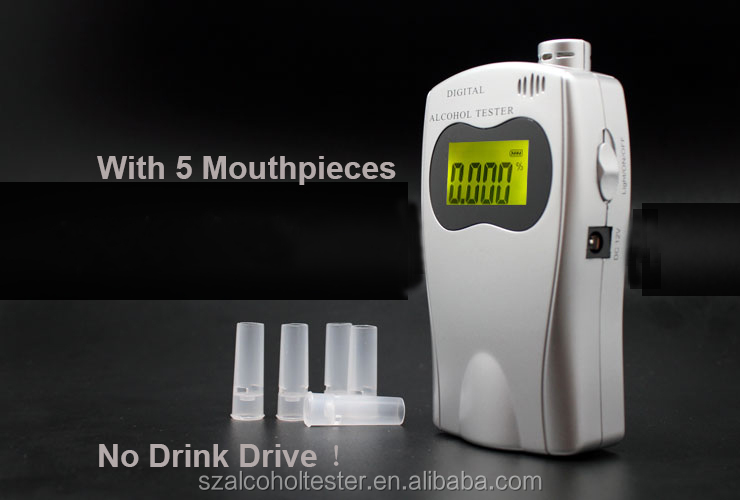 About Package
each with a blister pack and color paper box
Package Includes:

1X Alcohol Tester

1X User Manual

5X Mouthpieces

1X 12V DC adaptor

Carton Qty :
20pcs/ctn
Carton Size :
49*38.5*16cm
G.W. :
8.5KG
About shipment
The order will be shipped within 3-15 working days after payment.
DHL / FedEx / USP/ By air / By sea/ China post parcel / HongKong Post Air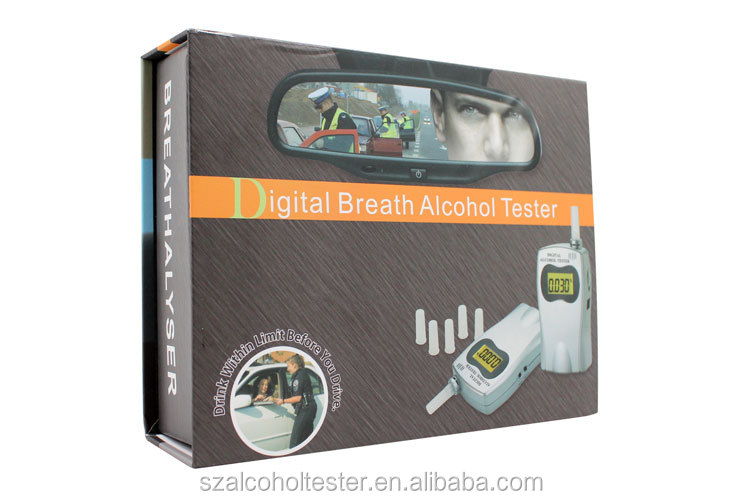 Read the testimonial above! Personal breathalyzers save lives! Don't let this happen to you! Don't be a drunk-driving statistic!
Prevent the unthinkable from happening!
Prevent drunk driving arrest! Help keep the public safe!
Prevent paying $6,000 to $10,000 in fines and court costs!
Prevent increased insurance premiums!
Prevent forfeiture of your automobile, your license and your freedom!
Parent's test your kids to know if they have been drinking!
Business owners test your employees!
There is no debate! Personal breathalyzers save lives! In seconds you will know if you had too much to drink and you can make the conscious decision NOT to drive!
Being arrested for a DUI can cost $6,000 to $10,000, don't risk it. Be safe and smart - protect yourself! Don't get caught without one! "TEST YOURSELF BEFORE IT'S TOO LATE!" with a breathalyzer.