Micro-current in Pro-Care
Micro-current is an effective anti-aging technology for the application of RaceMBE in the last twenty years. Through the pre-setting precision treatment expert program in the machine, with professional operation techniques, micro-current treatment procedure can achieve the dilution of wrinkles, remove the double chin, bags under the eyes, black eye, and other cosmetic effect in a short time.
Faradic Pulse in Pro-Care
Faradic Pulse electronic muscle stimulation can carry out facial contour modification and lymphatic drainage. In the anti - aging treatment, it can promote facial blood circulation, accelerate metabolism, dilute the spots and shrink pores.

Wave Electrotherapy in Pro-Care
The Wave Electrotherapy set audio modulation ultrasonic wave, low-frequency mechanical wave, low frequency biological micro electric wave and cryomotherapy technology as one. These four techniques are applied in three professional treatment handpieces which are called "Race-Mo for waist slimming", "Face-Hot/Cold for face lifting" and "Eye-Hot/Cold for eyes care". The Wave Electrotherapyfocuses on solving three major difficulties in beauty:
• Without the operation, injections, medication can eliminate the fat face, double chin, lifting cheeks sagging.
• Without liposuction, waist circumference, waist circumference and hip circumference can be reduced the 5-20cm, creating charming curve.
• Without the operation, enhance the corner of the eye, eliminate pouch, eliminate dark circles and wrinkles, nursing effect was obvious and lasting.
Race-Mo for waist slimming
1,200,000 times per second ultrasonic vibration modulated by the audio frequency stimulates the cell in body fat, it promote the decomposition of fat cells and burning. At same time, the low frequency mechanical vibration superimposed on the Race-Mo treatment handpiece willrelax and soothe the stimulated cells and muscles. Synergistic therapeutic effect between them will have a significant effect in the decomposition of fat cells. After the completion of the use of the Race-Mo treatment handpiece, the frozen end of Face-Hot/Cold will be used to ice nursing positions that will tighten the loose skin.
Face-Hot/Cold for face lifting
Wrinkles, skin relaxation, spots, double chin... These are all kinds of trouble with the increase of age, The biggest reason is the low metabolism of skin cells. Face-Hot/Cold treatment handpiece with the audio modulation fretting synchronization overlapping low-frequency biological micro electric massage can promote metabolism and lymph flow, accelerated aging and variation of irregular cell loss, a decrease in cell volume, tighten loose facial muscles. Then obtain professional face lift effect.
Eye-Hot/Cold for eyes care
Eye-Hot/Cold treatment handpiece will obtain obvious effect ineliminating pouch, black eye, eye wrinkles and crow's feet by promoting venous return and elimination of edema.
Pro-Care vs the common method in face lift and pouch removal
Method

Advantage

Shortcomings

Recommend index

Manual massage

Accelerate blood circulation around the face and eyes

Need patience, long-term adherence, time is long and the effect is not significant.

improper massage can cause wrinkles around the face and eyes.

40%

Cosmetic cover

Quick results

For the time being, the fat big face and pouch "invisible", but it can not be long-term. If you choose a inappropriate product, the damage to the skin is inevitable

40%

Plastic surgery

Quick, thorough treatment

Surgical operation

Pain and invasive

It is very difficult to repair if the operation is not performed properly.

60%

Pro-Care

Safe

Painless

Non-invasive physical beauty therapy process

Once nursing can see the effect

Not cause damage to the skin of the face and eyes.

No

100%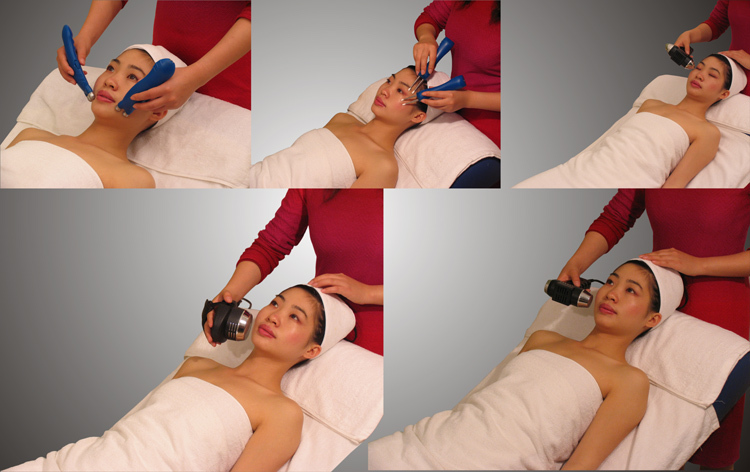 Specifications
Descriptor

Characteristic Parameter

Rated input voltage

AC220V±10%, 50/60Hz or AC110V±10%, 50/60Hz (optional)

Rated input power

40W+15W

Human interface

mono color LCD screen; keyboard and panel knob

Wave electrotherapy

· Ultrasonic wave frequency: 1.2MHz

· Output power: 10%-100%, Max. 5w/cm²

· Modulation mode: audio modulation, continuous or intermittent wave

· Refrigeration mode: semiconductor refrigeration

· Synchronous overlay electric wave output: low frequency bio-current

Micro-current parameter

· Waveform: micro electric wave

· Frequency: 15-110Hz, panel knob adjustment

· Output interval: 2-7sec, panel knob adjustment

· Time setting: 15, 30, 45, 60min, panel switch setting

Faradic pulse parameter

· Frequency: 1-150Hz, program setting

· Pulse width: 225usec

· Contraction time: 0-60sec, program setting

· Relaxation time: 0-60sec, program setting

· Pulse maximum amplitude: 150V, panel knob adjustment

· Channel number: 4

Dimension

40cm(D)×36cm(W)×108 cm(H) / 15.7"x14.2"x42.5"

Net weight

15Kg / 33.3 Lbs

Main testing standards

IEC/EN 60601-1, IEC/EN 60601-1-2, IEC/EN 60601-1-10, IEC/EN 61689