Delta ac servo driver controller VFD055A 075A 110A 150A
ABT Series Servo pump is high performance servo hydraulic system special oil pump. It is researched and developed together by three party-Ningbo Vicks Hydraulic Co., Ltd, American Albert Fluid Power Co., Ltd, Zhejiang University Mechanical Control Enigineering Research Instiute, we also can use sumitomo and Ekeler gear pump on the servo system.
Pump: Albert Vane pump, Sumitomo gear pump, Ekeler inner gear pump
Electronic motor: Phase, Albert
Driver: Delta
For high pressure, pls contact us for the configuration and quotation!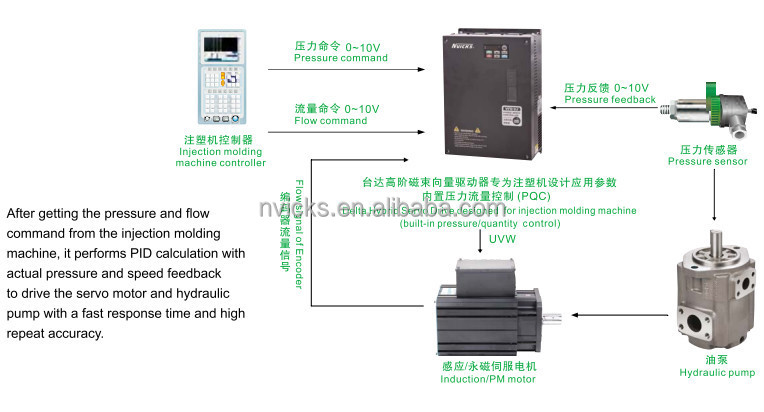 Servo pump Features
1.With Structure of leaking oil, it canbe reduced the pump housing temperature rising clearly, it can work stably in low speed, high pressure.
2.Under dowel pin, connect with high pressure oil and anxiliary elastic mechanism. It is reasonable matching, it can be started pump in low speed, fit for servo hydrualic system, operating mode-high/low pressure, foward/reversal rotation fast switching.
3. Positive inversion structure design, speed up servfo hydraulic system respond speed.
4. Low noise, high oil polution resistance, wide speed range, longer life for use, wide range of replacement, it can be customized according to customer requirement of difference displacement.
5. Adopting plug-in structure, allowing for easy repairing conveniently, only change cartridge for normal repair.
6. With 4 different outlet opposite position make install more flexible.