All SS differential industrial pressure gauges

Specification:
Double bourden tube system differential pressure gauge
| | |
| --- | --- |
| Accuracy | 1.5% |
| Ranges | 0.16,0.25…6mpa |
| Ambient temperature | -20—+60°c |
| Media temperature | less than60°c |
| Mounting | bottom directly mounting(with front or back flange available) |
| Process connection | M20x1.5(otjher screw as request) |
| Protection class | IP45 |
| Connection material | Copper alloy |
| Bourdon tube | Copper alloy |
| Welding | Tin-welding |
| Case material | Black steel(enameled) |
| Sealing material | Rubber |
| Window | 3mm plain glass(organic or double layers available) |
| Movement | Copper alloy |
| Pointer | Aluminium,black and red color |
| Dial | Aluminium,white with black letters(special dial available) |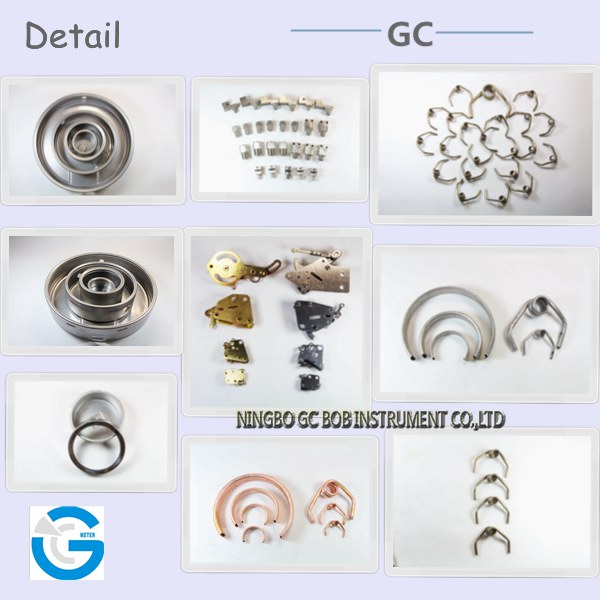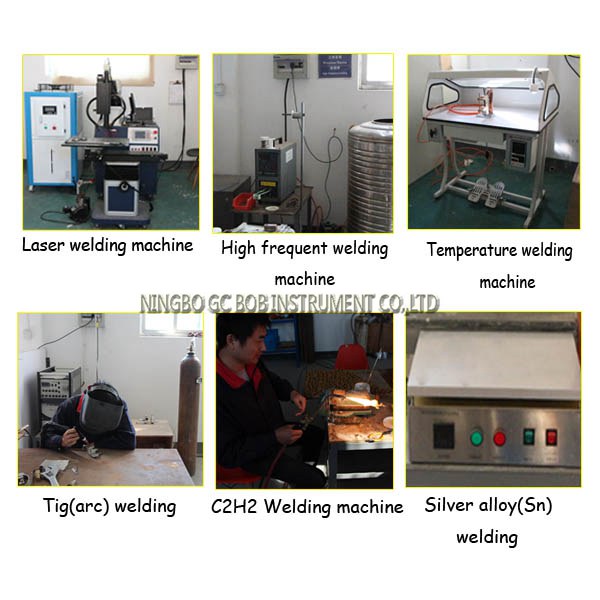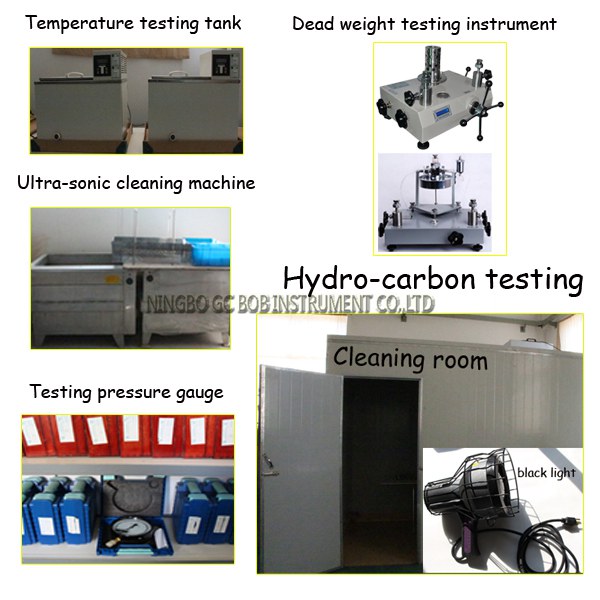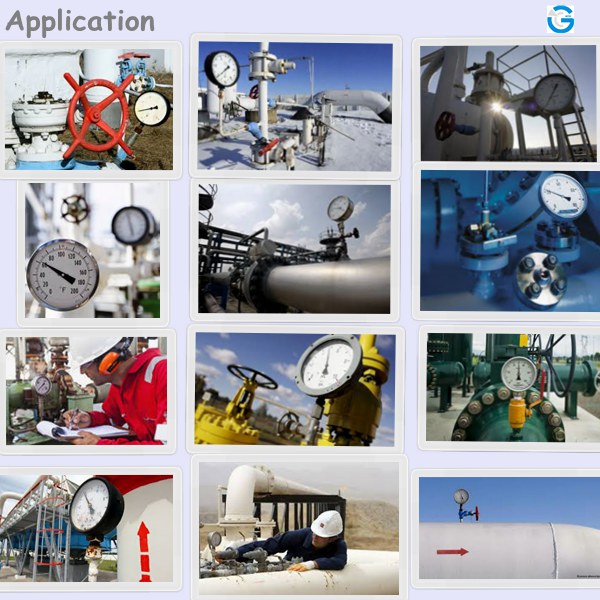 Pressure unit conversion table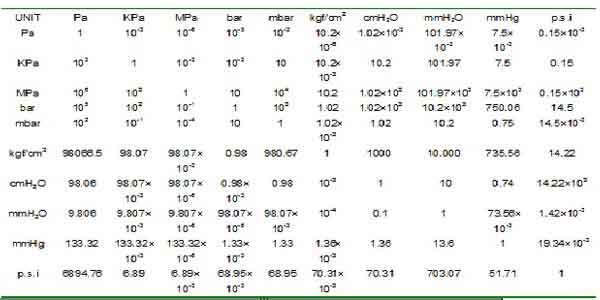 From the raw material to the finished production we have the very strict and serious procedure to guarantee our products get to the different quality requirements to provide our customers high quality products, first-class service.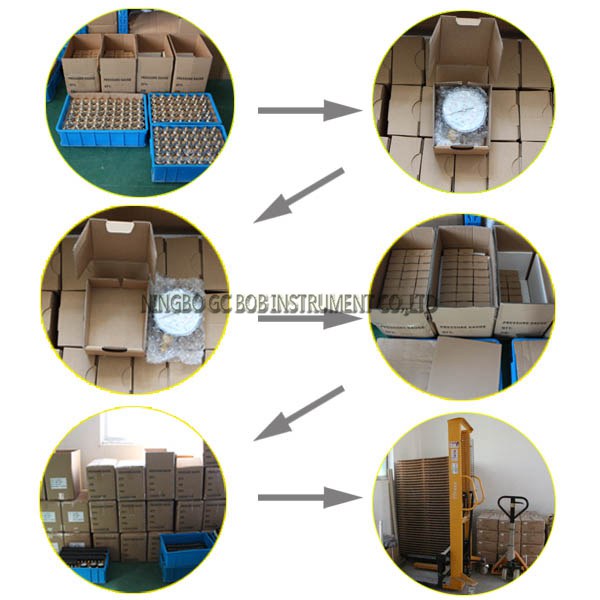 Ningbo GC-BOB Instrument Company is a professional pressure gauge & thermometer manufacturer which located in China main port Ningbo and covers an area of 2000 square.
Our workshop.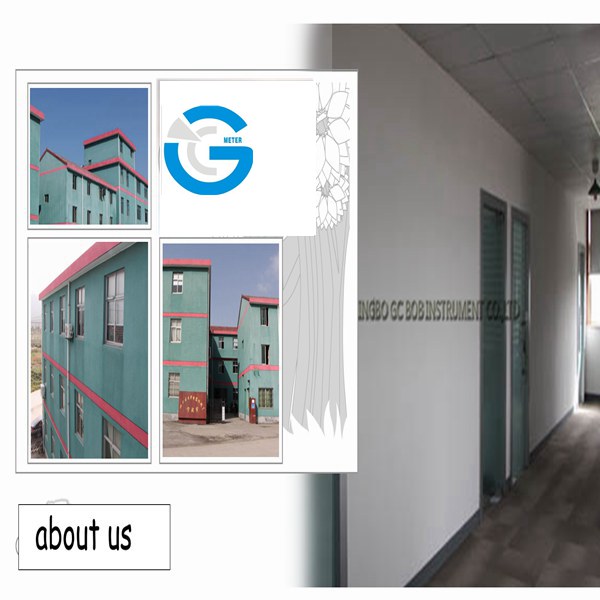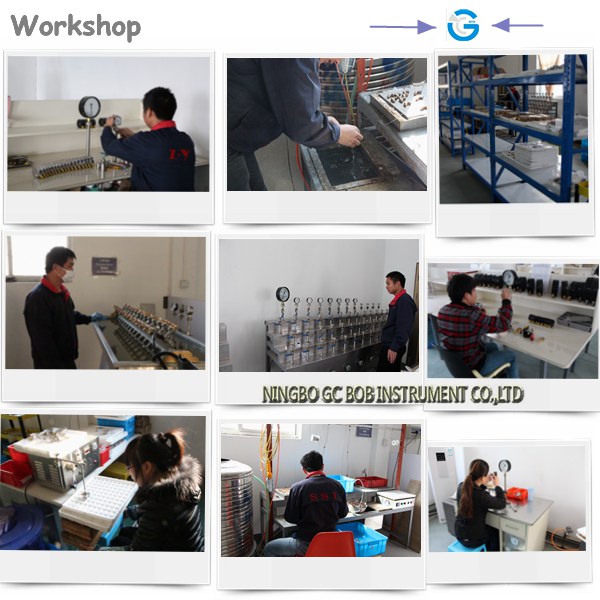 Why choose us? ------- Ningbo GC Bob Instrument Co.,Ltd.
------------------------------------------------------------------------------------------------
1) Advance Equipment and Professional Technology: we are committed to offer the good quality gauges with advance equipment and professional technology for all over the world customers.
2) Best After-sales Service : Our company provide best after-sale service all the time , for our goal is a long trade cooperation term.
3) Serious Inspection Procedure with Excellent Quality: Our pressure gauges all are 100% inspection , we also have passed ISO9001 and UL certificated.
4) Quickly Delivery: Our company provides in-time delivery with , always satisfy customers needs.
5) Convenient Purchase and save cost: GCBob is a direct exporter and skillful manufacturer, so it's convenient for you to purchase , We can provide our high quality products with reasonable price.
6) Best Reputation : Our factory have ten years experiences and have already gaining the best reputation and response from the customers from all over the world.
7)OEM orders: In the past years, we have many OEM orders from very famous company in USA and European market .
8) Multilingual: We can provide all kinds of languages, English, Spanish, French, Arabic, Japanese, Russian, meet the different needs of our customers.
industrial pressure gauges industrial pressure gauges industrial pressure gauges industrial pressure gauges industrial pressure gauges industrial pressure gauges industrial pressure gauges industrial pressure gauges industrial pressure gauges industrial pressure gauges industrial pressure gauges industrial pressure gauges industrial pressure gauges industrial pressure gauges industrial pressure gauges industrial pressure gauges industrial pressure gauges industrial pressure gauges industrial pressure gauges industrial pressure gauges industrial pressure gauges industrial pressure gauges industrial pressure gauges industrial pressure gauges industrial pressure gauges industrial pressure gauges industrial pressure gauges industrial pressure gauges industrial pressure gauges industrial pressure gauges industrial pressure gauges industrial pressure gauges industrial pressure gauges industrial pressure gauges industrial pressure gauges industrial pressure gauges industrial pressure gauges industrial pressure gauges industrial pressure gauges industrial pressure gauges industrial pressure gauges industrial pressure gauges industrial pressure gauges industrial pressure gauges industrial pressure gauges industrial pressure gauges industrial pressure gauges industrial pressure gauges industrial pressure gauges industrial pressure gauges industrial pressure gauges industrial pressure gauges industrial pressure gauges industrial pressure gauges industrial pressure gauges industrial pressure gauges industrial pressure gauges industrial pressure gauges industrial pressure gauges industrial pressure gauges industrial pressure gauges industrial pressure gauges industrial pressure gauges industrial pressure gauges industrial pressure gauges industrial pressure gauges industrial pressure gauges industrial pressure gauges industrial pressure gauges industrial pressure gauges industrial pressure gauges industrial pressure gauges industrial pressure gauges industrial pressure gauges industrial pressure gauges industrial pressure gauges