API second hand TCI JZ rock roller cone tricone drill bits for water well drilling equipment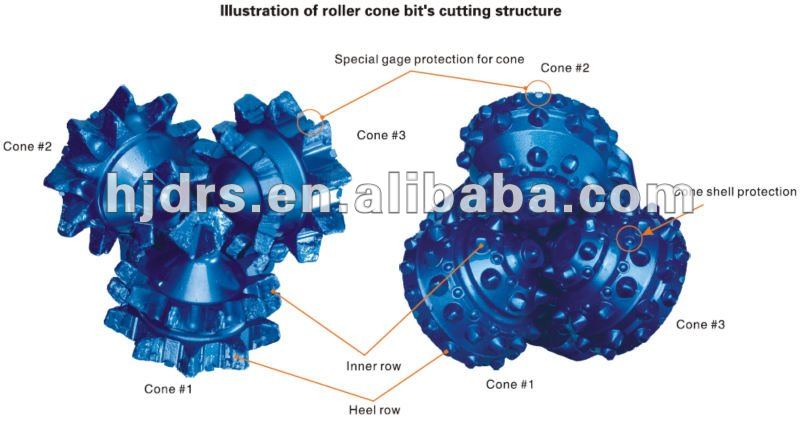 TCI bits
1.Soft formations(417,437,517,537)
Features large chisel-shaped inserts to provide the highest penetration rate in the softest formations such
as shales,clays, limestone and sands.
2.Soft to medium formations(617,637)
Designed to drill effectively in formations such as hard limestone, dolomite, hard sands, and other formations
with hard cherty.
3.Medium to hard formations(737)
For extremely hard formations such as chert, granite, flint, and taconite. Features short, closely spaced
inserts to ensure maximum penetration rate and wear resistance
Model

TCI Bit, Steel tooth bit

IADC CODE

116 117 12 6127 136 137 216 217 226 226 316 317 326 327 336 337 115 125 135 215 225 235 315 325 335 114 124 214 314 111 121 131 346 347

417 427 437 517 527 537 617 627 637 737 837 832 415 425 435 445 525 625 635 416 427 436 446 447 516 526 537 547 516 536 535

available sizes:

From 2 7/8 to 26"

larger sizes for hole opener bit ,reamer bit

advantage

most favourable price and best qualtity

bearing type:

sealed bearing and non-sealed bearing

HJ(metal sealed journal bearing)

HA (rubber sealed journal bearing

aircooled bearing type

Formation or layer

soft ,medium soft ,hard,medium hard,very hard formation

Button size (extra features)

Button bit,saw teeth

1) Y-Conical teeth

2) X-chisel teeth

3)K- wide teeth

4)G- Gague protection

Application

petroleum&gas ,water well ,mining and tectonic industries ,oil field, construction, geothermal, directional boring, and underground foundation work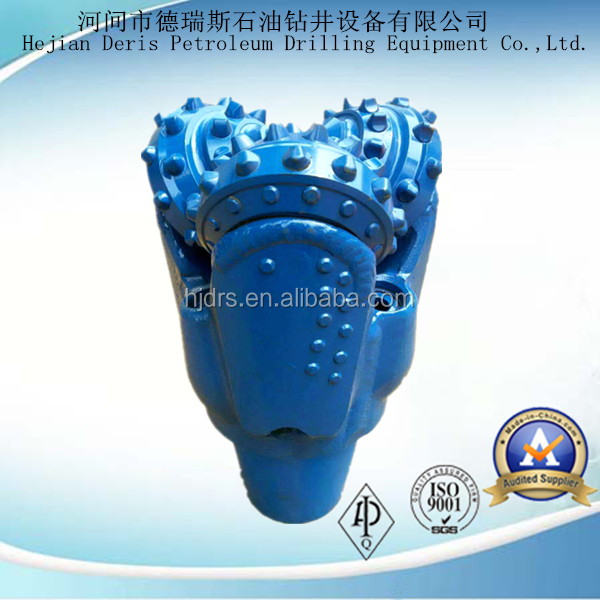 wooden box or as your request
We are Hejian Deris Petroleum Drilling Equipment Co., Ltd.
Our factory specializes in supplies tricone drill bits, PDC bit,hole opener bit,diamond core bit,single drill bit,tricone bit cutter,PDC cutter,drill pipe, drill collar etc to all over the world.bits size from 2 7/8" to 26",and cover almost all IADC codes.
It can be used in various os different fields:mining,underground exploration,water well drilling,oil and gas well drilling.This type of bits have optimal bearing disign,it can be working stably in high WOB,the high quality tungsten carbide inserts on cone the gauge make a good wear resistance can extend the woking life of bit.Our purpose is to sell the best quality products at the lowest possible price.
The principle of our company is based on the quaranteed quality,with advanced technology and scientific management, our company develops with reputations for providing quality products and best service.
Q:How to order the products?
You can send the inquiry with detail item description or with Model number. If possible please attach one
reference pictureto avoid any misunderstanding or any links fromour website for we get a better
understanding.
PLs add the information in your inquiry.
1) the size of the tricone bit
2) the IADC tooth model, like 537G
3) PLs tell the drilling information of the layer.
4) PLs tell the quantity.
Q: Are you a manufacturer or trading company?
A: We are a specialized manufacturer.
Q: What are your main products, and used for?
A: Our products include core bit, PDC bit, reaming shell, core barrel, casing, drill rod, SPT equipment, Shelby sampler, drill rig and other drilling parts.They are used for mineral exploration, geological drilling, geotechnical engineering and soil sampling.
Q: How about discount?
A: Price is based on products and order quantity.
Q: Do you accept sample order?
A: Yes sure, please contact us for details.
Contact us at any time
Any interest of our drill bit, please feel free to contact with us!
Hope we can cooperate soon!
we also have other product, maybe you are interested.
Diamond core bit Drill pipe Steel tooth bit