new mini portable ptc hot stone heater warm fan
Name
:
Portable Heater/Mini Warm Fan
Model
:
FANW-05
Color
:
Pink,Red,Yellow,Purple,Blue
Feature
:
Warm up air Quickly and safely
Working
:
Overheating protection,work quietly,PTC heating
Appearance
:
mini and fashion design
Applicatoin
:
Room, office, Class room
Rotary Speed
:
3500r/min
Heating Range
5 stere
Rated voltage
:
220V/50HZ or 110V/60HZ for your choice
Power Rating
:
200W (For Voltage 220V)
Impulse Current
:
≤ 3A
Instantaneous Voltage
:
330V/60S
Noise
:
≤50( 1m distance)
Product Size
:
7.4*3.5*12.6cm
Package Info
:
20PCS/CTN 24KG/CTN
Carton Size
:
58.5*43*59cm
Gift giving occasion
:
Novelty Items For Business Gifts,Promotional Gift,New Year Gifts
Christmas gift,Birthday gifts,Children Gifts etc
Loading Port
:
Shenzhen,China
Product Patent
:
Our Own Patent For This Item, Designed&Manufactured By us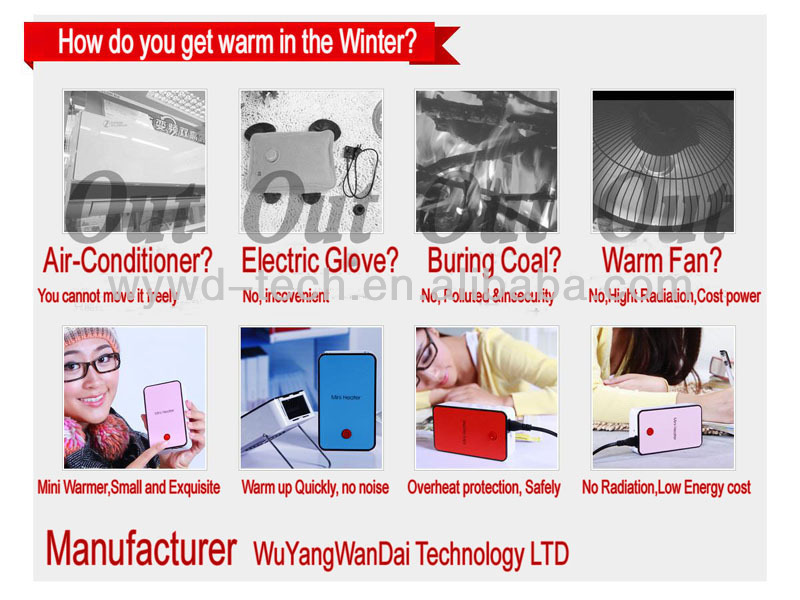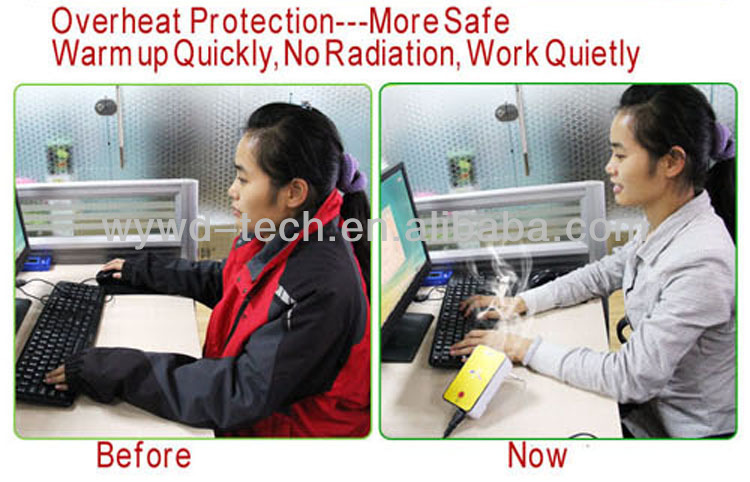 Related product name: Portable heater, mini heater, warm air blower, electric hand warmer, Best friend in Winter,mini warm fan, mini warmer.
Portable Mini heater good for winter!
Name:Mini Heater (mini warm fan)
Model: FANW-05
1. Home heaters/Electric mini Heaters
Ideal gifts For company business, birthday, wedding,anniversary celebrations, employee benefits, company advertising and promotion.
2. Description of Mini heater
The Mini portable heater,2013 new style , a good mini heater for students or officers in the winter, It is really the best friends for you in Winter,
it is portable and convenient to operate. With overheat power-off protection,warm breezes adjustable. It will accompany you enjoy the warm winter safely and comfortably.
An essential supplies for officer or student or home usage, With the portable mini heater, you will spend a warm winter.
3. Product information
1). Technical Parameters
Voltage: 220V
Frequency: 50HZ
Power: 220W
Surge Current: ≤ 3A
Impulse voltage: 330V/60S
Noise:≤50( 1m distance)
2). Product characteristics
* High-efficiency heat material,to heat up the room quickly, safety and save power
* Easy to operate, plug power on the desktop then turn the switch, and warm air come out.
* Elegant and simple appearance, compact and portable.
3). Advantage of the mini heater
* Cute,brief and elegant, can be placed on desktop or portable
* Power saving, hight energy conversion to resist cold winter
* Unique multi-overheating protection system, security and stability
* Fireproof material,To prevent the high temperature deformation
* High-performance special PTC heater, fast heat up,scald-proof
* Stainless steel anti-skid holder, free adjustment
4). Attentions
* Check and confirm power wire in good condition, do not operate if wire damaged.
* For desktop or dry place usage only, no operating in bathroom.
* Keep away from water or moisture place, insure it is dry before usage.
* Do not cover the outlet or inlet of the heater, otherwise the heat can not dissipate timely,
there will cause accident.
* Do not insert small objects into the outlet or inlet, otherwise it will damage the internal structure.
4. Specification of
Product Name:Mini Heater (mini warm fan)
Model: FANW-05
Rotary Speed:3500r/min
Heating Range:5 stere
Voltage rated:ac220V/50HZ
Power Rate: 200W
Noise: <50db (Within 1 meter)
With RoHS certificate
Material:ABS+Electronic component
Color: Pink,Red,Yellow,Purple,Blue
Product Size: 7.4*3.5*12.6cm
Color Box:11.5*6*16cm
40PCS/CTN G.W:13KG/CTN Carton size:64*34*25cm
5. Advantage
1). Patent products
2). Power saving
3). Warm up quickly
4). Small and exquisite design
5). No radiation,safe, work quietly
6). Overheating protection
7). Adjustable support