Cheapest ipl rf shr opt hair removal E light machine,customized ipl handpiece with filters or without filters
E-light Part of E light machine:

1. Theory
E-light takes strong pulse IPL and bipolar radio frequency electromagnetic wave with special width-spectrum, selectively acts on target texture, to do skin rejuvenation, freckle removal, hair removal, wrinkle removal effectively. On treatment if 5 to 10 times than traditional photon therapy.
1.1. Bipolar RF + IPL + Epidermis refrigeration:
E-LIGHT combines good traits of IPL and Radio Frequency, warms up strong pulse, takes bipolar rf to strengthen acting on deep tissue, uses skin can selectively inhale light energy, to induce different impedance between target texture and normal skin. Under the circumstance of low light energy, it strengthens target texture to inhail radio frequency, greatly eliminate side effect like bleb, pigmentation caused by heat action of light energy filtering. E-light can penetrate skin deep, selectively act on hypodermal pigment, blood vessel, dissolve freckle, close abnormal vein, solve skins all kinds of flaws. Simultaneously, E-light can stimulator hypodermal collagen rebirth, make skin youth, health and smooth.
1.2. Specially
Under precondition of precooling, energy will directly push into skin deep, epidermal pigmentation cannot inhail energy, so it can safely act on pigmented skin. Energy can enter15mm under skin. Light energy mainly uses on adjusting target texture impedance, avoid energy echo and reflection problem. Effectively act on any colored pathological changes, like target texture with similar as skin color. Surpass traditional laser and strong pulse therapy, E-light can completely solve many problems like skin rejuvenation, hair removal, acne skin etc. No matter what type of skin or hair color, all can get safe and effective therapy.
1.3. Applicable range :
1.3-1. Wrinkle removal, facelift, skin lift.
Theory: It combines E-light (IPL and RF) technique, that is also said electromagnetic wave and IPL heat energy, to increase dermis layer temperature, stimulate collagen fibre rebirth and rearrangement, so as to do wrinkle removal, face lift and lift skin without pain.
Safety: Cause it mainly uses RF energy to penetrate hypodermal 15MM, acts on dermis layer, and very low influence on epidermis, collects main energy on target texture, so-called very safe.
1.3-2. Permanent hair removal.
IPL hair removal theory: It uses light with selective inhalation, through hair nipple of hair trunk and hair folliculus, which exists rich melanin cell, to inhale strong pulse IPL, produce heat energy into hair folliculus, folliculus temperature will be rapidly increased and the foliculus will be putrescence, so that can effective remove hair for ever.
IPL and RF together to do hair removal: Based on IPL technique, it combines radio frequency energy which can down to hypodermal 15MM, directly acts on hair folliculus, make their melanin inhale more energy, so that has better effect on tiny thin hair, light hair, golden hair and white hair.
Safety: It simply uses IPL hair removal equipment, very safety on light skin, thick and black hair., but uses IPL and RF together, will also very safety on all colored skin and hair, and more effective on hairs around the lip, golden hair and white hair.
1.3-3. Dispel deep freckle, epidermis freckle, whiten skin, dispel thread vein.
Simple IPL technique: it uses Hemoglobin and pigment group which can inhale light selectively and dissolve, to increase target texture temperature. Under the premise not to damage normal skin tissue especially epidermis, make target texture, putrescence, so as to get good therapy.
1.3-4. Acne skin therapy
The before IPL equipment, it doesn't have effective therapy on acne skin, but now, we uses IPL and RF technique together, get very good result in clinic.
Theory: It uses IPL and RF energy, act on and kill Ciprofloxacin bacilli existed in acne, decrease sebaceous gland activation, at same time, it will elimite pigmentation, stimulate deep collagen rebirth and rearrangement, so as to get good result.
Safety: Cause it uses IPL and RF complex energy, it can act on different deep layer, not single energy, so it can make sure more safety and effective on curing.
2. Functions
We know E-light machine is good at removing thick black hair, but it can't remove thin light hair .e.g.: lip hair,Intensive pulse light works on the hair which absorbs the light and transfer it to heat and transport it to hair follicle and then destroy it . But if it is thin light hair .the energy that it can absorb is not high enough to destroy its hair follicle .so we develop E light system to solve this problem. E light's RF energy can directly work on hair follicle that is 15nm under derma .so it is also good at thin light hair removal .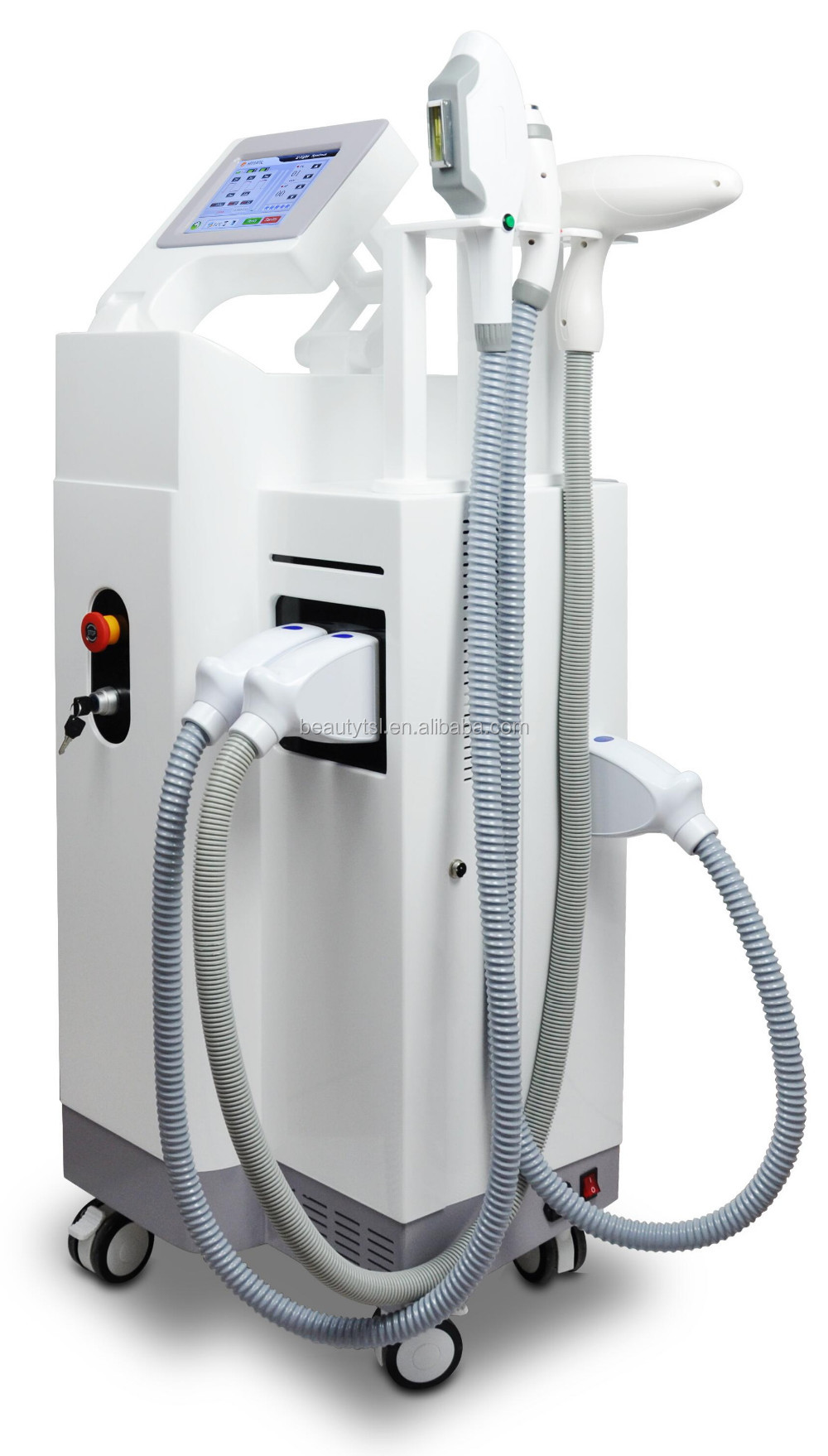 Elight treatment handles details: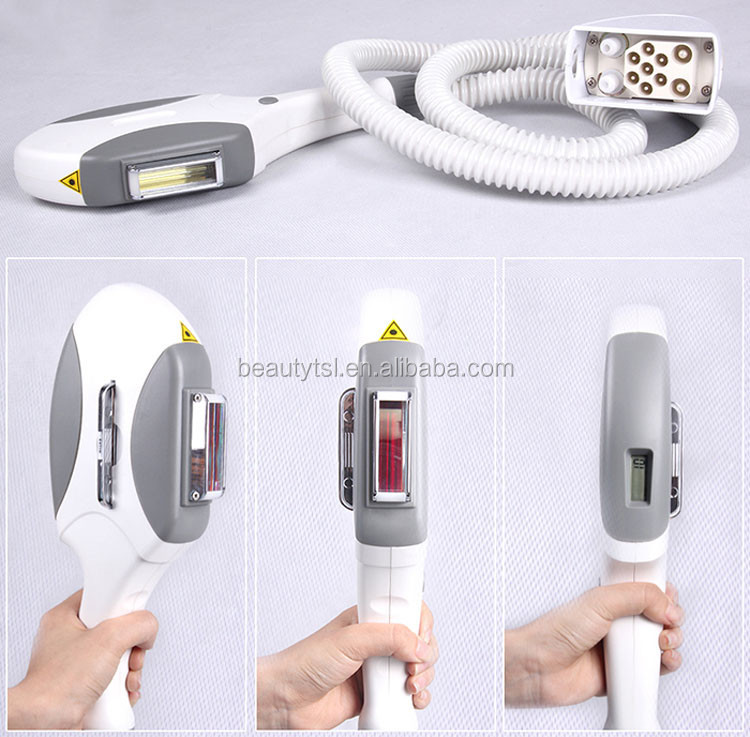 RF part of E light machine:
RF Treatment Procedure
1 .Operateion technigue:
Let the treatment probe touch the target area ad mover(Or Slide)from the inner to the outer and round and round and from the lower place to the higher, when you do the treatment ont he upper lid,Pls move a bit more quickly,when the gel on the face get drier,please add some GEL and go on with the treatment.

2.Face
(Including cheek,eye,forhead,lip,neck) Operation procedure( About 50minutes for whole face,15- 20 minutes for neck)
1) Carry out a skin evaluation before treatment.
2) Clean skin
3) Tone skin
4) Massage with GEL
5) Clean skin
6) Smear gel on skin and apply treatment with trobe.
7) Let the probe touch the skin and make treatment

Course of treatment: One course of treatments includes 5 treatments at an interval of every 10-15days.

Curative effect
After one treatment,the heated subcutaneous fiber shrinks instantly,therefore fins wrinkles are improved,and skin becomes tender,sommth and compact.After onecourse of treatment:the collagen protein is regenerated for long term,skin becomes tender and smooth,wrikles are reduced, and skin is tightened and compact.
3.Body(striae gravidarum)
Operation procedure(About 60-90minutes for topical area)
1) Carry out a skin evaluation before treatment.
2) Clean skin
3) Massage with body slimming distillate
4) Smear body slimming diatillate on skin and apply treatment with probe.
5) Clean skin
6) Let the probe touch the skin and make treatment.
7) Course of treatment:One course of treatments includes 5 treatments at a interval of every 10-15days.
Curative effect After one treatment,the heated subcutaneous fiber shrinks instantly,therefore skin become smooth,compact and elastic.After one course of treatment;Skin becomes compact and flabby skin is improved.

Treatment Caution
1. For treatment is that the patient should feel needling&hot.

2. The treatment head must be kept on the skin (sliding); otherwise, the skin will get burned.Before the treatment head leaves the skin, you must loose the button on the head or loose the foot switch.

3. When the temperature of the treatment head is over too high, you should stop treatment.The energy you adopt should not be too high; otherwise, the skin will get burned.

4. Please carry out skin moisturizing and sun proof cream work after treatments, do not wash faces with hot water (use water under the body temperature), and do not go for hot spring and massage.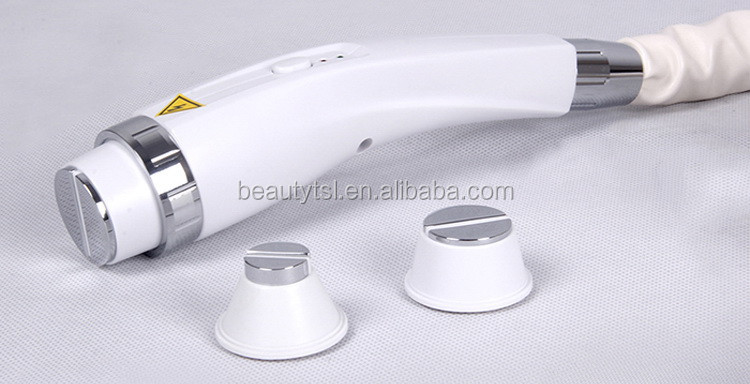 Laser part of E light machine:
Treatment Theory
Eliminate spots ,remove tattoos : The specific laser wavelength will effect on and melanin of epidermis and dermis . The pigments will begin to swell and explode to tiny particles after absorbed this high energy laser . One part of them will be shot out of the body ,the other parts will be gradually removed by metablism .
Tighten skin ,contract big pores:Spread specific fine carbon on face ,after absolutely infiltrated in pores,then to shoot ,it's easily burst the carbon particles to break out the spots and cutin of epidermis . The heat will stimulate re-growth of collagen ,to tighten skin and shrink pores
Application
To wipe out tatoos ,to eliminate eyebrow cleaning ,eye-line cleaning ,age spots,birthmard ,etc.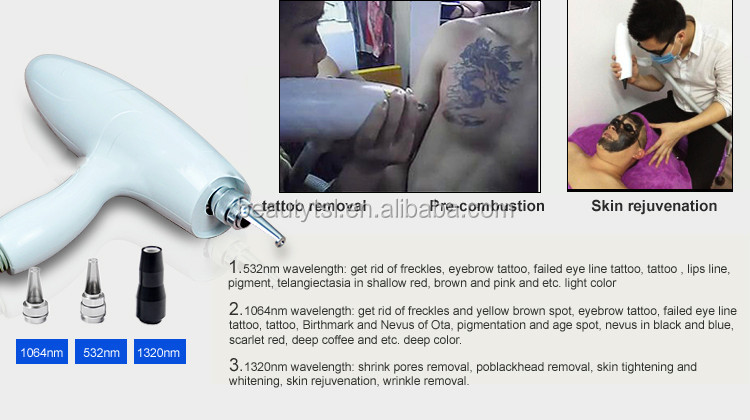 Machine topography of E light machine: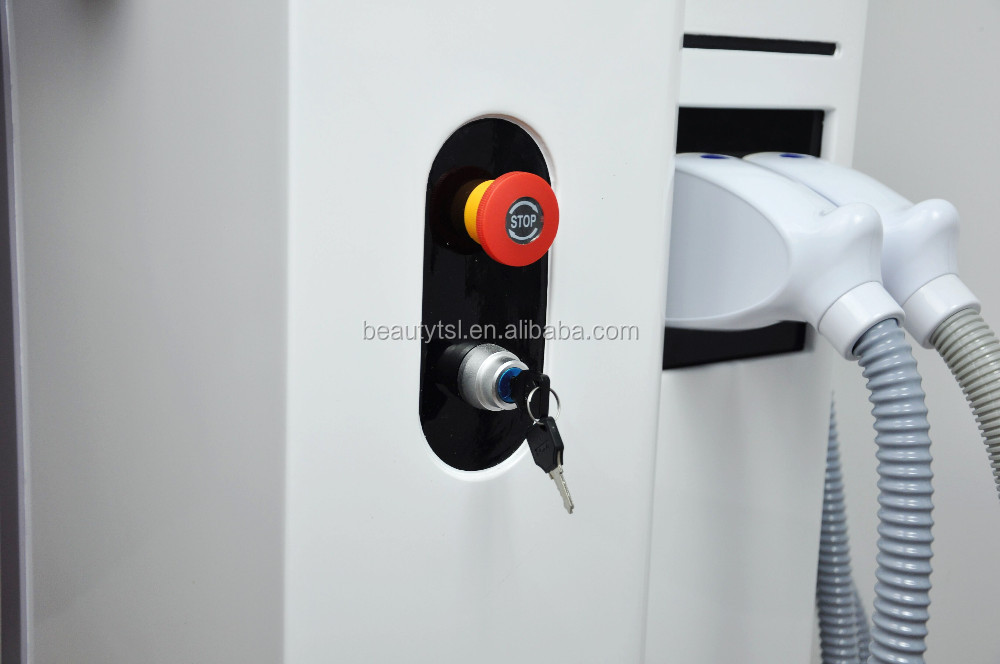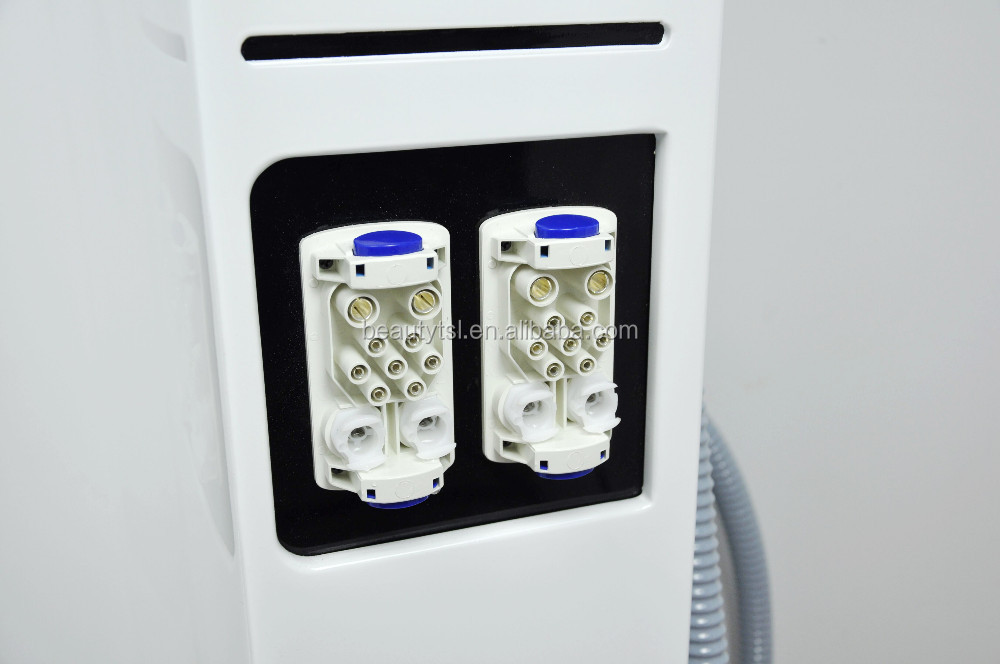 Accessories: