HS-16K 40W Alum Consitant Voltage Outdoor
Horn Promotion amp Speaker
Product Profile:
Minsound HS16K horn amp speaker uses Alum material and is specially manufactured for the extreme weather condition; they are waterproof and can be suitable for outdoor installations.


They each have a 70/100V transformer with variable power adaption in.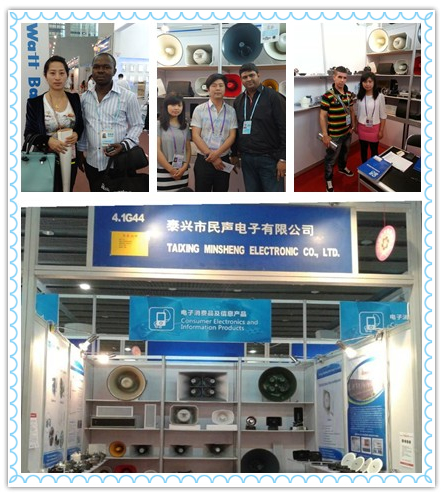 A.Shipping:

DHL, UPS, TNT, FedEx or EMS

Aircargo or Seacargo

B. Payment:

Paypal Western Union and TT acceptable

Minsound Electronic Co.,Ltd. was founded in 2005, and specialized in manufacturing many kinds of loudspeakers, horn speakers, driver units, air-raid siren, marine speakers, column speakers, ceiling speakers, wall speakers and PA accessories.
We are experienced in manufacturing and have strong capability.

Our products are popular in many countries and areas.

We have professional acoustical testing systems and instruments.

We promise to offer you highest quality and best service!

Address :No.1, Songqiao Industrial Zone, Jianghua Town, Taixing City, Jiangsu Province, China
Post Code : 225444
Tel :0086-523-87415999/87423298
Fax :0086-523-87423068
Mobile :18952672716(Silvia Wu)
Mobile :18952693926(Yapeng Ye)
Website : www.minsound.com