72W/17.6V flexible thin film solar panel for 12V truck system
72W/17.6V flexible thin film solar panel for 12V truck system is detailed as follows:
General Information about BIPV
BIPV panels achieve their lightweight and flexibility advantages over glass-based crystalline PV panels by:
Thin-film amorphous silicon thickness less than 1 micron.

Stainless steel substrate of 5 mil.

Protective coating with EFET film.

Average weight of 0.7Ibs/sq ft.
Amorphous silicon alloy thin film technology can be 100 times less thick than that of conventional cells, thereby significantly reducing materials cost.
Crystalline PV panels are rigid and fragile. They are almost four times heavier per square foot due to the use of glass as a laminating and protecting material. Plus, the required metal framing adds additional weight.
The PVL flexible solar panels utilizes the unique Triple-Junction thin-film silicon solar cells, where the blue, green and red light of the sun is absorbed in differenct layers of the cell. This technology results in better performance in low and diffuse light conditions.
Durability.
Chance of damage to PV panels is increased due to the fact that roof surfaces require access by service personnel.
PV Laminates are extremely durable and can sustain much greater impact than glass-based PV panels.
PV Laminates can sustain significant damage and still produce most of their rated power.
The output of glass-based PV panels drops to zero over time following damage to glass surface (even small cracks) due to the penetration of moisture.
Removal and replacement of glass-based PV panels can be expensive and can result in damage to other panels.
Peel and stick adhesive backing is capable of withstanding 160 mph wind loads
Wind and water-tight roof
20-year power output
72W Flexible Amorphous adhesive thin film flexible solar panel is detailed as follows:
•High temperature and low light performance
•25 year warranty for power output 80%
•Quick-Connect Terminals* and Adhesive Backing
•Bypass Diodes for Shadow Tolerance
•UL 1703 Listed to 600 VDC
•IEC 61646 v1 certified
•IEC 61646 v2 and 61730, TUV certification pending
Dimensions:
Basic characteristics at STC

PVL11-72

PVL22-144

PVLS14-92

PVLS16-105

PVLS18-118

PVLS20-131

PVLS22-144

Power(±10%)

Pm (W)

72

144

91.62

104.7

117.82

130.9

144

Open circuit volt

Voc (V)

24.2

48.4

30.8

35.2

39.6

44

48.4

Short circuit current

Isc (A)

5.1

5.1

5.1

5.1

5.1

5.1

5.1

Voltage at Max Power

Vm (V)

17.6

35.2

22.4

25.6

28.8

32

35.2

Current at Max Power

Im (A)

4.09

4.09

4.09

4.09

4.09

4.09

4.09

Length(±5 mm/0.20in)

L (mm/in)

2741/107.9

5392/212.3

1777/69.96

2018/79.45

2259/88.94

2500/98.43

2741/107.9

Width (±3 mm/0.12 in)

W (mm/in)

378/14.9

378/14.9

740/29.1

740/29.1

740/29.1

740/29.1

740/29.1

Weight

M (kg/lbs)

2.8/6.2

5.3/11.7

3.5/7.72

4/8.82

4.4/9.7

4.9/10.8

5.3/11.7

Thickness

T (mm/in)

1.5/0.06

1.5/0.06

1.5/0.06

1.5/0.06

1.5/0.06

1.5/0.06

1.5/0.06
Features:
Easy to Install: may be adhered directly to metal roofing pans, no racking system is required, laminates and metal roofing can be installed in one step reducing installation time and costs.
No roof penetrations: laminates can be adhered directly to metal roofing, there are no penetrations to the roof deck.
Lightweight: laminates weigh less than one pound per square foot, with no point loads or increased wind loading, can be installed without costly structural roof reinforcements.
Durable: solar roofing systems using our technology have achieved wind ratings >185 MPH. Glass-free modules mean you don't have to worry about breakage due to hail or vandalism.
Flexible: laminates offer freedom of design to architects, as they can conform to curved surfaces, laminates integrate directly with the metal roofing pans, they do not detract from the appearance of the building.
Advantages:
1. Flexible
V-laminates offer freedom of design to architects as they can even conform to curved surfaces and hence are meeting the increasing demand for aesthetically pleasing building integrated PV (BIPV).
2. Lightweight
Lightweight PV laminates are particularly suited for retrofitting of existing buildings or applications, where additional weight and/or wind load are critical to the statics of a building or structure.
3. No-Glass
No Glass PV-laminates in ground-mounted PV installations reduce sub-construction requirements and total system costs substantially.
4. Durable
Durable PV-products encapsulated in UV stabilized, weatherresistant polymers have proven themselves over decades under the most extreme conditions imaginable, including satellites, ocean buoys and military applications.
5. Shadow Tolerant
Shadow tolerant PV products offer higher outdoor performance in low and diffuse light conditions due to higher absorption of light in the blue wavelength range. The thin film PV Solar Panels can deliver power even when partially shaded or soiled.
6. High Temperature Performance
Thin Film Flexible PV products render better energy yield at high module temperatures and in warm climates. Under real outdoor conditions, module temperature can be up to 80 celsius degree, especially if they are building integrated and directly in the sun
At these temperatures, the thin film PV-products can yield up to 20 % more electricity compared to conventional crystalline solar modules of the same power rating.
7. More KWh-higher ROI
Thin film flexible PV products achieve higher kWh energy output per Wp installed than most
conventional crystalline products. Make the most out of your photovoltaic investment.
The 72W/17.6V flexible thin film solar panel for 12V truck system can be packed as follows:
72W/16.5V flexible thin film solar panel for 12V truck system can be used for the roof,bus stop,car ,boat,golf cart,etc
Application Criterion
• New or qualified new roof installations
• Installation by certified installers only
• Installation temperature between 10°C-40 °C (50°F-100°F)
• Maximum roof temperature 85°C (185°F)
• Minimum slope: 5°
• Maximum slope 60°
• Membrane: Select EPDM and TPO substrates from approved manufacturers only
• Metal: PVDF Coated (Galvalume® or Zincalume®) steel metal roofing pan with flat surface (without pencil beads or decorative stippling) and 406 mm (16") minimum width
Refer to manufacturers installation guide for approved substrates and installation methods
Multi-Contact (MC®) Connectors
Jinan Linquan is a high-tech enterprise specialized in power products researching, manufacturing and marketing in Shangdong. We provide products including solar module( 72W/17.6V flexible thin film solar panel for 12V truck system ) ,solar charge controller, off- grid inverter, LED driver and special power units etc., as well as design and supply relevant solar systems. We have passed the ISO9001 – 2008, and our products have passed CGC-SOLAR certification and CE certification as well as other domestic and international authoritative certification and a number of patents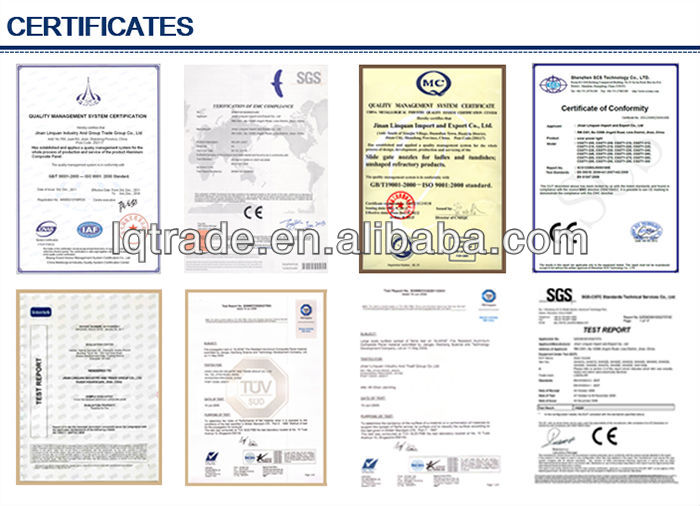 Triple junction technology for the 72W/17.6V flexible thin film solar panel for 12V truck system
Each Thin film PV modules utilizes the unique triple-junction thin film silicon solar cells from United Solar Ovonic LLC, thin film PV modules yield unprecedented performance
Each solar cell is composed of three semiconductor junctions stacked on top of each other, forming three different sub-cells. The bottom sub-cell absorbs the red light; the middle cell the yellow/green light and the top cell absorbs the blue light. This light spectrum splitting capability is the key to higher efficiency, especially at lower insolation levels and under diffuse light.
Thin film solar cells are made in a roll-to-roll vacuum deposition process on a continuous roll of stainless steel sheet. The result is a unique, flexible and light weight cell. The solar cells are arranged in a series string and encapsulated in UV stabilized and weather-resistant polymers to form PV Laminates. The polymer encapsulation includes at the front side EVA and the fluoro-polymer ETFE(e.g. TEFZEL from DuPont)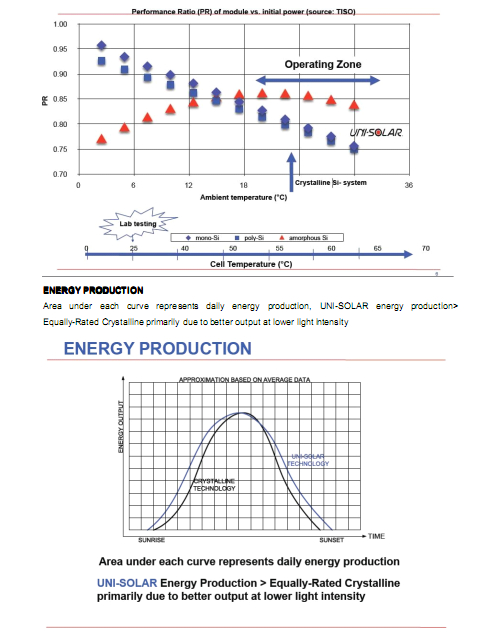 Installation for 72W/17.6V flexible thin film solar panel for 12V truck system
Flexible PV modules can be boned to conventional metal roofing panels,single-ply membranes,and modified bitumen roofing material or they can be fabricated into flexible roofings shingles.The resulting modules are exceptionally durable.By-pass diodes are connected across each cell,allowing the modules to produce power even when partially shaded or soiled.Each power module has a means of easily making the required electrical connections to create compatible system voltages.
These interfaces include weather-tight,quick connect plugs,pre-connected to UV protected wires appropriate for all applications from simple single module requirements to high voltage grid-connected applications.