PVC marquee tent/outdoor events tent
Description
Pipe and drape uses a limited number of components that are connected together to build up wedding, event, Trade show stands in various sizes and also does not require the use of any tools. The basic components are bases, uprights, (Cross Bar)and draperies.
Iron bases are heavy weight rest on the floor with light weight aluminum uprights that simply slip over a nipple attached to the base.
Draperies made from flame resistant fabrics have rod pockets for the Crossbar (drape support) to slide through. Crossbar drape supports with steel hook ends that slip into slots located on the top of the uprights. The whole system is assembled in a matter of a few minutes and is entirely reusable.
Pipe and Drape is mainly used to hide or decorate a space temporarily. It is the most cost effective way to divide booth spaces at Wedding Hall, Stage Backdrop exhibition events. It can be seen as a stage background at speeches and shows. You can use pipe and drape at specialty events like weddings, dances, and parties. There is a large number of people who using it to cover unwanted decorations at an event location. Pipe and Drape can be used for Photo Booths. The reality is simply this, Pipe and Drape is the perfect solution when you are looking to seperate, decorate or even possibly cover something up or block out light and distraction of a space at an affordable price point
PVC marquee tent/outdoor events tent

Straight Pipe Stand

Base Plate

420*420mm-600*600mm

Upright(Pillar)

6foot -16 foot

Crossbar(Drape Support)

6 foot - 10 foot
Drapery

Velvet/Chiffon/Velour/Poly Premier

Black/White/Customs

Usage :Wedding , Stage , Trade Show, Eents, Party, School,Hotel, etc.
Production Feature
* Durable and rust resistant.
* Modular system.
* Easy to install, can be assembled in minutes.
* Virtually unlimited size or configuration.
* Creates theatre-like appearance.
* No extra tools required.
* Drapes can be supplied to size
* Easy for carry with special designed hand bags
Detail Production Description
Pipe and drape specification(standard size):
Upright height: with 3ft-5ft, 4ft-7ft , 5ft-8ft, 6ft~10ft, 7ft-12ft , 8ft-14ft , 9ft-16ft , 9ft-16ft, 10ft-18ft,11ft-20ft ,12ft-22ft,13ft-24ft ,14ft-26ft adjustable , have 2 piece ,3 piece
Telescopic crossbars(Floor width): 2ft-3ft, 3ft-5ft, 4ft-7ft, 5ft-8ft, 6ft-10ft, 7ft-12ft, 8ft-10ft, 8ft-14ft ,9ft-16ft
Baseplates:420*400*5mm/450*450*5mm/500*500*8mm/450*450*10mm/400*400*12mm

3.Crossbar(Drape Support)
4.Fabric Drapery
Drapery are available in various color and weight. Chiffon, Velvet, Velour, Poly Premier and so on.
Remark: Please contact me for how to calculate the length of the drapery!
5.Applications
Pipe and drape widely used for event, wedding, stage, party, hotel, school. Pipe and drape system can be application for backdrop, divider, booth, and wall cover. Pipe and drape is popular to all over the world as it is easy to adjustable and easy to install. Cost effective for many time using.
Wedding: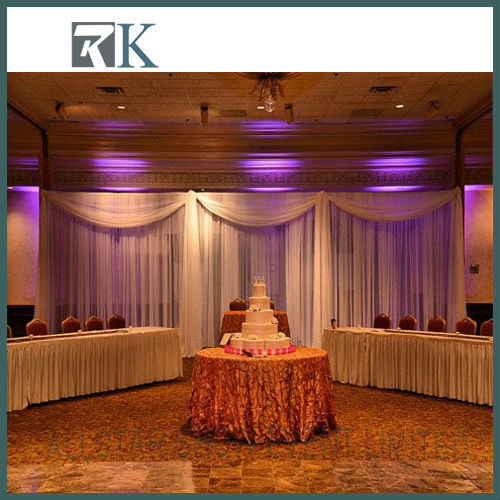 6.Packing
We are a leading company of this stage in China, our stage is patented, also with TUV Certificate and Fireproof Certificate!
Payment terms:
We can accept payment via T/T,Western Union,Paypla,etc.As bank transfer(T/T),it is suitable for large orders,For small order,you'd better pay via Western union or Paypal,which is easy,fast and safe.
Shipping:
We offer many shipping options for our customers,we have good relationship with shipping company directly,such as APL,Cosco,CMA and so on.We can help you to save some shipping cost.
Import taxes:
We can help you reduce and avoid import taxes by declaring price lower.Should have any questions,please contact with us any time!We look forward to long cooperation with you!