we sell rice husk power plant,use biomass gasifier to convert rice husk ,straw, woodchips and otherwaste into gas
then the gas can be used for output power ,heat ,and to burn boilers, kilns ,dryer etc.
1. environment-frendly product . huge reduing the pollution compared with coal power plant
2. save energy . rice husk is renewable energy
3. it is economical for private enterprice. instead of other diesel generator ,coalpower plant ,natrual gas generator , rice husk power plant save much money
Specifications:
Models &specifications300kw-6mw etc
applicable raw materials: all organic wastes, agriculture waste, forestry waste ,like rice husk , wood chips, wheat straw
Efficiency: 1.2~1.5kg produce 1kwh electricity .
Emission: no dirty water emission . dirty water will be recycled .
Gasifier type: downdraft fixed bed gasifier, updraft fixed bed gasifier and fluidized bed gasifier.
we will depend on the feature of biomass to use difference gasifier . different gasifier has different feastures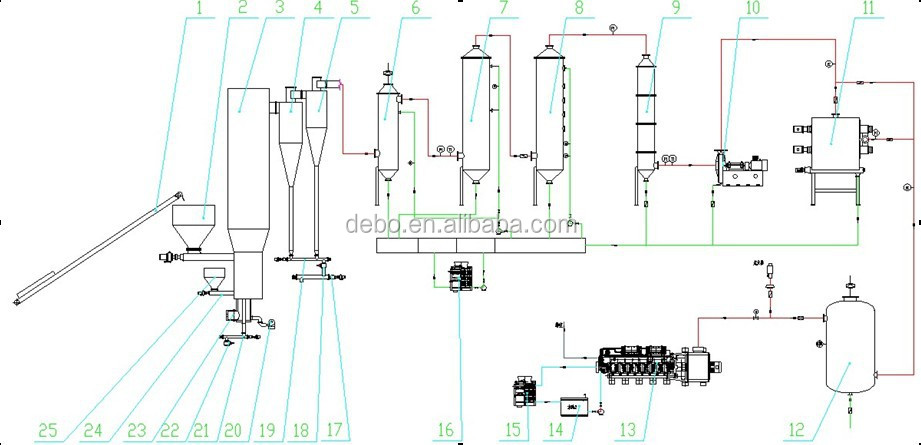 Diagram of Rice husk Gasification Power Plant
1,Belt Conveyor,2,Biomass Silo 3,Gasifier 4,first-step cyclone 5,second-step cyclone ,6,first-step spray tower 7,second-step spray tower 8,Turbulence tower 9,Purifier 10,Gas Booster Fan11,dry filter 12,pressure regulator tank 13,internal combustion engine ,14,water pond15,cooling tower 16,cooling tower 2,17,charcoal cooling screw conveyor 18.star Discharger 19,charcoal release screw conveyor 20,air blower21. Slag Discharging conveyor ,22,star discharger23,balance chamber 24,bed material screw conveyor 25,Bed material silo