Ihome pager calling device restaurant waiting system
Have you ever been in a service area where you are ready to place your order, but you can't find attainder ,this wireless waiter or server call paging system is going to solve your problem.
1. How it Works
The transmitter is for guest use
The signal receiver is for waiter or waitress use.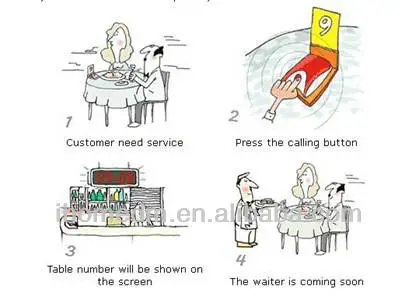 This wireless transmitter bells are typically placed on or attached to each table. When a guest wants his or her server, he/she presses the button of a service bell, which sends a signal to the central receiver. The Receiver displays numbers, usually table numbers, which the guest has sent, and flashes briefly and beep sounds to indicate that a new call has been received.
| | |
| --- | --- |
| Model | IHOME 201 |
| Input | 5V500mA |
| Transmitting frequency | 433.92 MHZ |
| Audio output | Buzzer |
| Transmitting distance | 1500m in the open area |
| Working temperature | -20C-80C |
| Store temperature | -40C-80C |
| Case material | ABS material |
Display HCM1300

We provide 1 month replacement and 12 months maintenance warranties. Items can be replaced during the first month or maintained for the first year.
Buyers are only responsible for the return shipping fees for warranty items.In most cases, buyer will only have to return the problem components rather than the entire package.
Before returning items, please make sure you get our return address, and write "gift"on the delivery detail sheet. Please use regular postal service and send us the tracking number. As soon as we receive the items, we will repair or exchange them ASAP.
Students call different kind of assistance by press the transmitter. For example, press the button to call IT, NURSE, GUARD, CLEANER,TEACHER....,

Students in dormitory call dorm staffs for any kind of assistance...
Staff on production flow may need assistance from technician,materials, Maitinance, Manager.., he can press a button to get help without loud speak.
Counter Teller press a button and the counter number flashing to tell customer come here to checkout

Customer usually need help to find out a product on shelves, he or she can get help by just pressing buttons on different shelves.
Cinema or Theater Customer Call for Service
Patient can press a button near him or her to get help from nurses

Doctor can call different nurses by press buttons near him

Doctor or Nurse can call patient in waiting line for attendance by press queue keyboard
Family Use Emergency Call System
Old people, Children, Pregnant can press buttons in any room for helping from families or maid. The receiver will show the button position properly.
Internet Bar Service Call System
Showrooms OR 4S shop Waiter Call
Click here to get suggested solution from sales person
Click here to have a look at the configuration of different applications