MUSIC ANGEL new speaker with manual flash drive lyrics speaker

Basic Functions

micro SD card and USB disk insertable

mobile equipment attachable

FM

code reader

display screen (alarm clock/ calendar/ synchronous lyrics/ multi-language)

Audio Parameters

Loudspeaker

45mm full range rare-earth high magnetic speaker

Sound Channel

2.0

Frequency Response

150-18000Hz

SNR

≥80dB

Distortion

≤1%

Audio Input

Mini USB

Support Audio Formats

WAV/ MP3/ WMA etc.

Technical Parameter

Rated Voltage

5v

Rated Power

6w

Rated Impedance

4Ω

Service Time

up to 8 hours

Charging Interval

3 hours

Power Supply

Built-in Lithium Battery

Outlook Specifications

Color

Pink/ Green/ Blue/ Silver/ Black (customizable over 2000 pieces)

Material

Aluminium Alloy

Shape

Cuboid

Dimensions

164*50*50mm

Net Weight

209g

Packing and Accessories

Packing

PVC

Carry Pouch

Customizable

Packing Size

170*71*55mm

Gross Weight

279g

Packing List

1*Music Angle mini speaker; 1*USB cable; 1*3.5mm audio cable; 1*lanyard; 1*manual
APPLICATION
1.Before sleeping, listening to some light music to ease one day's exhaustion may give us a sweet dream, active audio mp3 player music player will ease you!
2. Watching movies with computer at home, if lacking of powerful audio effects, the movie will be very dull, the speaker will make wireless speakers surround home theater
3.In the campus, Music Angel help students not only learn and have fun but also acquire information through the FM at anytime and anywhere.
4.For the old, a beautiful day begins with morning exercise and wonderful music from flash drive lyrics speaker .
5. After dinner, go for a walk with your families in the park, turn on your mini speaker, music, updated news and entertainment programs.
DETAILS DESCRIPTION
1. EARPHONE INTERFACE /ANT
earphone interface

cable connected to work as ANT
2. USB INTERFACE
USB inserted to read WAV/ MP3/ WMA etc.
3. DC 5V
5V charging interface, universal adaptor
4. LINE IN INTERFACE
audio cable input can connect MP3, CD, VCD, PAD, mobile phone, computer and other audio products.
5. POWER SWITCH
6. MICRO SD/TF CARD INTERFACE
Micro SD/TF card inserted to read WAV/ MP3/ WMA etc.
7. ANTISLIP MAT\BATTERY LID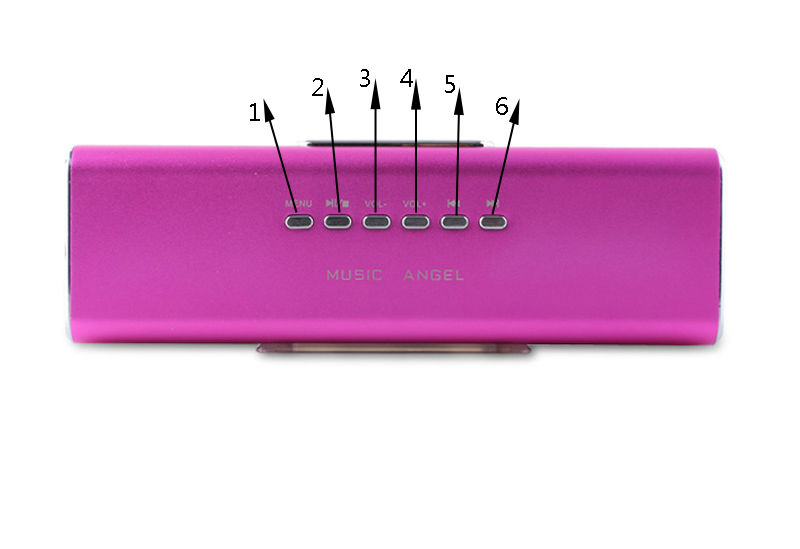 1. MENU
2.PLAY\PAUSE
short press for play/pause/continue to play
In the "FM interface", press to listen to among saved channel
3.VOLUME DOWN
4.VOLUME UP
5.PREVIOUS
6.NEXT
short press to move right or choose next song
1. LCD SCREEN
RAW SPEAKER
double horns, 45mm full range rare-earth high magnetic speaker, clear high-pitched sound, pure alto sound, vigorous bass.
BATTERY
High quality and high capacity lithium battery inside active audio wireless flash drive lyrics speaker
PACKAGE
Environmental, concise package with PVC (package could be customized if ordered over 2000 pieces)
OUTLOOK DESIGN
flash drive lyrics speaker's design always keeps up with the style of world- high-classed and the the world-popular brand, and finally be simple, splendid, fashionable and elegant.
ALUMINUM ALLOY HOUSING AND VACUUM ION ELECTROPLATING PROCESS
Active audio flash drive lyrics speaker surface adopted vacuum ion electroplating process, and then the speaker is scratch and oxidization resisting, that means the surface will be bright-colored and durable like new one without a scratch.
CUSTOMER EVIDENCE
Picture above is OEM for American famous rock star.
Our brand are popular all over the world, and was registered in more than 50 countries, including Norway, Finland, Austria etc. the people in which are gifted with extraordinary music literacy, especially in Norway 1 million people out of 4.75 million are using our speakers which means about one out of four owns our products MUSIC ANGEL new speaker with manual flash drive lyrics speaker
Our products have been well received as promotion presents for global well-known brand company.
Our customers include the top two telecom companies in China, many famous mobile phone companies, and the Organizing Committee of great Expo and Games which proves our high standard products and service.
OTHER INFORMATION ABOUT OUR COMPANY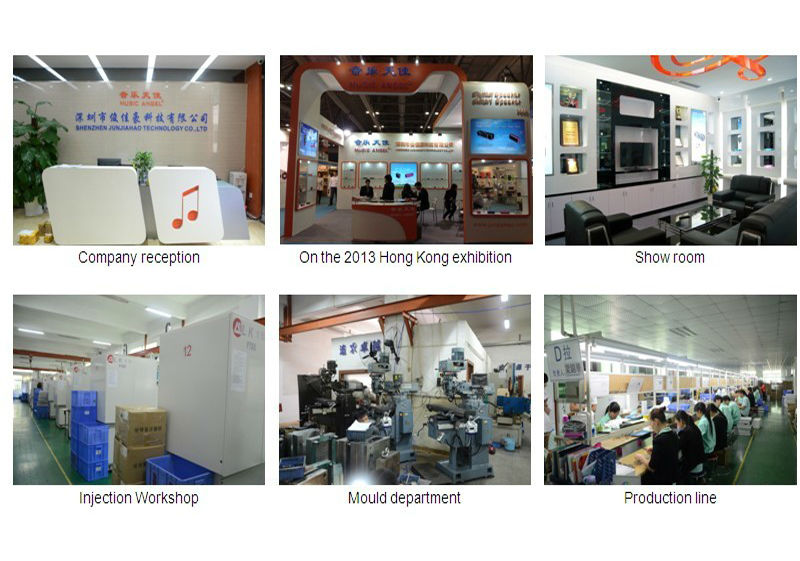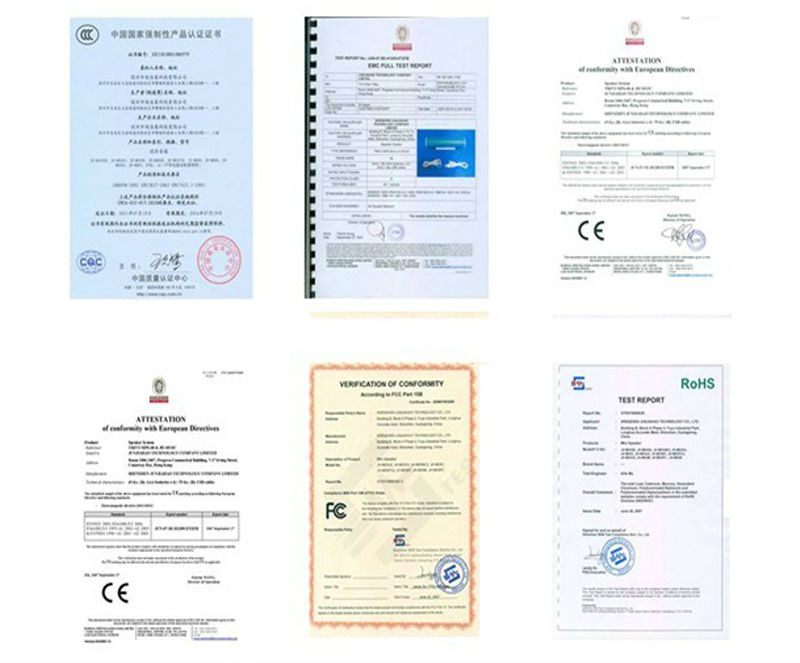 Last Update Time:2014-01-01