Slow Release Nitrogen Urea Fertilizer Sale Better than N 46%
1. DESCRIPTION
Our products of Shenyang Humate are made of the best quality raw material (Min.80% humic substances) which can be found on the territory of Inner Mongolia of China.

The essential raw material is a low calorific value non-cohesive coal, which is called oxyhumolite (Leonardite). This raw material is exploited from a deposit which is independent on coal open pit mines. There is paid an extraordinary attention to a selective exploitation from the very beginning. This reduces the content of undesired clayey and siliceous impurities which ensures an optimum quality of the raw material with the highest content of active components. The unique composition of functional groups also ensures an extraordinary high biological activity as compared with other products.

The material is "aged" on dumping grounds where it naturally weathers and oxidates. The whole production process follows the only goal: a quality product with the lowest content of of ash matters and a high content of humic components. In a dependance on the hydroxide used with the extraction the result of the process is a sodium or potassium humate. The unique drying process gives an appearance of flakes to the product.
2.SPECIFICATION
PRODUCT NAME: Blackgold Humate
CHEMICAL
Long-term Urea Fertilizer
Urease inhibitor
increased yield of maize by 35.3%
Detailed Specifications will be sent by email at request.
Other Name: Humic Acid Compound Fertilizer
Brand Name: HuminRich
Type : Urea , Solid
MF:CO(NH2)2
Shape: Granules
Color: Black Brown
Urea Coating: Humic Acid
Purity: 100%
Application: Soil Application, Organic Fertilizer , Agricultural Fertilizer
Delivery Detail : Within 15 working days after receipt of payment or L/C
Packaging Detail:25kg /PP. woven bag or 25kg / kraft paper bag with inner plastic lining;Customized packing is available.
3.Problems and Developments of Urea Fertilizer
The application area of agricultural production at home and abroad the most widely used, the largest number of urea nitrogen fertilizers is urea. However, the use of urea exists a problem of ammonia volatilization loss and low utilization rate. The study results showed that delay the hydrolysis of urea by urease inhibitor added to the soil, to improve the utilization of urea. Add urease inhibitor mainly limited to heavy metals, strong acids and phenolic quinone compounds, some of them applied to the soil will cause the soil heavy metal pollution (such as heavy metals urease inhibitor). Some easily degradable in the soil contaminated soils (such as phenols, quinone inhibitor) some of them are expensive, which cannot be to promote the use of. Humic acid urease inhibitor recently found an environmentally friendly.
Long-term humic acid urea can inhibit urease activity, compared with ordinary urea can improve corn production, improve the quality of the corn.
These new humic acid urea Was made of the environmental-friendly urease inhibitor and urea through special producing method. The fact shows that UHAinhibited urease activity in soil and increase yield and improve quality of maize, especially UHAthat increased yield of maize by 35.3%
Production Process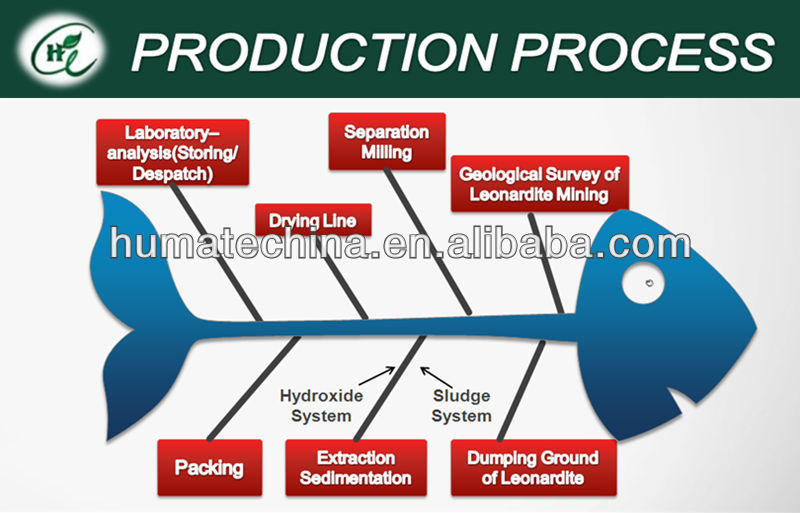 About Shenyang Humate
SHENYANG HUMATE exclusive processes allow us to offer you high-performing fertility products based on rich organic humic substances. These natural rich organic humic substances are similar to the chemical make-up of the plants themselves, so it's easier for the roots or leaves to assimilate the added nutrients and put them to work more effectively. Our products also work in buffering roots against the damaging effect of highly acidic or alkaline soils. With Slow Release Nitrogen Urea Fertilizer Sale Better than N 46% , your crops can maximize the potential of your fertilizer, resulting in better germination, more efficient foliar applications, and strong, healthy growth.
Our company covers an area of 100,000 square meters, with research and development centers, training centers, materials bases, and so on. We have developed 5 series and totally more than 300 kinds of products, which focus on humic acid, 65HA+15MFA+14K2O+100Soluble Potassium Fulvate , seaweed, and amino acid. We have carried out over 50 customized products and manufactured various plant nutriments and fertilizers.
For more other information about Slow Release Nitrogen Urea Fertilizer Sale Better than N 46% , pls visit our website: http://humatechina.en.alibaba.com/
Why Cooperate With Shenyang Humate
>> Demand--Custom demand are welcomed,we can customize your brands.
>> MOQ --3 ton, the least mininum to support you.
>> Production--Assembly line production, high standard and strict requirements
>> Quality--Humic acid Sources are extracted from young active leonardite mine
>> Products--We have developed 5 series and more than 300 kinds of products.
>> Package--Tailor-made package to cater for your personalize taste
>> Payment--Various options to make payment more convenient
>> Delivery & Logistics—Within 15 working days after receipt of payment or L/C; We have big discount from forwarder (Long Contract) or LCL to save on your freight cost.
>> Customer Service--E-mail your suggestions or complaints, and we will handle them ASAP.