Venetian Blinds for Sliding Glass Doors
window blind components
Our blind components range covering:vertical blinds
accessories,roman shade components,Honey comb components,Panel
track components,Venetian blind components,wooden
venetian,roller blind parts,curtain,sky light parts
1.Our tenet is quality first, credit standing paramountcy,
price in reason, delivery in time
2.blind parts have characteristic: easy clean, flow.
1.Available in a wide variety of blinds
2.First-hand factory prices
3.Great quality control and after-sale services
25MM:

50MM:

A window blind is a means of screening a window, achieving similar results to those obtained by fitting curtains. Blinds are typically the same width and height as the window itself or slightly wider and taller—depending on whether they are fixed inside or outside the window's reveal (i.e. the wall recess within which the window itself is fixed).
Window blinds have varying thermal effects: they can block unwanted heat of the summer sun and they can keep in heat in cold weather. But in both of these applications, they also reduce light to varying degrees, depending on the design. Many kinds of blinds attempt varying balances of privacy and shade. Blinds can be made of a number of different materials and manufactured in a number of different ways. This usually determines the name by which the blind is commonly known.
Aluminum venetian blinds offer a sleek, elegant look. More durable than vinyl blinds, they are all made out of 8 gauge aluminum, for added strength and durability. Mini blinds have crash proof cord locks, baked on enamel finish and are an excellent choice for better light control and privacy. Micro blinds provide a modern look and are ideal for smaller windows, or applications such as French doors. Options include multiple blinds on a headrail and tile cut outs.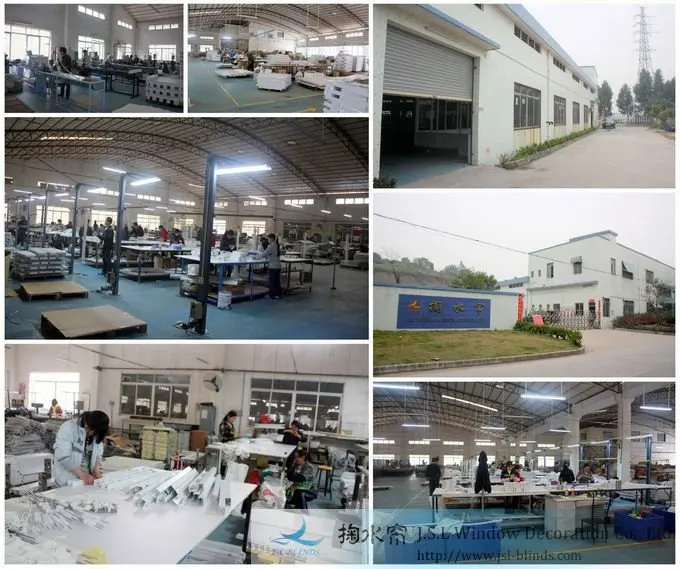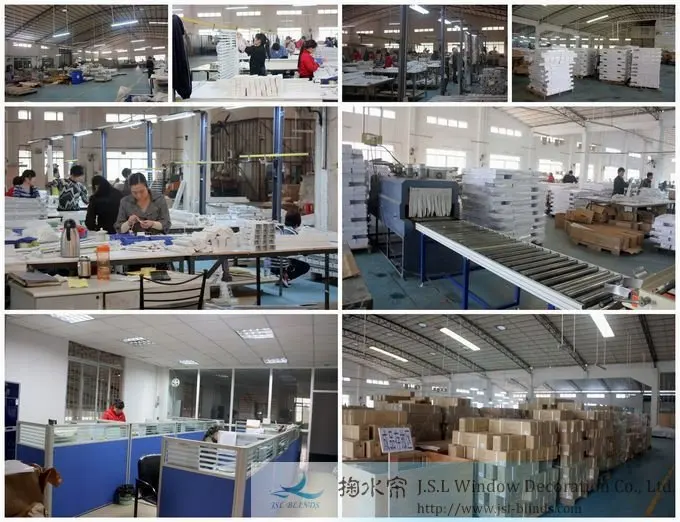 *Main products of J.S.L---bamboo blinds, wooden blinds, fabric vertical blinds, PVC venetian blinds, aluminum blinds, roller blinds and related blind parts, and even blind making machines. With trustful quality and fair prices, Our products are exported to Europe, America, Southeast Asia and the Middle East and have won us good reputation and global market, our products have been exported to Europe, America, Southeast Asia and the Middle East.
*Experience--Founded in 2004. It's the fruit of her founder ten years experience in window blinds manufacturing. J.S.L can be considered as an integrator of window blinds industry, from development, design, manufacturing and sales. We have applied for Import And Export Rights and a experienced shipping team.We have pasted the ISO 9001-2000 since year 2006, and applied for export rights for blinds machines.
*Facility--10 sets automatical blinds slat making&Forming&Tape Threading machines, 8 window blinds production lines and about 120 workers.
*Productivity--J.S.L can provide 600,000 pieces of window blinds and six sets of machines per month
*Innovation-- With a strong R&D team of 8 technicists for blinds and machines exploition and innovation, we are able to launch at least 1 new product per season.
*Location-- Located at the center of the Pearl River delta, Panyu, Guangzhou. We assure quick delivery and utiliaze convenient transportation of both water and land.
We also involve in business of blinds components and machine
Our service\Buyer Guidelines
Our strongest point is that we consult. So anything you want to know about our products, please ask us!