Hellosilk wholesale silk clothing

Hellosilk wholesale silk clothing
Name:

Silk Crepe

Component:

100%

Silk

Supply Type:

In-Stock Items

Thickness:

16M/M (Momme)

Width:

43'/44'

Fabric Type:

Silk crepe Fabric

MOQ :

1 Meter

Style:

Plain

Delivery Time:

Within one working day

Silk crepe de chine, from the French word "crepe of China" is a kind of famously versatile silk fabric, noted for its glossy luster, subtle texture, surprisingly lightweight as well as truly excellent drapery. It is also called silk crepe(12mm, 14mm, 16mm, 22mm, 30mm, 40mm) or Chinese crepe. Silk crepe de chine is popular for bridal and formal evening wear, and also works well in blouses and men's shirts. Also used in home decor, this type of silk fabric leads a light and luxurious feel against any project. Silk crepe de chine (pictures of garments made of silk crepe) is relatively easy to sew and does not have a problem with fraying or slipping. Read more about silk crepe de chine.
All product images are in-kind shooting and adjusted by professionals based on real products.We have done our best to make pictures as close as possible to real fabrics. But, color deviation may exist due to different PC screens. Please kindly note all colors displayed are subjected to real products' colors. Meanwhile, we suggest you order our color chart(48 colors version or 96 colors version) or color samples before purchasing if you are have strict criteria for colors. First of all, the color chart applies to all the silk types carried by us, such as silk satin (charmeuse), silk stretch satin, silk crepe de chine, silk georgette, silk habotai and silk organza etc. Read more about color chart.
1.Finest quality & long history
We were founded in 1990s, having a long history of more than two decades. Great experience accumulated in such a long time period make us professionals in examining the quality of silk fabric.
2.Great variety with the most popular types
Specializing in dyeing solid colors, we carry a great variety of more than twenty types of silk fabrics, which are the most popular silk fabric with international fashion design, such as silk habotai, silk georgette and silk charmeuse etc.
3.Feasibility of operation modes
We have plenty of stock, available in hundreds of colors and the MOQ is simply one meter or one yard if the ordered types and colors are in stock. We can also customized dye colors for you by getting Pantone reference numbers or color samples. Feasibility of operation modes makes us capable of producing both bulk orders in large quantities and retailing orders by yards or meters.
4.Exceptional services
Besides being a silk fabric manufacturer, we also offer exceptional services, such as digital printing, garments manufacturing for high-end consumers.
Hellosilk wholesale silk clothing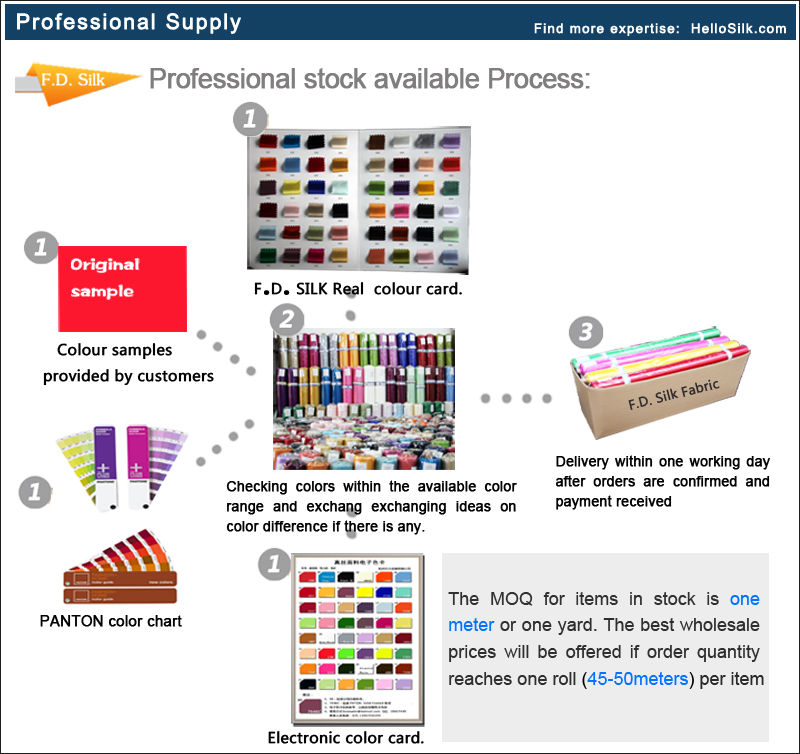 Notice:
The items available in stock are the core products of F.D. Silk. All colors on the color card are in stock all the year round and prompt delivery within one working day can be guaranteed.
Notice:
About dyeing We specialize in silk fabric in solid colors. Professional dyeing is our core competitiveness. Please send us color samples or tell us Pantone reference numbers before dyeing. Generally, the MOQ for dyeing is 200 meters per color and the delivery lead time is about 3-5 working days. Please kindly note these are subjected to our final confirmation. Any further inquiries, please feel free to contact us.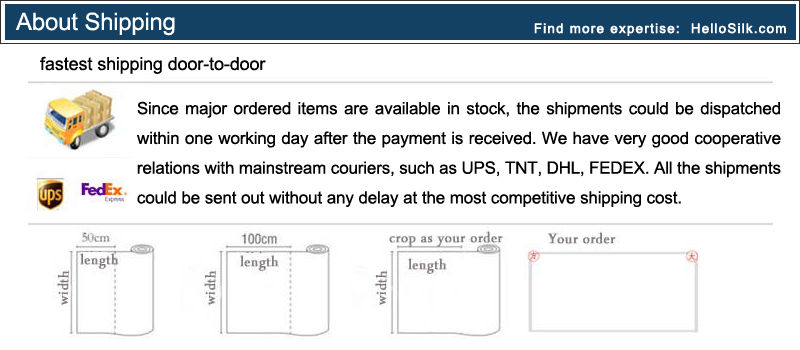 Hellosilk wholesale silk clothing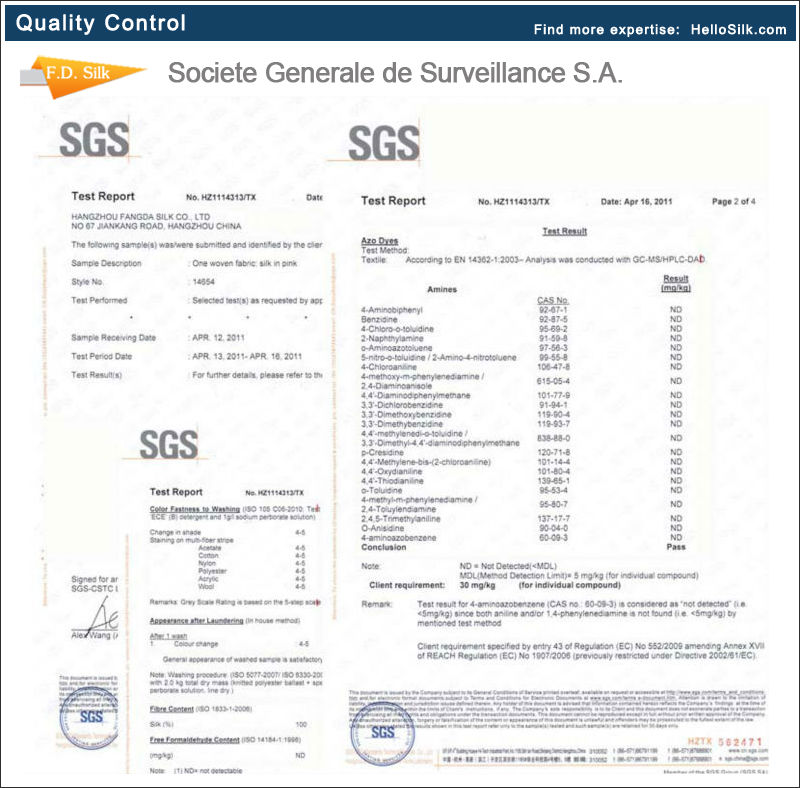 Notice:
Our products have passed the testings set by SGS, one of the international authoritative testing institutions. In this way, the component and security of our products are guaranteed so as to improve greatly the quality of our products.
More about quality control:
We have a strong team of quality control in the factory to evaluate and grade all the greige of silk fabric and only those meet standards for exportation could be sent to our store.
As the second step, the professional quality control team with great expertise in our store will double check all the greige to make sure they are good for dyeing. The approved ones will be sent to the dyeing factory for dyeing. After the dyeing process is completed, all finished products will be sent back to our store. But, no finished products will be put on shelf until they pass all checks and inspections by the quality control team in our store.