V-LOK Infant Blood pressure cuff,Dual tube
Compatible Monitors:
Single tube: HP,Datascope,Fukuda Denshi, Spacelabs, Criticare, Siemens, Mindray, Goldway,Protocol and so on.
Dual tube: GE-Marqutte, Datex-Ohmeda,GE(Marqutte) with male quick-connect type connector, Dinama plus, XL,SX/XP,8100 series, Each GE corometrics; Critikon; Datex-Ohmeda-with one male and one female quick connect type connector; CAS; New Welch-Allyn vital signs models-with threaded type Critikon style connector.
Package and Delivery
Packaging: Wrap with transparent PE plastic bag,each bag with 1 piece
Delivery time: 1.48 hours for sample order,3-7 days for bulk order.
2.Customized products negociation.
CE Certificated Products
Reusable Spo2 Sensor,Disposable Spo2 Sensor,ECG Cable with Leadwires,EKG Cable with Leadiwres,Reusable NIBP Cuff ,Disposable NIBP Cuff are CE Verified.
Warranty
| | |
| --- | --- |
| Reusable Spo2 Sensor | 12 months |
| Spo2 Adapter Cable | 12 months |
| ECG Cable | 6 months |
| EKG Cable | 6 months |
| IBP Cable | 6 months |
| NIBP Cuff | 3 months |
| Temperature Probe | 6 months |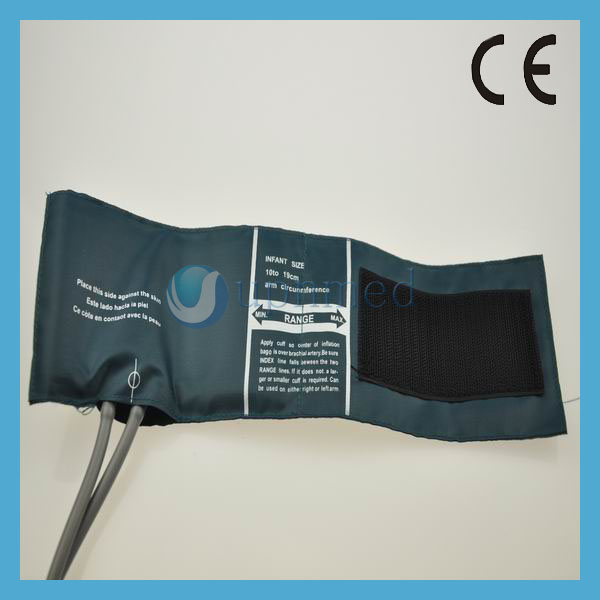 CE Certificate