OEM AgNi Semi tubular/hollow Bimetal silver contact rivets Current 10 A sphere/Flat silver thickness 0.3 relay /Sockets/SWITCH
Advantages:
Wenzhou Saijin Electrical Alloy Co., Ltd has our own manufacturing base to supply series of Powder Metallurgy Sheets: such as Powder Metallurgy Tips, Powder Metallurgy Contact, Button Contacts, Semi Tubular Contact Rivets and other special contacts.
01. 1Cooperation: Simens,PEUGEOT,MAZDA ,SANYO etc
02. We have ability to supply in large volumes in shortest time.
03. Variety of specifications and shapes can be available as per customers' requirement, especially for Button Contacts, and Tri-metal Contact Rivets, etc.
04. More than 10 years profession experiance .
Product overview:
The material of composite rivet's working layer is more flexible to choose than the solid precious metal rivet's,
even though the precious alloy material has excellent electrical contact property. Rivet contact is suitable for
the continuous automatic production of riveting and processing. It doesn't other processing technique(such as electroplating, welding, etc). So, it not only simplified the manufacturing process of contact component,
improve the productivity and lower the cost, but also increase the assembling precision and reliability of the component.
Main material:
Ag/Cu, AgCdO/Cu, FAg/Cu, AgSnO2 , AgSnO2InO3/Cu, etc
1. Silver rivet and Ag/Cu bimetal rivet: Pure silver has a high level of electrical and thermal conductivity, good plasticity and arc corrosion resistance, as well as a very low contact resistance.
2. AgCu rivet: This contact has good electrical conductivity and its surface is not liable to oxidization.
3. Fk Ag contact rivet: This fine crystal silver contains a 0.12% nickel additive and has a low contact resistance, which is similar to that of pure silver, without the variable switching times.
4. AgNi /Cu bimetal rivet: In low voltage engineering, this contact is widely used in AC switches as an electrical contact.
5. AgCdO/Cu bimetal rivet: This contact includes AgCdO10, AgCdO12, AgCdO15, and this kind of electrical contact has one of the most important materials in silver - metal oxide contact material.
6. AgZnO rivet and AgZnO/Cu bimetal rivet: The oxide of this contactor is more thermally stable than CdO.
7. AgSnO2 and AgSnO2 In2O3 and bimetal rivet: AgSnO2 and AgSnO2In2O3 are the ideal environment-protecting materials for substituting AgCdO.
Main application:
Automobile electrical equipments, Household appliances, Relays, Contactors,Temperature controllers,
Timers and other electrical appliances.
Specifications of Bi-metal Rivets:
Items

Limit Deviation

Basic Dimension

Head Diameter/mm

±0.1

2.5

3

3.5

4

4.5

5

5.5

6

6.5

7

8

Head Thickness/mm

±0.05

0.6

0.8

1.0

0.8

1.0

1.2

1.0

1.2

1.5

1.0, 1.2

1.5, 2.0

1.2, 1.5, 2.0

Head Layer/mm

S<0.4±0.060

S>0.4±0.060

0.3-0.4

0.35-0.50

0.40-0.60

0.50-0.70

Shank Diameter/mm

-0.02

-0.10

1.2

1.5

1.5

1.5

2.0

2.0

2.0

2.5

2.5

2.5

3.0

3.0

3.0

3.5

3.5

4.0

Shank Length/mm

+0.150

1-2.0

1-3.0

Spheric Radius/mm

R<6±1

R>6±2

4

6

6

8

8

10

10

15

15

20

20

25

Demoulding Angle

±2

9,10,11,12
Metallography Photo:
Production workshop: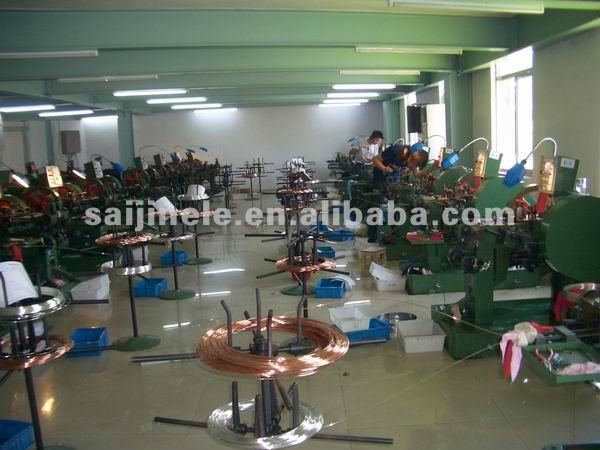 4.ISO9001-2008 CERTIFICATE
5. Packing: Vacuum plastic,put desiccant in it ,carton or wooden case as customer request.Big carton size :35cm*30cm*20cm ,small carton size:28cm*22cm*14cm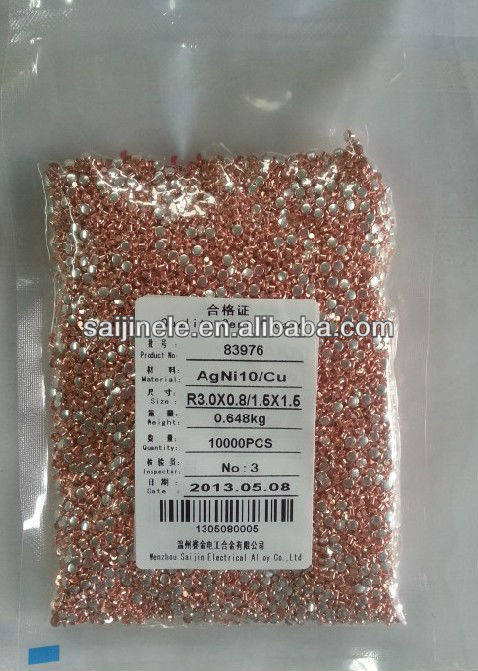 We can make many kinds of sizes bimetal silver contact rivets(handwork or machine),Free sample will be provided.if you have any idea about our products,pls make free to contact with me !