Amazing products from china,
(Model:E8B-Eldora)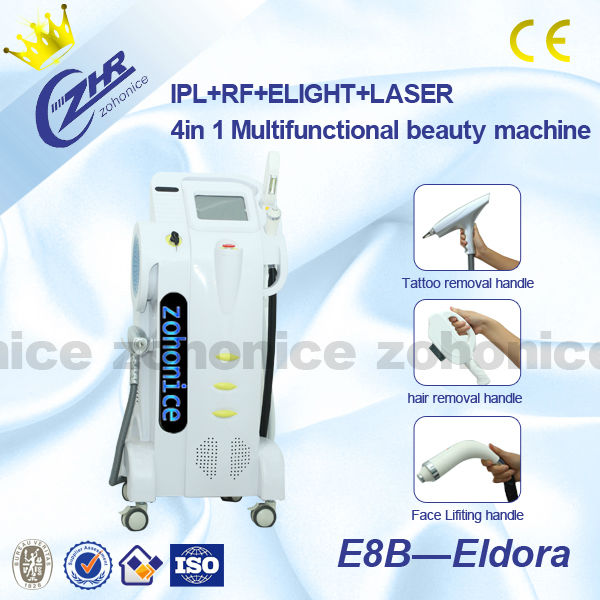 Treatment range:
1.Hair removal 5.Pigment removal
2.Face lifting 6.Blood vessels removal

3.Skin tightening 7.Wrinkle removal

4.Skin rejuvenation 8.Tattoo removal

Features:
1.Upgrade edition set: Insert handleHE-3and Laser hand piece HY-3 and RF handle
2.Elight 4in1 multifunctional equipment: ELight+IPL+RF+Laser
3. Work a longtime with high energy, beauty salon first consideration
4.Advanced non-stripping, non-damaging skin rejuvenation technology, remove speckle, hair and make skin rejuvenation simultaneously.
5.Unique pigment identification procedure, super-ray filtration system, multiband alternative precision adjustable.
Application Machine Working Therapy:
machines work best at removing hair when the hair is in a phase of active growth.
It removes hair by sending out high-energy light pulses. There are actually two beams of light, one red and the other yellow which acting together result in both the existing hair and the follicles where the hair grows.
However not all hair in the area of treatment will be in this phase at any point in time. It is therefore best to spread IPL treatments out over several weeks.
This is to make sure that hair which isn't treated in one session is affected in the next. The way hair grows can be different for each individual, so its best to adjust the treatment to suit each person's needs.
Parameters:
Basic Specifications

Controller

Real Color8.4''Touching Screen

Pulse Number

1-15

Program Languages

English/Spain/German/French/Turkish

First Pulse Width

0.1-20

First Pulse Delay

0--50

Cooling System

Wind+Water+Semi+Conductor

Conduct Temperature

5°c~25°c

Dimension of machine

47*50*110 cm3

Dimension of package

68*76*136cm3

N.W.

90Kg

G.W.

140Kg

Power Supply

AC220V/50HZ or AC110V/60HZ

E-light (IPL+RF)system

IPL Energy

10-50J

RF energy

0-15J

RF frequency

1.2MHZ

Handpiece number

1pc,with 7filters optional

Wavelength

430nm/480nm/530nm/560nm/640nm/590nm/750nm

Spot size

15mm*35mm or 15mm*50mm

IPL system

IPL Energy

10-50J

Pulse No.

1-15

Handpiece number

1pc

Spot size

15mm*35mm or 15mm*50mm

RF system

RF energy

0-50J

RF delay

50-2500ms

RF frequency

1MHZ

Interval

1-4s

Handpiece number

1pcs with 3 probes

Diameter long

21mm,25mm,35mm

Laser System

Energy

200-1000MJ

Handpiece number

1pcs

Wavelength

Double wavelength 1064nm,532nm

Laser Frequency

1-5HZ

Protective Accessories

Protective Goggles

2pcs(1pcs for Laser,1pcs for IPL & Elight)

Protective Glasses

2pcs(1pcs for Laser,1pcs for IPL & Elight)

Teach Guide

Guide Manual

1pcs

Guide Video

1pcs
Accessories List :
Machine Analysis: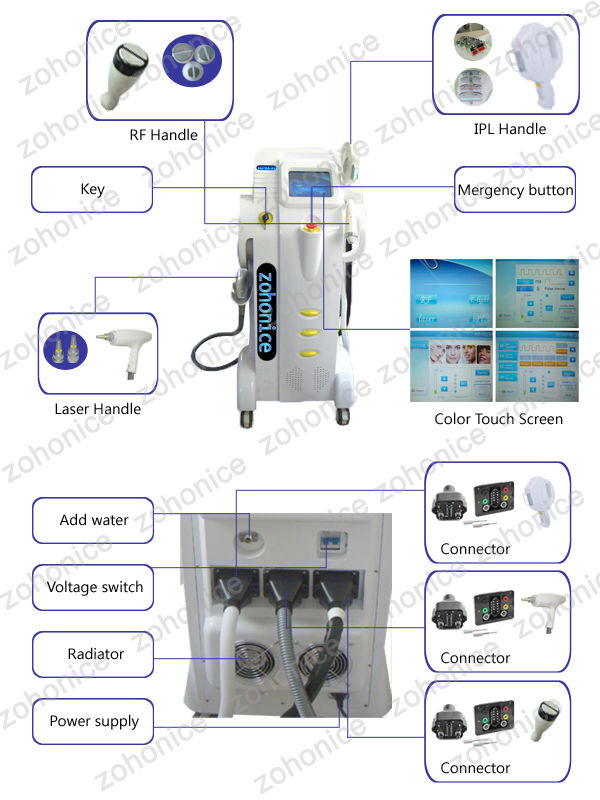 CE Certificates:
Client's Concerns:
1.Zohonice Profile:
* Zohonice company was found in 2008.
* We offer professional laser beauty equipment, such as Q-switch YAG laser machine, IPL hair removal, Elight, diode laser, Co2 laser, lipo laser, cavitation body slimming, ultrasonic, etc.
* Most of our laser beauty equipment has got CE certifications.
We provide 24 hours online consulting, video reaching, OEM processing services etc.
2.Price discount:
* New Client: It will get gifts for the first(new) orders.
* Regular Customers: From the second order, you can enjoy more than 5% discount.
* Distributor: Granting exclusive rights to you, your local market customers' information will be comprehensively feedback to you.
* Recommend Client: Benefit from the extended 1~3 years free warranty period.
* Others: Do not hesitate contact us by your convenient way.
3.Payment method:
* T/T: Accept USD, EUR, HKD, GBP etc. (Many currency, suit for all clients)
* Western Union/ Money Gram: Quickly to the account, priority in delivery.
* Behalf paying: your Chinese friends or your Chinese agent can pay for in RMB
4.Warranty:
We have 1year warranty, two year update warranty and lifetime maintence
1) Within 1year, if there is some accessory going wrong, we will send you the accessory at once, free of charge.
2) Within 1month, if the machine is of any big fails, we will send you a new machine.
3) Within 1year, if you send backthe equipment for repair, we will be responsible for the repair, including the changes of the accessories, both of them are free of charge.
4) After 1year, we offer to repair the machine, but we quire for the cost of the changed parts, not for manual cost.
5) If the buyer has any questions from our technical department, we can supply on-line service
Lovely Zohonice: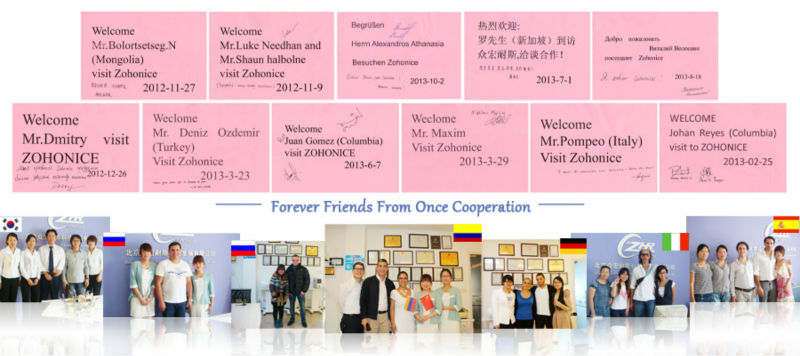 Similar products recommende:
Contact Information:
Forever friends from once cooperation!