PRODUCT DESCRIPTION:
MORINGA TEA:
Moringa Oleifera, the Miracle Tree commonly known as Moringa.
Moringa is the most nutritive plant found on the earth.
Moringa leaves contains 90 Nutrients and 46 Antioxidant.
Grenera offer 100% pure and high quality Moringa leaf powder, Moringa tea cut leaves and Moringa leaves extract.
Grenera made high quality Moringa leaves under superior observation. It is a very useful nutritious supplement / sports supplements in worldwide.
It is loaded with nutrients, antioxidants and healthy proteins.
Grenera offered Moringa tea in 11 different types of flavors are as follows,
1)Moringa Herbal Tea
2)Moringa Green Tea
3)Moringa Ginger Tea
4)Moringa Lemon Tea
5)Moringa Lemon Ginger Tea
6)Moringa Mint Tea
7)Moringa Rose Tea
8)Moringa Pomegranate Tea
9)Moringa Strawberry Tea
10)Moringa Apple cinnamon Tea
11)Moringa Assorted Tea
MORINGA ROSE INFUSION :
Moringa leaves are collected from the organic sources and are processed hygienically. The high quality hibiscus petals, rose petals along with the small amount of licorice is added to the infusion. The flavor of the products is amplified by the addition of natural rose flavor. Sipping the Moringa rose infusion will naturally calm our senses.
MORINGA GINGER INFUSION :
Moringa Ginger tea is our classic product. The ginger pieces are specially sourced from the Malabar regions and they add a very special taste to the infusion. Ginger has many health benefits and this combined with the Moringa leaves provides healthy refreshment and this tastes very good after a meal.
MORINGA APPLE INFUSION :
The dried apple pieces in combination with cinnamon barks provides a delicious taste and this in combination with nutritive Moringa leaves makes a special drink for the very special occasions. We source the cinnamon from much selected parts of the world to impart the strong cinnamon taste to this drink.
MORINGA GREEN TEA :
Moringa Green Tea is a combination of nutrition Moringa leaves and organically grown Green Tea leaves. Moringa Leaves are rich in group of antioxidants called polyphenols and group of antioxidants called Flavonoids. The combination of these leaves in a single tea bags makes it a favorite Moringa wake up refreshment.
MORINGA LEMON INFUSION :
Moringa lemon tea contains dried Moringa leaves, Moringa fruit pieces in combination with lemongrass pieces and natural lemon flavor. The lemon grass gives aromatic lemon flavor and taste to the healthy infusion and this is preferred as a refreshing evening drink.
MORINGA MINT INFUSION :
Moringa mint tea gives a wonderful after meals refreshment with its soothing mint flavor combined with the nutritive values of Moringa. Moringa mint tea contains dried mint leaves along with Moringa leaves and pods. It is a good Source.
MORINGA STRAWBERRY INFUSION :
The red Strawberries have been the most favorite fruit of the world. We blend dried Strawberry pieces with African grown hibiscus petals and the nutrition Moringa leaves to make a perfect Strawberry infusion. Moringa Strawberry infusion is sweet drink with a delicious fruit flavor.
MORINGA POMEGRANATE INFUSION :
Pomegranate is considered to be one of the most nutritious fruit owing to its very high antioxidant contents. We blend dried pieces of delicious pomegranate with African hibiscus petals and Moringa leaves makes a perfect refreshing drink.
MORINGA LEMON GINGER :
Moringa Lemon infusion is the perfect blend of Moringa leaves and lemongrass. The citrus flavors and taste combined with Moringa makes the infusion more delicious.
MORINGA HERBAL INFUSION :
Moringa herbal tea or Moringa herbal infusion contains dehydrated Moringa leaves and Moringa fruit pieces packed in tea bags. The Moringa tea bag when infused in hot water gives a delicious herbal tea. Moringa tea is very rich in nutrients and antioxidants.
Unique Features of Herbal
• Reduction of BAD cholesterol
• Naturally rich in flavor
• Naturally rich aroma
• Daily dietary nutrients
• Cancer curing antioxidants
• Increased alertness
PACKING:
Retail:20 Dip tea bags in each box,Each Dip tea bags containes 2grams of infusions.
Bulk packing in 500 Dip tea bags in PP cover
About Grenera:
Since 2008 , Grenera nutrients private limited as a pioneer in the moringa companies, who identify the importance of the miracle tree and its multiple usage from the plants. Grenera Nutrients private limited is also having so many R&D's in Moringa, Amla, Tulsi, Turmeric, other Indian herbs and making several food supplements, super foods, wellness supports for people in all segments.
We are having our own farms and contract farms in southern part of India nearly more than 1000 acres. We have a motivation to support the small margin level farmers to lift their life hoods from struggle and poverty also Grenera nutrients private limited support them for training in organic farming, financial aid for trip irrigation, Organic inputs, Cultivation and Organically pest control. Because of our close work into the cultivation and harvest, we have to control the quality and quantity of the raw materials and now we are the best manufacture of moringa and other Indian herbs.
We are also having the certification of
HACCP, ISO 9001 and GMP and our products are USDA ORGANIC, KOSHER, HALAL, VEGAN AND ECO CERTIFIED.
Advantages :
1.) High quality of products without sand and Iron Particles.
2.) Free from Pesticides,insecticides and other fertilizers
3.) Moringa Leaf Powder which is 100% organic.
4.) Exclusive forms for Moringa.
5.) Production in sterile atmosphere.
6.) Very fine meshed powder which has greater solubility in water
7.) Offer samples for your evaluation purpose.
8.) Before dispatch every products tested in In-house Laboratories.
9.) We deal with all mode of shipping like Air shipments, Sea shipments and Courier.
10.) We are the pioneer of the leading manufacturer of Moringa in India.

1.) How can i contact with you ?
Click the contact supplier to send the inquiry.

Trade Manager

Sending inquiry to our official email.

Skype ( greneranutrients )


Whatsapp.

Call us directly ( 24x7 )

2.) Are you Manufacturer of Moringa ? origin ?
Yes, we are the Moringa Manufacture. India.
3.) Which countries or area do you export your products ?
Our customers are mainly from Asia , South America , North America , Europe , Oceania , Africa .
4.) How Can I get a sample?
We can offer you samples for your testing purpose, while the shipping cost should undertake by your side.
5) Do you accept pay-pal payment ?
Yes , we can accept pay-pal payment for samples orders. We can also accept L/C , D/A, D/P, T/T for Commercial orders.
6) What's your delivery time?
We will make delivery within 3 to 5 working days after the confirmation of payment.
SHIPPING :
By Air : By Sea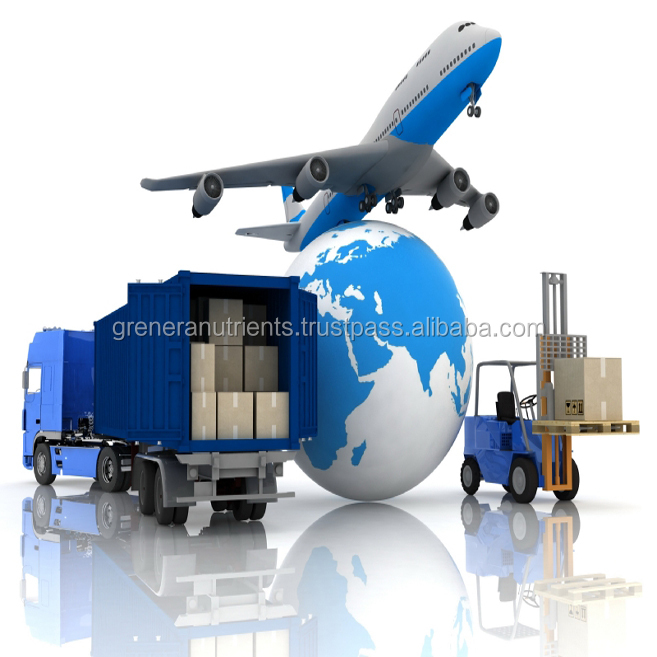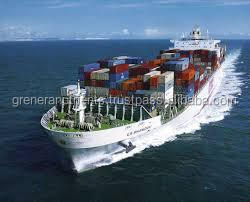 By International Couriers :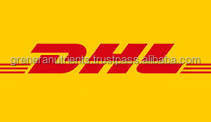 Why choose us:
More than a decade Manufacturer in Moringa.
Have own 500 Farms, Exclusive Factory and In-house Quality Control Department.
Good quality with reasonable prices.
Manufacturer direct supply.
Ultimate goal is to serve customers.
CERTIFICATES :Our Company has GMP, ISO 9001:2008, and
HALAL , KOSHER , HACCP, VEGAN, ORGANIC Certified.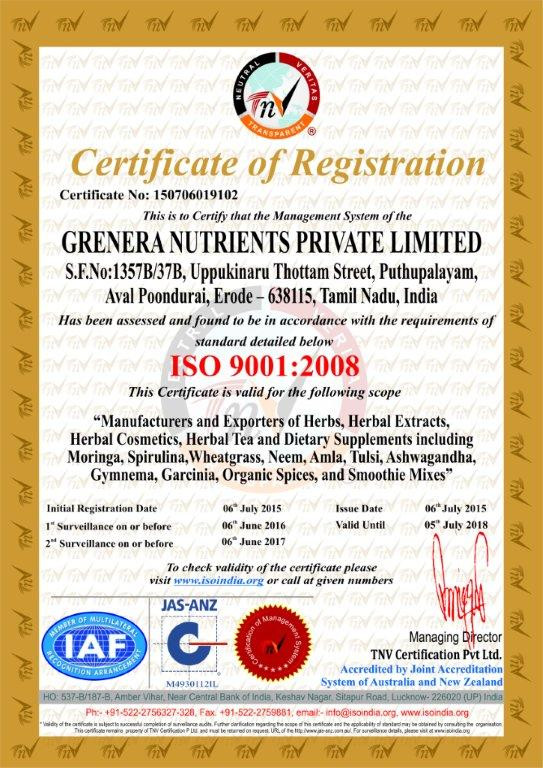 At Grenera Nutrients, as part of our commitment to ensuring eco-friendly crops, we have adopted organic cultivation in our operations. Sustainable farming is a central aspect of our cultivation methods and to this end our cultivation methods incorporate:
Natural Fertilizers
Bio-Control Agents
Organic Manures