end mill with morse taper shank;2-flute ball nose end mills with straight shank, long neck and short cutting edge
end mill with morse taper shank;2-flute ball nose end mills with straight shank, long neck and short cutting edge
Hot sale end mills in china ! ! ! ! !
GM series general end mills
Product information of 2-flute tiny ball nose carbide end mills with straight shank;carbide taper end mills
Wide application: High efficiency machining can be achieved ranging from common steel to pre-hardened steel machining.
Optimized structure: Appropriate combination of sharp cutting edge and tool strength makes cutting easier and faster, extending tool life.
Ample product series: Can realize from rough machining with high metal removal rate to finish machining with high surface quality.
Complete in specifications: The minimum specification being 0.3mm, tools can easily machine even the finest part of workpiece.
Milling
Solid Carbide End Mills
GM series for general machining
For profile milling, high speed machining applicable.
4-flute ball nose end mills with straight shank suitable for Profile ; Cavity ; Ball nose slot .
Helix angle:35°
Coated : TiAIN
D 0-0.05 R ± 0.005 R<0.5
R ± 0.01 R>=0.5
Tiny diameter end mills can fully display high speed and high precision performances of
machining center, often used for machining of precision components such as electronic part etc.
Suitable for machining narrow slot and free-form surface.
Wide application.
1. Seamless connection of peripheral cutting edge and ball cutting edge is achieved. Optimized center design of ball cutting edge greatly improves surface quality.
2. Nano coating guarantees excellent wear resistance and high temperature stability.
3. High-rigidity tool structure reduces vibration.
4. Ultra fine cemented carbide substrate with excellent wear resistance .
Grade of 2-flute tiny ball nose carbide end mills with straight shank;carbide taper end mills
Applicatin of solid carbide end mills :
solid carbide end mills overview
1.High-performance PM series for gereral milling
2.GM series for machining high hardness steel
3.AL series for machining aluminum
4.SM series for machining stainless steel,heat resistant alloy etc.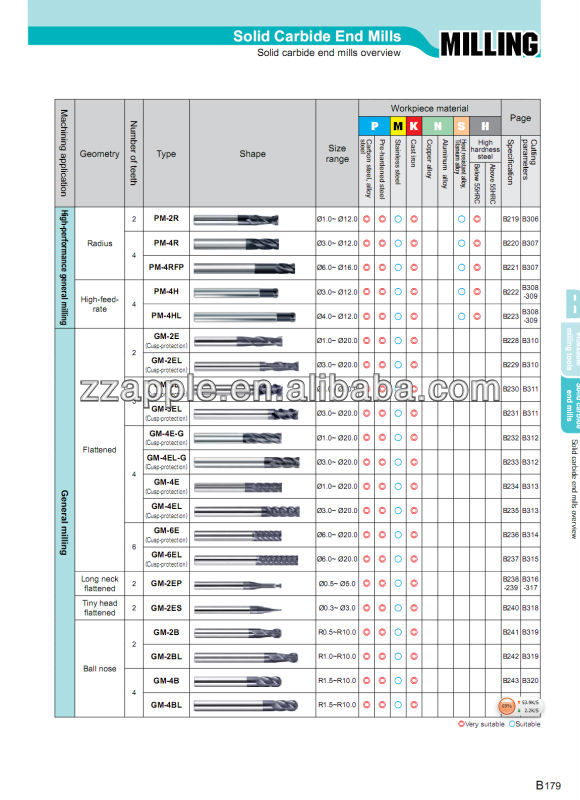 Graphics category of solid carbide end mills
Details information of solid carbide end mills
Production equipment tungsten carbide end mill
Our quality control:
1. All raw materials are tested in terms of density,hardness and T.R.S before use.
2. Every tungsten carbide end mills goes through in-process and final inspection.
Main product:
Zhuzhou Apple Carbide Tools Co., Ltd. is a professional manufacturer of tungsten carbide products in China.
With a wide range of products including carbide strobe blanks, STB blanks, carbide rods, carbide dies, carbide slitting saws, coated inserts, endmills and many customized products. With a large selection of carbide grades for woodworking, metalworking and working of composite materials, we also provide carbide materials for your special use. For more information about us, please visit our website or contact us. We are happy to help you at anytime.