400w 600w 800w 1000w Rack mount design power inverter
1.Feature:
Pure sine-wave output,can be used for different domestic appliance

Superior performance from CPU control technology

AVR design can support stable voltage output

Auto temperature control fan for heat dissipation

Easy to check with inverter status with LED indication that can be upgraded to LCD

Built-in 20-25Ah charger support fast battery recharging
2. Applications:
Pure sine wave output can be used with different domestic appliance
TV, refrigerator, fan, air conditioner induction cooker, micro-wave oven etc.
3. Advantage :
Pure sine-wave output;

25A battery charge current;

Superior performance from CPU control technology;

Fast Action AC Synchronized Transfer Switch

Wide range of input voltage, accurate output, AVR function;

Inner-Equipped protection for over-load, short-circuit, over-voltage, low-voltage, over- heating, etc.

Easy to check with inverter condition with concise LCD indication. Generator compatibly and external battery connection achievable.

Intelligent battery management with protection against over-charged and over-discharged etc.

Special charging system design for better protection of battery life.

Compatible with generators and suitable for harsh environment where power voltage is extremely unstable.

With standard on-line structure (three ports) and can be used as UPS.

Extremely low return noise and no disturbance to talking quality.
4.Specification:
Pure Sine Wave Inverter NB-Y Series Inverter 300w/400w/ 500W/600W/800W/1000W
MODEL

NY SERIES

500W

600W

800W

1000W

INPUT

Phase

Single

Voltage

115VAC or 220/230/240VAC

Voltage Range

-35% ~ +25% for selected nominal voltage.

Frequency

50Hz / 60Hz (Auto Sensing)

Frequency Range

47Hz ~ 55Hz for 50Hz nominal;
56Hz ~ 65Hz for 60Hz nominal

OUTPUT

Phase

Single

Voltage(Btt. Mode)

115VAC or 230 VAC

Voltage Regulation(Batt. Mode)

±3%

Frequency

50Hz or 60Hz

Frequency Regulation (Batt. Mode)

+/-1 Hz

Output Waveform

Pure sine wave

BATTERY

Battery Type

Sealed ,maintenance-free lead acid

Back up Time

Depends on the external battery

Dc voltage

Dc 12v

Charging current

10A

TRANSFER TIME

Typical

4-6ms

INDICATOR

Led indicator lights

Normal (Green), Warning (Yellow), Fault (Red)

LCD Indicator with Blue /yellow Back Light

UPS status, I/P&O/P Voltage Frequency,
Load , Battery Voltage , Temperature, Model

AUDIBLE ALARM

Battery Mode

Beeping every 4 seconds

Low Battery

Sounding every second

Overload

Sounding every 0.5 second

Fault

Continuous sounding

PROTECTION

Full Protection

Discharge, overcharge, and overload protection

PHYSICAL

Dimension, DXWXH (mm)

375* 130*190 mm

Net Weight (kgs)

7.2

9.1

10.5

13.5

ENVIRONMENT

Operating Environment

0~40 Degrees Centigrade, 0~90% relative humidity (non-condensing)

Noise Level

AC Mode: Less than 40dB
Backup Mode: Less than 45dB
5.Power Inverter Picture:
LCD display:
Socket and Cable:

4.Inverter Test Machine: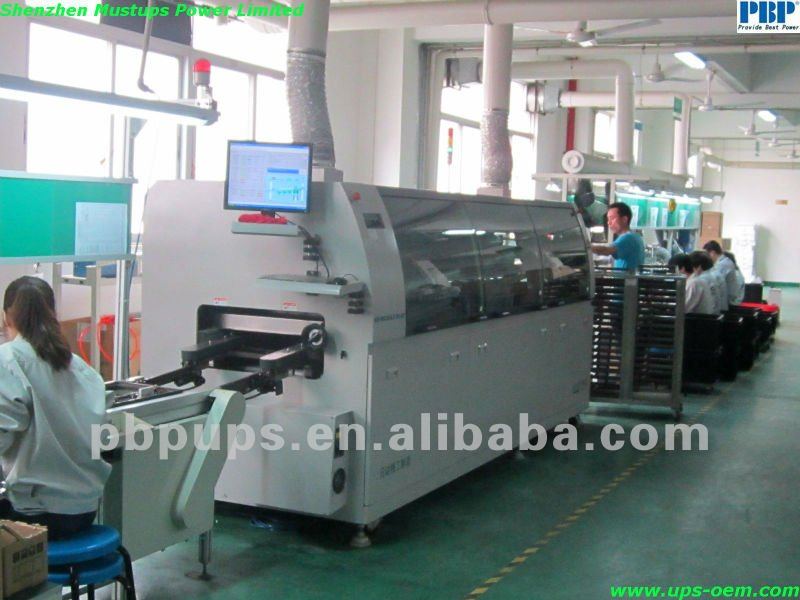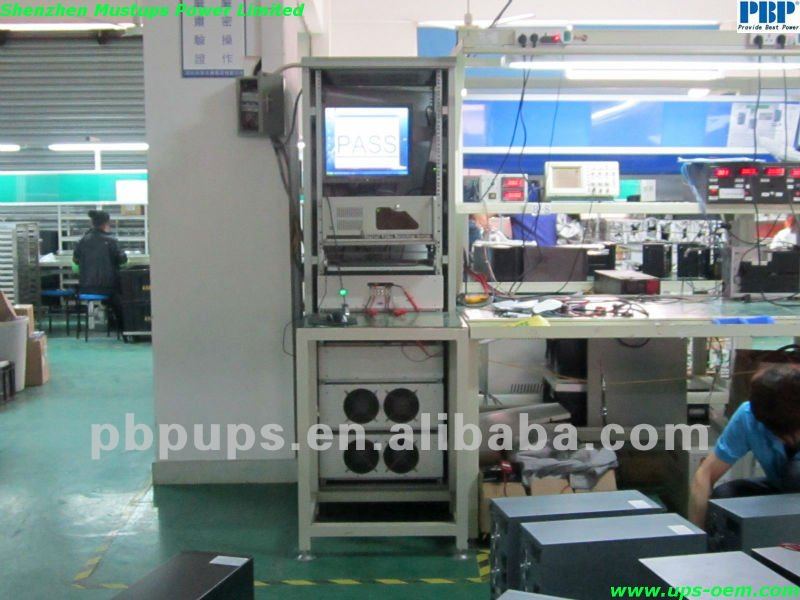 5.Inverter Container Transport: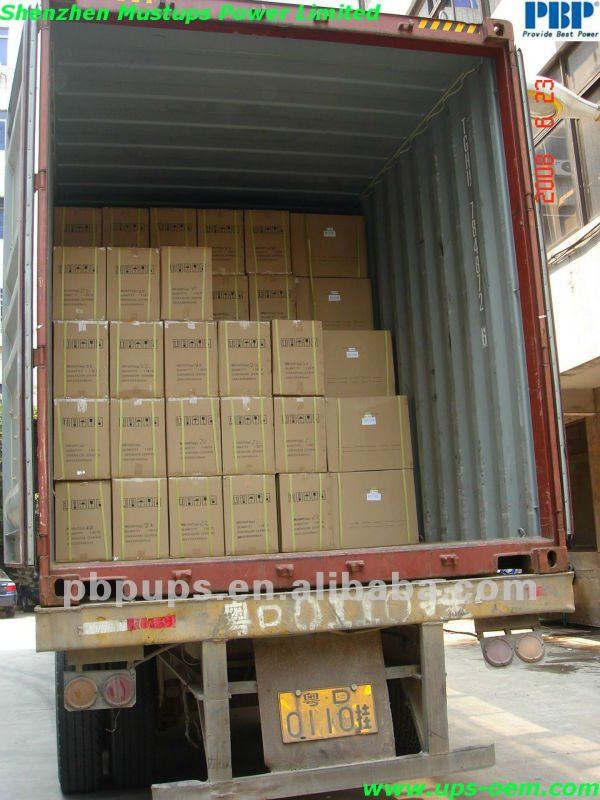 Factory and products certificate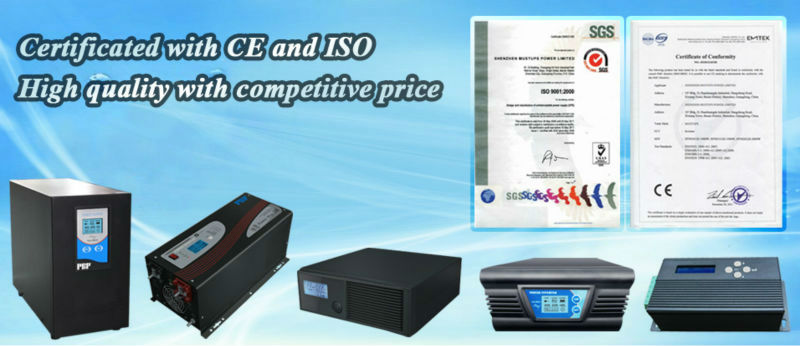 HK fair in 2013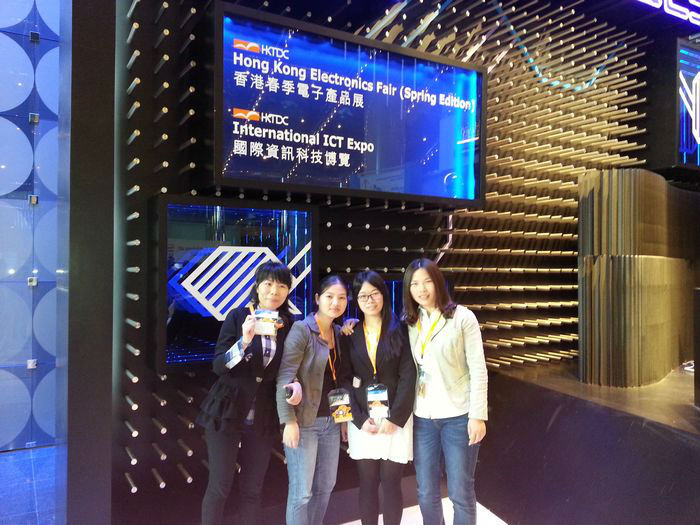 300w 400w 500w 600w 800w 1000w Rack mount Mini best design home inverter
Any informaton , please inquiry to know more details about price ,packing ,shipping .
If you have any other questions,please feel free to tell us.We will always on your service!!