Features of separate pressurized system:
1 Strong hydraulic pressure makes your bathe more comfortable
2 module design, arbitrary combination, harmonious with the building perfectly
3 Intelligent controlling and multiple functions
4 Arbitrary combination with structure of your beautiful constructions
5 Separate installation conveniently
6 workable at anytime and enjoyable.
7 Working with assistant resource
8 Full set of original equipment, the life time will be much longer to ensure better using.
Split presssurized solar water heater working principle
1. The collector absorbs solar energy and transmits it to the water tank through circulation .
2. When the temperature of the collector reaches the set value, the controller starts the circulation pump automatically.
3. The circulation pump makes heat-conducting liquid circulate automatically.
4. The heat-conducting liquid transfers heat to water by lower heat exchanger in the water tank.
5. When the temperature difference between solar collector and tank doesn't reach the set value, the circulation pump will be shut automatically .
6. In case the temperature of the water tank does not reach Tmax, Electric Heating Element will start to work automatically.
Split pressurized solar water heater pump station component
1. Operating screen
2. Manometer
3. Pump speed adjust switches
4. Temperature difference circulation pump
5. Flow rate indicator
6. Return circuit connector
7. Safety valve
8. Expansion vessel connector
9. Return circuit connector
10. Wall mounting
11. Expansion vessel: 8L
12. Pressure resistance: 10 bar pressure for expansion vessel.
Solar water heater photos
Working principle of solar water heater
OUSIKAI solar water heater packing
Solar water heater specification
| | |
| --- | --- |
| Name | Split pressurized solar water heater |
| Material of out manifold | 0.31-0.4mm thickness color steel/ fluorine carbon steel |
| Material of inner tank | Food grade 1.2-2.0 mm thickness SUS304 stainless steel |
| Material of outer tank | colour steel or stainless steel |
| Inlet and outlet hole | Male G3/4 |
| Max pressure | 0.6 Mpa |
| Solar collector tube | 3.3 Borosilicate glass with SS-ALN(L)/ALNor CU/SS/ALN coating |
| Thickness of glass tube | 1.6mm |
| Vacuum tube tightness | P≤0.005 Pa |
| Absorption | as=0.93-0.96(AM1.5) |
| Emission ratio | εh=0.04-0.06(80C±5C) |
| Idle sunning property parameters | Y=220~260m2.C/KW |
| Average heat loss coefficient | ULT=0.6~0.7W/(m2.C) |
| Bracket: | 2.0mm thickness aluminum alloy |
| Welding: | Argon arc welding |
| Fastening pieces: | Made of stainless steel screw |
| Tank capacity | 100L,150l,200L,300L,500L,800L,1000L |
| Solar collector | 10/12/15/18/20/24/30 tubes |
| OEM | Provide |
| Working station | SP116,SP228 |
| Heat exchanger length | 18m |
OUSIKAI Certificates
Factory show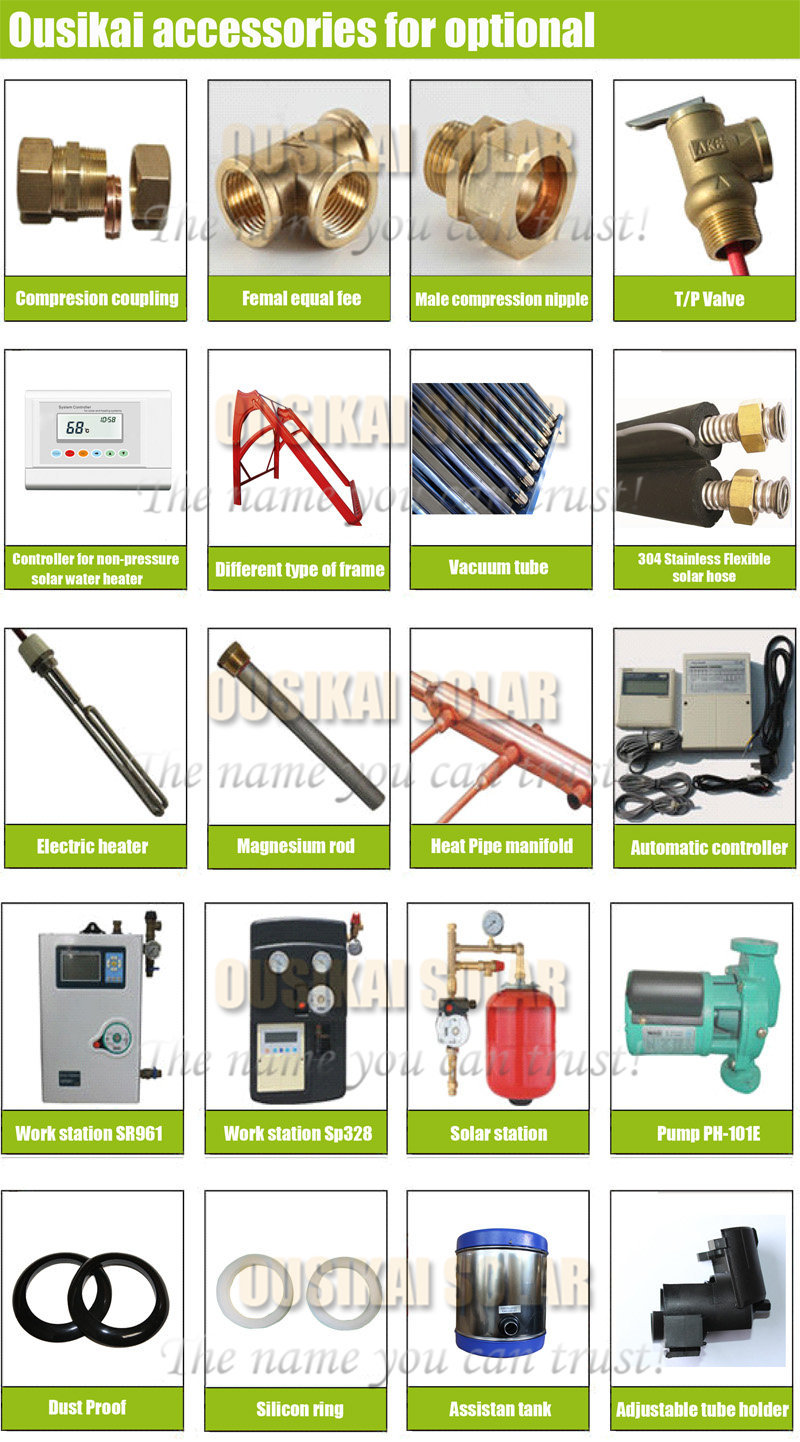 Contact information