24vDC/48v solar inverter charger sresky hybird off gird solar inverter price
Outstanding Feature : copper transformer inverter , large charging current ,charge current is adjustable 25%,50%,75%;Hybrid solr inverter optional




PBP 1kw/2kw/3kw/4kw/5kw/6kw power INVERTER
IR series 1000w-6000w
Pure sine wave inverter
Low frequency inverter
LCD display DC12V 24V 48V
Copper transformer
With battery cable
Input voltage range :155v-255v
Frequency range :40-80HZ
Large charge current 30A-70A
Charge current is adjustable 25% 50% 75% 100%
Suitable for solar system , motor , air conditioner , refrigerator ,wind turbine etc .
NEW FUNCTION :
SOLAR HYBIRD INVERTER : Solar Energy , City power , DC to AC can transfer automatically .
Solar energy priority , if the battery voltage is lower , it will transfer to domestic grid and charge the battery at the same time .
When battery voltage is low (3 options---10v/10.5v/11v) , it will turn to city power automatically .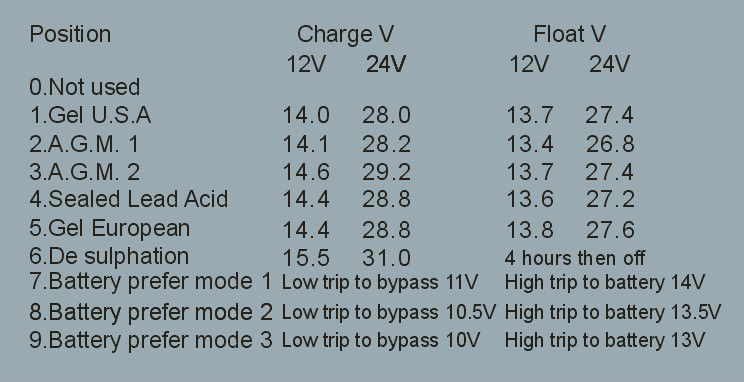 Main for home and office Appliance such as Computer,lights,TV,refrigerator,fan,air-conditioner,induction cooker;also it can be compatible with generator,motor etc inductive loads.
Main for home and office Appliance such as TV,refrigerator,fan,lights,computer etc.

35A ~70A automatic 3-stage battery charger
High surge capability
Durable construction for long life under extreme environmental conditions Simplified controls with a snap-on cover that protects settings from being accidentally changed Better thermal performance allows full output power to 50°C (122°F) without de-rating High surge capacity starts more difficult loads and handles overload conditions reliably Circuit boards are conformally-coated to protect them from corrosion for longer life & improved reliability Durable powder coated, corrosion resistant steel chassis


1. Compatible for generator , frequency range (40hz to 80hz )




2. Charge current is Adjustable(25% ,50% ,75%, 100%),it is suitable for different battery.




3. High overload ability of our APC charger is up to 300% rated power(20 sec.).




4. IR pure sine wave inverter adopts low quiescent current,and power saver mode to reduce power consumption to 10W(3sensing cycle)/3W(30s sensing cycle) *. It can extract max. power from various batteries with different protections, and low voltage trip can be selected (9.5V/10V or 10V/10.5V).




5. Uses PFC(power factor correction) for charger, which has less power consumption than conventional units.




6. It has 15s delay before transfer when AC resumes, and overload protection when our IR pure sine wave inverter equips with generator.




7. 10ms typical transfer time between battery and AC, which guarantees power continuity of IRcharger. Uses selectable input AC voltage (184-253V or 154-253V) for different kinds of loads.




8. Our IRcharger allows start up and through power with depleted batteries. Its powerful charge rate up to 90Amp**.




9. It can offer 4 step intelligent battery charging, and equipped with 8 preset battery type selector for totally flat batteries.




10. LCD status display, battery/AC priority switch, USB communication port are available for our APC pure sine wave inverter,it also has 17 alarms/warnings for easier operation and trouble-shooting, and ability to switch the unit on/off. In addition,select/deselect power saver mode can be used too.
Solar Inverter picjture as below
Off grid solar inverter LED &LCD different color
.
2. Inverter Powermax Specification
1.Products Sertifications:
MODEL
MODEL
IR
IR1000W 2000W 3000W IR4000W 5000W 6000W
LINE MODE SPECIFICATIONS
Input Voltage Waveform
Sinusoidal (utility or generator)
Nominal Input Voltage
230Vac(120VAC selectable)
Low Line Disconnect
184 Vac

±

4%

Low Line Re-connect
1 94Vac

±

4%

High Line Disconnect
265Vac

±

4%

High Line Re-connect
255Vac

±

4%

Max AC Input Voltage
270 Vrms
Nominal Input Frequency
50Hz/ 60Hz(Auto detection)
Low Line Frequency Re-connect
58+0.3Hz for 60Hz;48+0.3Hz for 50Hz;
Low Line Frequency Disconnect
57+0.3Hz for 60Hz;47+0.3Hz for 50Hz;
High Line Frequency Re-connect
64+0.3Hz for 60Hz;54+0.3Hz for 50Hz;
High Line Frequency Disconnect
65+0.3Hz for 60Hz;55+0.3Hz for 50Hz;
Output Voltage Waveform
As same as Input Waveform
Over-Load Protection(SMPSload)
Circuit breaker
Output Short Circuit Protection
Circuit breaker
Efficiency (Line Mode)
>95%
Transfer Switch Rating
30A
Transfer Time (Ac to Dc)
1 0ms (typical)
Transfer Time (Dc to Ac)
1 0ms (typical)
Pass Through Without Battery
Yes
Max Bypass Overload Current
30A 30A
INVERT MODE SPECIFICATIONS
Output Voltage Waveform
Sine wave
Rated Output Power (VA)
1000
2000
3000
4000
5000
6000
Rated Output Power (W)
1000
2000
3000
4000
5000
6000
Inside picture of PURE SINE WAVE SOLAR POWER INVERTER
LED pure sine wave inverter black COLOR INVERTER
LCD 24v/48V DC AC invrter WHITE COLOR INVERTER
NEW PANEL FOR IR SERIES INVERTER LCD MODEL
Inverter Factory & Package
OEM IR series pure sine wave inverter for customers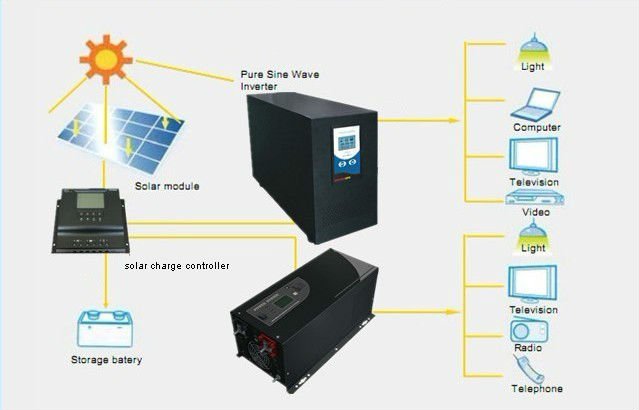 24vDC/48v solar inverter charger sresky hybird off gird solar inverter price