MY-N90 2015 Newly portable cavitation slimming machine,weight loss machine(ce certification)
N90 rf portable cavitation slimming machine functions:
1: monopolar RF for eyes lifting
2:tripolar RF for face tighting and lift
3:6polar RF for body slimming
4:40K ultrasonic cavitation for body slimming
5:80K ultrasonic for face shaping
What rf portable cavitation slimming machine can achieve ?
1. Explosion and reduce fat, break the hard fiber, to make it more flexibility and re-shape the body,
2. Get rid of cellulite and cellulite, tighten skin, and remove deep wrinkles.
3. Adjust sensitivity of the skin, and improve the reflector process and stimulate collagen cells, increase skin elasticity and luster.
4. To improve the large pores.
5. Repair facial contour correction.
6. Enhance skin metabolism, whiten skin.
7. Sterilizing anti-inflammatory.
8. Face and body anti-aging.
9. Detoxify the blood circulation, eliminate toxins connective tissue.
rf portable cavitation slimming machine specification:
| | |
| --- | --- |
| Handle : | 5handles |
| Out put power: | <500W |
| Cavitaion Frequency: | 40KHZ/80KHZ |
| RF Frequency : | 5Mhz |
| Controller: | 7 inches color touch screen |
| Gross weight: | 30kgs |
| Voltage: | AC110V,AC220V |
Theory:
The Cavitation---slimming, body and face-shaping:
Supersonic/Cavitation wave create an effect like internal explosion .It means that the expansion and compression of wave produce a lot of tiny space inside the liquid. The gas and vapour exist in these tiny space .In the compression cycle, supersonic wave impose a positive pressure on liquid molecule, whereas a negative pressure will be created through the expansion cycle .There is a cohesion effect inside the liquid or biological tissues .Inside the low-density lipocyte, the cohesive effects are comparatively weak. A negative pressure ,which is relative low ,can create tissue gaps easily .It is called as Cavitations in physics .The explosion effects inside and outside the cells will increase the molecular movements ,so as to achieve an high energy state ,then lead to the lipocyte cracking .
The RF---skin tightening, wrinkle removal: Multi-polar rf high frequency wave permeates epidemis and take effect on the collagen-rich dermal tissue directly which makes water molecules in the skin move to and fro widely. The move produces controllable heat and results in the contraction of collagen and generation of new collagen and dermal remodeling. As a result, the skin looks tighter, wrinkles reduce gradually
Product pictures:
2polor RF for eyes lifting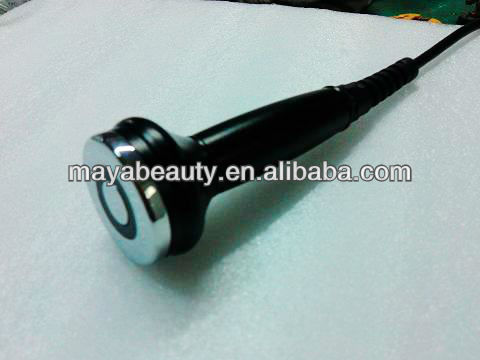 tripolar RF for face and eyes
6polar RF for body slimming
40K ultrasonic cavitation for body slimming
80K ultrasonic for face
Our team picture:
Package and after-sale service:
-Standard Export Carton with fully Polyfoam or Pearl Wool.
-Delivery within 3 to 15 working days upon receiving payment.
Our After-Sales Service as follow:
-1.1 year warranty with professional engineer support
-2.Within 1 year ,Supply spare parts for free if the machine has quality problem
-3.Just for the internal components of the machine, not including machine case and outside components.
-4.After-Sales service hotline (Whatsapp): 008613570389453, Skype: leoli-maya
Our Factory: